Solar Powered Fridge, Freezer 30w Off Grid Refrigeration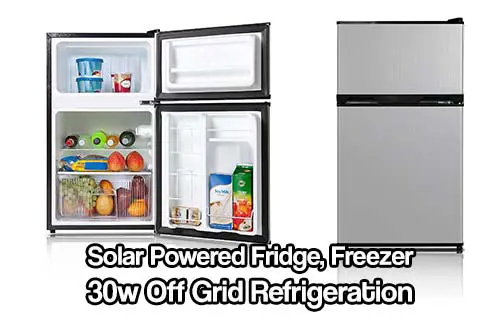 Don't worry about your food getting ruined again with this low powered solar fridge / freezer! Get the Fridge here
Solar Power Refrigerator Freezer The average power use 30 watts! (740 watts a day) can be run on a single solar panel! (and 2 batteries). Kenmore 'Freezer Fridge' has a relatively large freezer (holds full gallon jugs). great "freezer fridge" for off grid living.
Very low power consumption. only $149.00 from Sears. one of the most efficient models on the market. note: uses approx. 50 watts the first hour to cool down. Use large inverter because the power spikes for a fraction of a second to turn on compressor. mono-crystalline panel is from Amazon. it's a 100 watt Renogy panel. $179.99 – free shipping.
if you need more "freezer" and less "fridge" many 3.5 to 5.0 cubic foot chest freezers use the same amount of power. This freezer will hold full size gallon jugs. great way to make ice for solar cooling projects…
Solar Powered Fridge, Freezer 30w Off Grid Refrigeration

---
Remember to like SHTFPREPAREDNESS on Facebook,TWITTERand PINTEREST to be updated every time we post a new tutorial or interesting articles to help you on your preparedness or homesteading journey. Alternatively you can SIGN UP FOR OUR NEWSLETTER so you won't miss a single article again.
---