Some of the links below are affiliate links. If you choose to make a purchase we may earn a small commission at no additional cost to you.
32 Survival Skills Your Child Should Know And Be Able To Do ASAP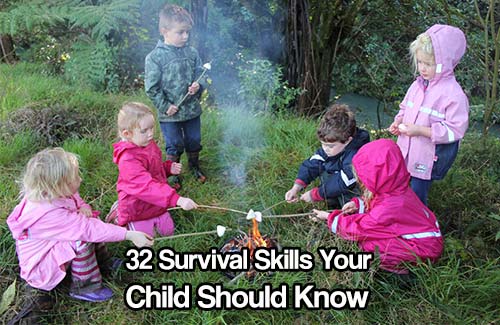 I am getting older and I am still learning new survival and homesteading skills every day. I wish my parents had the prepping bug when I was growing up because I would be in a way better place than I am now in my preparedness journey.
I have children; my oldest has been learning survival skills for a few years now. I love watching him learn and practicing his skills when we go camping. I am just starting to teach my youngest and already he loves it!
We all live in an uncertain world. What if something happens to you and your child is left to fend for themselves? Would they survive? I am confident my children can and they are fairly young. Check out the 32 survival skills from the survival mom:
32 Survival Skills Your Child Should Know And Be Able To Do ASAP