SHTFPreparedness may collect a share of sales or other compensation from the links on this page.
39 Fantastic 10 Minute Prepping Tips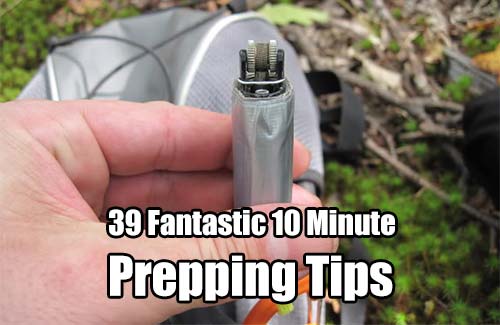 Being prepared doesn't have to take all of your time. If you are new to prepping it all can seem to time consuming and scary! Well, Gaye from backdoor survival had 39 fantastic prepping tips that only take 10 minutes of your time.
I will be doing 90% of theses this weekend! I need to start to do the little things more which in the long run will be big things. You will understand that when you read the article.
A couple of my favorite tips are:
#4. I like to can water after using my canning jars in the winter. I then have good water if the electricity goes down and also if there is a drought in the summer, I will have water for canning.
16. Buy a large bottle of 5 to 10-percent iodine solution and transfer into those small, handy travel spray containers. Put one in each first aid kit in each bug-out bag. Besides being a disinfectant and medical treatment of cuts, a few drops per liter will purify water as well as keep thyroid function humming along in the absence of iodized salt.
See them all at.. 39 Fantastic 10 Minute Prepping Tips