SHTFPreparedness may collect a share of sales or other compensation from the links on this page.
Interest in firearms has skyrocketed recently, with background checks to purchase firearms reaching record levels. Each year more women and youth shooters are making their mark by purchasing a firearm, with security being the primary motivator. 
The experience of buying a firearm for the first time can be overwhelming. The extensive array of brands, styles, and calibers make a choice a tough one to navigate for a beginner. Movies and looks are two of the most common criteria for new shooters, without regard for what would be the most effective firearm for their individual needs. 
In the following article, we will make solid recommendations based on brand reliability, ergonomics, caliber, and affordability. The following recommendations are for first-time handgun buyers with little to no market knowledge. Our primary focus for purchasing these recommendations will be home defense and personal security.
Smith and Wesson M&P Shield Plus. S&W and its M&P pistols are by far one of the best

9mm handguns

on the market. Extremely thin and light, the Performance Center is a perfect companion piece for any shooter. Enhanced grip texture and overall ergonomics are set up for perfect finger placement and a consistent shot. Armorlite steel ported slide and polymer frame feels good in your hand's palm. The M&P is easy to handle with a sturdy grip and smooth pull. 
Before you move forward with the buying process, a few decisions must be made and discussed with other family members. Take a moment and decide on why you are buying a handgun. Some people want to collect firearms, while others want to try their hand at the shooting range. 
If security and self-defense is the reason, this determines the type of handgun you choose. Specific handguns are perfect for the range, while others fit nicely sitting by the bedside.
Glock G43. A classic striker-fired 9mm pistol from one of the most reliable handgun manufacturers in the world. Polymer frame offers the new shooter control and manageable recoil. The G43 fits comfortably in the palm of a hand and is just over an inch wide. The small footprint offers a smaller grip and lower round capacity at only six rounds per magazine. The G43 has been designed for concealed carry and personal protection and is an excellent weapon for shooters of all skill levels.
The next choice a new shooter must make is semi-automatic or revolver. The main benefits of choosing a semi-automatic are the large capacity magazine, ease of reloading, and gun portability. Revolvers offer shooters higher caliber capacity, making them perfect for personal defense. 
Charter Arms Mag Pug 357 Magnum Revolver. A compact and powerful revolver is perfect for beginners who want protection in a small package. The 2-inch barrel, stainless steel is double action with a Crimson Trace laser black rubber grip. The five-shot Charter Arms Pug has the stopping power for any intruder. 
A significant question for every newcomer to buying a firearm: What caliber should I purchase? New shooters should remember that caliber references not only the stopping power of a gun but also its recoil. A beginner should look for stopping power with manageable recoil for home defense. Too high a caliber, and the gun is uncontrollable, too small, and there is not enough power.
It should be said; that a well-aimed lower caliber handgun can accomplish the same thing as a large caliber weapon. 
Sig Sauer P320 M18 Carry Pistol. A stunning 9mm pistol by one of the preeminent handgun builders in the world. Sig offers the P320 in a Coyote Tan, the same as the military version. Reliable and unmatched durability is an accurate firearm under any condition. The slide is optic-ready and suitable for laser sights. The striker-fired P320 is ambidextrous with a 10+1 capacity.
Comfort with a handgun is of utmost importance; however, until you have the experience of shooting and holding the weapon, a handgun will feel awkward. Look at a full-size handgun because of the large grip area and mass to absorb recoil. You must take a trip to a sporting goods retailer to test before you buy. 
Check how the gun feels in your hand's palm and how easy it is to get your fingers to the controls, such as the safety and magazine release button. Is the gun too heavy or too light? If there is a shooting range at the store, check out different calibers and barrel lengths. 
Never forget about the ammunition of the gun you choose. In the last few years, the cost of ammo has been rising steadily due to supply chain issues and other delivery problems. For home defense, choose a hollow-point bullet over other types. With a hollow point, the stopping power is increased without an increase in recoil. 
Buy in bulk with ammo purchases; this buying feature significantly reduces your per-round charge. Choose a 115-grain bullet for practice and 135-grain for other applications.
Additional Considerations for Beginners:
Most home defense scenarios happen at night; choose sights for the handgun to complement this situation. Choose the front and rear night sights or have them installed by a reputable gunsmith. The other option is to install a Red Dot sight.

Safeties on a handgun may sound counter-intuitive to a newcomer. A newcomer may keep the safety on a tad too long in a home defense situation and lose the battle. When choosing a handgun, ensure the safety is located at a place that is easy to get a finger on in the heat of battle. The feel of a handgun is crucial.
Accessories for New Shooters:
Red Dot Sights, most home defense scenarios happen at night. Target acquisition and aiming inside of a home or business can be severely handicapped without the aid of a targeting sight. Red Dots are perfect for a handgun, place the dot on your target and pull the trigger. 

Laser Grips, these handy devices improve high-intensity shooting accuracy and are remarkably useful in the dark. Laser Grips are helpful for accuracy and deescalating harmful scenarios. Laser Grips are handy for new shooters. 
---
Bonus: Root Cellar That Can Be Used as a Bunker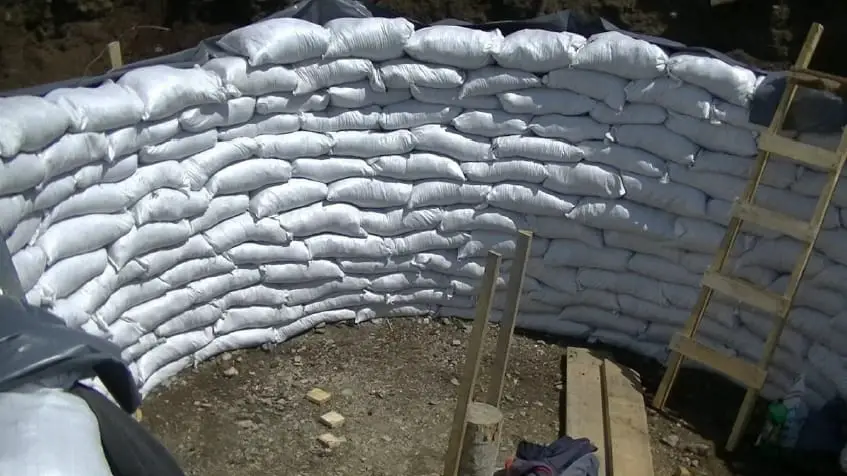 Do you remember the old root cellars our great-grandparents used to have? In fact, they probably built it themselves, right in their back yard.
If you want to learn how to build a backyard bunker like your grandparents had, without breaking the bank, then you need Easy Cellar.
Easy Cellar will show you:
How to choose the ideal site
Cost-effective building methods
How to protect your bunker from nuclear blast and fallout
How to conceal your bunker
Affordable basic life support options
Easy Cellar will also reveal how a veteran, with only $421, built a small nuclear bunker in his backyard.
Also included: