SHTFPreparedness may collect a share of sales or other compensation from the links on this page.
One of the best first steps you can take as a prepper is to build your first emergency kit. It's the perfect place to start because it allows you to grasp the necessary items to make a natural disaster or power outage less of an issue for your family.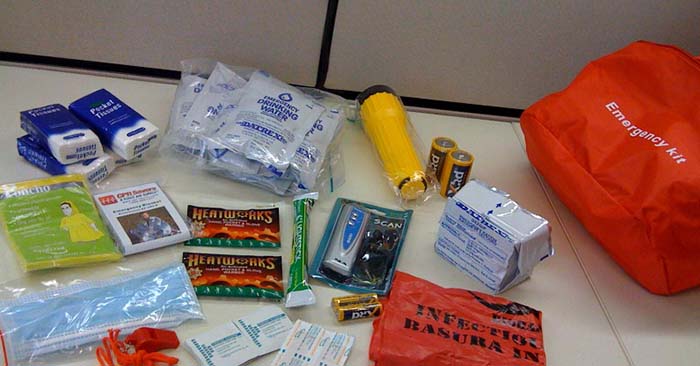 Most natural disasters are a matter of inconvenience and that can easily be dealt with. A power outage that lasts a few hours is something most people can deal with. Now, if you lose power for three days, that's when a kit like this would be very beneficial
We are going to explore a number of items that you could store in an emergency preparedness kit. We are going to focus on a handful of those items in detail.
These are critical to have around in an emergency. All beginners should start with their own emergency kit.
Water
There are a number of disasters that can disrupt the water system. That is a simple truth.
The reason water tops my list is for its necessity. We only get three days without water intake before the body starts shutting down.
Beyond that, we also need water to affect personal hygiene which can be just as important
Ready to Eat Foods
You might be able to cook or you might not. Er on the side of might not. You will find that having a collection of ready to eat foods is a matter of sheer convenience.
These foods can be anything from beef or turkey jerky to high-calorie bars. Even freeze-dried meals can fit right into a simple kit.
Flashlight
A simple flashlight can make all the difference in a disaster. If you'd like to go further just keep a small Rubbermaid with a collection of flashlights. You can have a powerful one but having a bunch at your disposal is nice, too.
First Aid
Obviously first aid is critical. People get hurt in disasters and you want to have some options. Don't forget the instructions!
Here are some other items to consider for your kit. Remember, this is about you and your family so feel free to customize this kit, as well.
extra batteries
dust masks
signal whistle
baby wipes
cell charger
local maps
cash