Some of the links below are affiliate links. If you choose to make a purchase we may earn a small commission at no additional cost to you.
The camping season seems to come and go so fast. For those of us without large tracts of land its downright heartbreaking.  You find yourself stuck in the house again. You are watching bushcraft videos from your couch and just yearning to get back outside. Of course, you are hindered by the cold temperatures.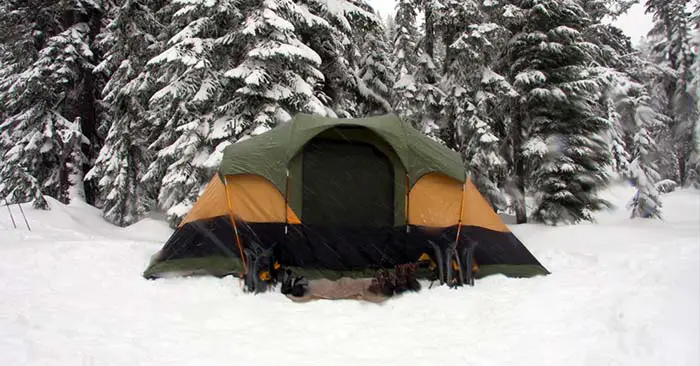 That is until you get crazy enough to actually consider camping in the winter! That is when it really gets out of hand. Now you are no longer hindered by the seasons, instead, you dominate each season. Whether this means investing in a canvas tent and a tent heater or just practicing better heat retention and camping with winter camping resources, it can be done.
There are all sorts of ways to make it through a tough night of winter camping. Of course, it all comes down to a basic understanding of how heat moves and the importance of insulation. Solo winter camping is tough and will require much more from your gear. When you camp in groups in the winter you can pool body heat and that can be very effective.
You are going to have to get off the cold ground. Most people will have a fire outside the tent but that will not help the cold ground that you are on. It will sap your body heat and you will be shivering all night if you don't get hypothermia. So be sure you have a quality rubber foam mat.
Some people even bury hot coals under the site of their tent. If don't properly this can heat up the whole tent and most importantly keep the ground warm beneath you. This requires practice but is well worth the effort.
Winter camping can offer some of the most spectacular views and it gives you a confidence that you can survive no matter what the situation.