SHTFPreparedness may collect a share of sales or other compensation from the links on this page.

Image Credit: instructables.comWhen you get right down to it growing food and food storage is about calories. We all need calories to keep our machines going. The machine requires tremendous calories. If you are working all day to survive you will likely need more than 2000 calories a day.
The struggle for most people who are growing food is the lack of calories in certain foods. You cannot live off lettuces, herbs, and tomatoes. There are just not enough calories. Preppers need all different types of foods and starches are part of that deal.
If you are going to grow foods you need to consider things like potatoes. You see, a single potato contains around 170 calories per russet potato. That is a big deal. If you eat a potato with each of your meals that accounts for nearly 600 calories of your day.
Growing Potatoes
You can grow potatoes in the ground as long as you have lots of nutrients in your soil. If you are going to grow potatoes year over year you need to move them around. They pull a lot from your soil and you will need to give that soil time to return to its former glory.
You can even use potato growing towers. These growing towers are a great way to take advantage of potatoes in a captive environment. You can control the soil that your potatoes grow in each season. That makes a big difference.
Keeping Dry Calories
You should combine high-calorie foods in your garden with dry foods. Be sure you store things like rice, corn, wheat, beans, and pasta. These dry calories are huge when it comes to long term food storage.
Drawing the balance between growing calories and storing them is vital in creating a survival food system. Food is by far your most important prep so be sure you sure that up.
---
Bonus: Root Cellar That Can Be Used as a Bunker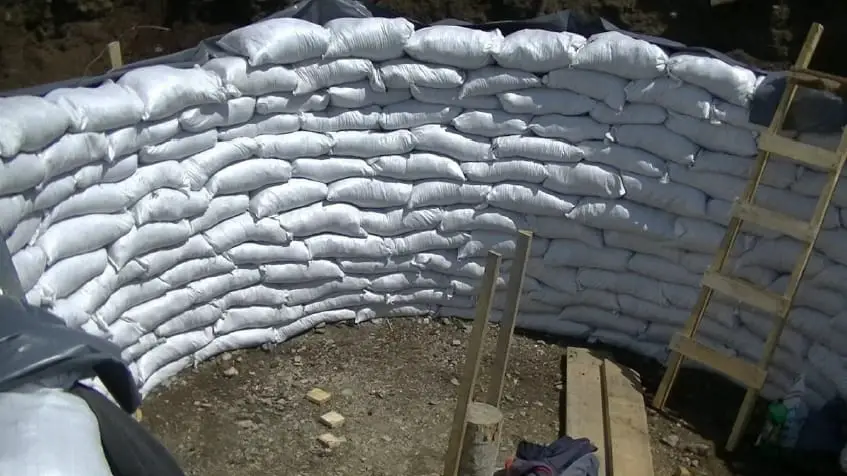 If you can't afford the box culvert option you can look into is building a backyard root cellar that can be used as a bunker.
If you want to learn how to build a backyard bunker like your grandparents had, without breaking the bank, then check out Easy Cellar.
Easy Cellar will show you:
How to choose the ideal site
Cost-effective building methods
How to protect your bunker from nuclear blast and fallout
How to conceal your bunker
Affordable basic life support options
Easy Cellar will also show you how a veteran, with only $421, built a small nuclear bunker in his backyard.