SHTFPreparedness may collect a share of sales or other compensation from the links on this page.
Here is a quick, easy and warm shelter that can be built in a survival situation that could potentially save your life (or at least make your night more comfortable). It is based on the traditional lean-to shelter with a fire in front about six feet away.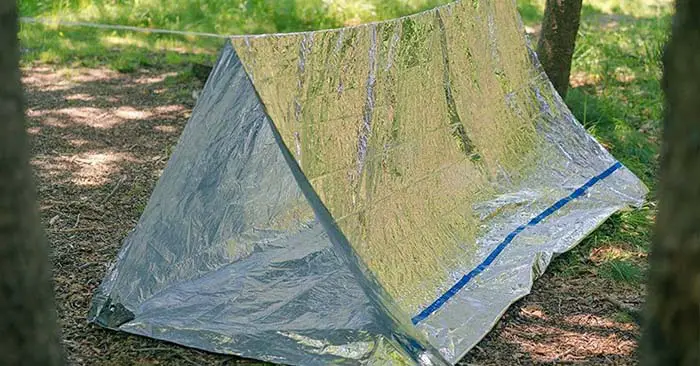 The roof is lined with an aluminized mylar space blanket and a lightweight plastic sheet over the front and sides. Even on the coolest of nights, with snow all around, temperatures inside the shelter can reach up to 70 degrees!
This shelter is extremely lightweight and inexpensive and is therefore ideal to keep in your survival kit. This shelter will provide you way more heat in the winter ultimately increase your chances of survival with a minimal fire.
Mylar Space Blankets
A staple in most survival kits, the mylar space blanket is light and cheap. It is a powerful insulator and can keep you as cool as it can warm. It can be used to reflect the suns heat in the summer and keep it in in the winter.
These blankets are a simple means of carrying shelter that weights ounces. While not glamorous you can warp yourself in a large space blanket and keep dry and warm.
Swiss Safe Emergency Mylar Thermal Blankets (4-Pack) + Bonus Signature Gold Foil Space Blanket: Designed for NASA, Outdoors, Hiking, Survival, Marathons or First Aid
The Insulated Lean To
You are likely familiar with the simple lean-to shelter. This shelter involves leaning branches onto a ridge pole that is tied between two trees. You can seek shelter beneath this if you take care to line the leaning branches with foliage and leave debris.
Taking this to the next level means lining the roof, on the inside, with a space blanket. You also lay another beneath your sleeping pad or under your body wherever you sleep. This will essentially sandwich you between two insulating layers. It makes a huge difference.