SHTFPreparedness may collect a share of sales or other compensation from the links on this page.
If it's SHTF and you have nowhere to go, or you are bugging out and you lose your gear, you have to know how to build a shelter with common household materials. I'm even betting that you could find some of the materials just laying around the city too.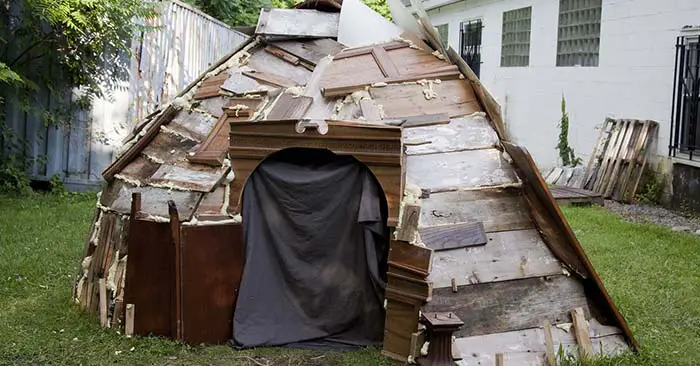 Some of this can be learned from studying the homeless populations of our nation. In alleys in every major city, there are homeless people who build shelter, not to be a cool survivalist but to get through the cold nights!
Staying warm is paramount for survival, hypothermia is a killer that we all forget about, or we think it will never happen to us.
Waterproofing
It cannot really be called the shelter if it doesn't protect you from the elements. That is something you should remember.
Waterproofing your shelter is paramount to making this happen. Look for materials like tarps, trash bags and even pieces of siding that are designed to wick water away.
Some good cordage and a tarp can go a long way! A ridge line with a tarp draped over it is as good a place to start as any.
Tarp Cover Silver / Black Heavy Duty Thick Material, Waterproof, Great for Tarpaulin Canopy Tent, Boat, RV or Pool Cover!!!
Insulating
While insulation under the tarp might come to mind first, consider insulation under you on the ground. That is going to keep you from losing all of your heat through conduction
Simple materials like cardboard, wood scraps, and even styrofoam can get you up off the ground and keep you warm.
Durability
Don't forget about some reinforcements. Your shelter has to be there through some wind and rain.
Tape, twine or even cloth is torn into lengths can be used to make knots or tie things down to help reinforce them. You could also use big rocks or other heavy items to hold your tarp to the ground.