SHTFPreparedness may collect a share of sales or other compensation from the links on this page.
How To Identify Chemical Attacks by Symptom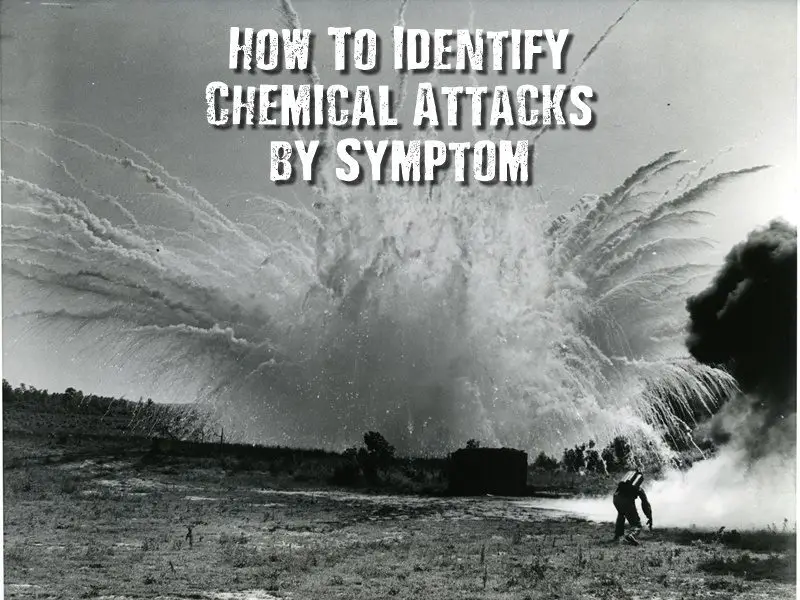 A chemical attack could cause mass terror and devastation. Large scale attacks leave many casualties and have countless people exhibiting symptoms. These chemical attack symptoms are easy to identify and can point to which type of attack was conducted. The attack could come in many different forms ranging from a spray nozzle to a bomb, but the chemical agents in these attacks truly make them unique. They may not pose quite the same threat as biological attacks since chemical weapons are harder to come by. But unfortunately the fact remains that there were over 65,000 tons of chemical weapons in the US and Russia alone in 1993.
Many stockpiles were destroyed due to the Chemical Weapons Convention, but even the US is not complete in this task. The US has asked for many extensions, with the latest estimated completion well into the 2020's. Weaponized chemical weapons are also in the hands of rogue countries, such as North Korea. A third party reported a stockpile of 2500-5000 tons in 2009, with some chemicals having a lethality of as little as 10 milligrams. Learning the telltale signs of a widespread chemical attack is easy, and the knowledge could prove the difference between life and death in a SHTF situation. Check out this great article on the symptomatology of the five main types of chemical weapons.
How To Identify Chemical Attacks by Symptom