SHTFPreparedness may collect a share of sales or other compensation from the links on this page.
How To Make An Awesome Shirt From A Wool Blanket
Have you ever heard anyone say invest in wool? Well I would, It's getting more and more expensive and it has so much potential when SHTF.
Wool is just fantastic… There are several kinds of blends of wool you need to watch out for! There is a 40% wool blended blanket which I think is the lowest blend I have seen, then a 70% blend but Obviously you want the 100% woolen blankets.
Whats the difference?
When you wash the 40% and 70% wool blankets they are hard to wash & in the process you may stretch it out , in the long-run this means that it will also be less effective. It's also thinner & keeps less warmth in. The 100% Wool blanket is by far the best not only because of thee "Wool" percentage ,but also because it can keep you the warmest! It is also the least itchy!
I think its a great mindset to stockpile wool blankets. People may have hundreds or thousands of dollars in gold and silver but in reality, what can they do to keep you warm in a SHTF situation? Great for barter too. If you plan on bugging out, wool blankets are heavy and would weigh you down but certainly having one packed  for sure could make the whole world of difference, especially if you get wet.
Wool fiber absorbs up to 36% of its weight and gradually releases moisture through evaporation.
Wool has natural antibacterial properties that allow you wear it multiply days without stinking up camp. Not so with synthetics.
Wool wicks moisture, not as well as synthetics, but better than cotton.
Wool releases small amounts of heat as it absorbs moisture.
Wool contains thousands of natural air-trapping pockets for breathable insulation.
So stock up on 100 percent wool blankets because they will keep you warm when its cold and you can make clothes from the blankets. Socks being a common item made. Check out how to make an awesome wool shirt from our friends at survivalsherpa.
How To Make An Awesome Shirt From A Wool Blanket
---
Bonus: Root Cellar That Can Be Used as a Bunker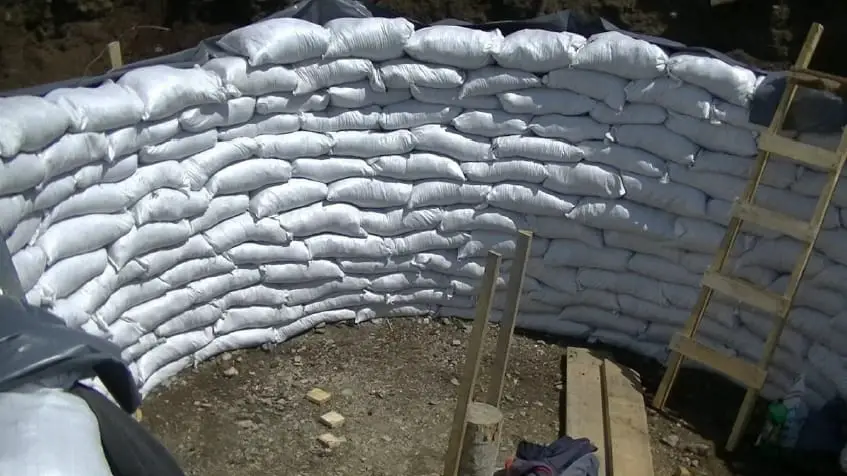 If you can't afford the box culvert option you can look into is building a backyard root cellar that can be used as a bunker.
If you want to learn how to build a backyard bunker like your grandparents had, without breaking the bank, then check out Easy Cellar.
Easy Cellar will show you:
How to choose the ideal site
Cost-effective building methods
How to protect your bunker from nuclear blast and fallout
How to conceal your bunker
Affordable basic life support options
Easy Cellar will also show you how a veteran, with only $421, built a small nuclear bunker in his backyard.