SHTFPreparedness may collect a share of sales or other compensation from the links on this page.
Water is critical and there is really no monopoly on it. If you are harvesting rainwater, if you are storing water and maybe even sourcing it from a well or local source, you got it!
You might look at your water filters and wonder, "What happens if my filters all run out?"
Its a serious question but you also have to remember that water filters are just more efficient uses and forms of natural materials. One of the most commonly used materials in water filters is charcoal. Activated charcoal is very absorbent.
You can make your own DIY water filters and start today! You can make water filters in 5-gallon buckets, lid them up and sit on them till you need them. It's not as hard as it sounds.
DIY Water Filter Components
You are going to need a source of charcoal so dont go burning up all your wood on the fire. Charcoal can be made in an oven or you can cover small chunks of wood with a mud dome and build a fire over that dome. The heat from the fire will harden the mud and turn the wood inside to charcoal.
You will also want access to some sand. Sand is a great medium to filter water through. In fact, slow drip filtering using only sand is pretty effective, too! That doesn't require any charcoal.
If you are not familiar with this method you can go the biofilter route and use things like rocks, grass, pebbles sand and charcoal to filter water.
Boil Always
No matter how good your filter is, be sure you boil that water. I know it might seem like a waste of time. However, when you are doubled over in pain from cryptosporidium. That could be the reality if you are not careful. So do yourself a favor and boil!
---
Bonus: Root Cellar That Can Be Used as a Bunker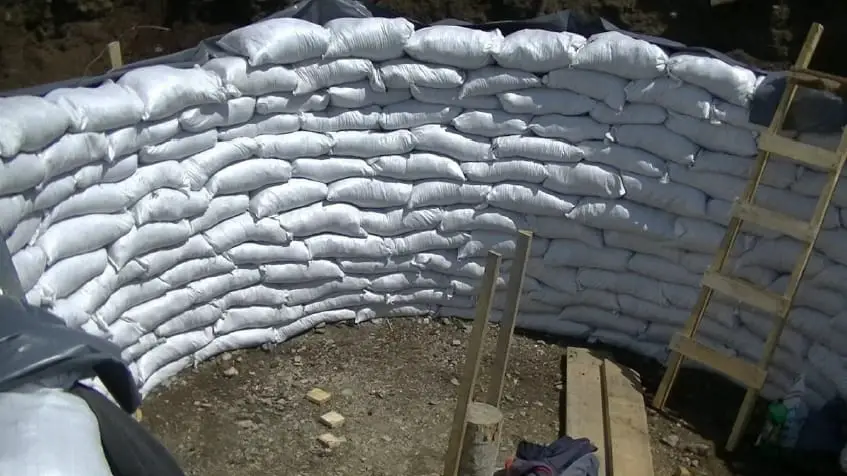 If you can't afford the box culvert option you can look into is building a backyard root cellar that can be used as a bunker.
If you want to learn how to build a backyard bunker like your grandparents had, without breaking the bank, then check out Easy Cellar.
Easy Cellar will show you:
How to choose the ideal site
Cost-effective building methods
How to protect your bunker from nuclear blast and fallout
How to conceal your bunker
Affordable basic life support options
Easy Cellar will also show you how a veteran, with only $421, built a small nuclear bunker in his backyard.