SHTFPreparedness may collect a share of sales or other compensation from the links on this page.
How To Make Thermite for Vehicle and Equipment Disabling When SHTF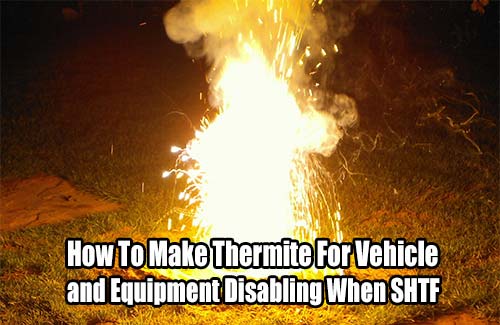 This is very dangerous and this is for learning purposes only, please read our disclaimer here.
Thermite is legal and not an explosive. Did you know Thermite burns at 4000 degrees? Thats enough to melt through pretty much anything. This would be great to know how to make for a SHTF situation, if you need to get in places or disable vehicles.
I personally would use this if I needed to cut through metal or doors. In a SHTF situation welders will not be around and the equipment needed to weld and cut uses so much power you will fry your generator.
See the full article and make your own mind up if this knowledge needs to be stored in your survival bank for that just in case moment.
How to make Thermite for Vehicle and Equipment Disabling When SHTF