SHTFPreparedness may collect a share of sales or other compensation from the links on this page.
We are all limited by what we can carry on a daily basis. From the time we leave our home there are controls put on us. Depending on where you live you might not even be able to carry a gun off your property.
When you get to your job the rules get even more strict. If you travel for a living, you basically cannot carry much of anything! That's a wild thing when you really think about it. I thought we were a free people of a free nation?
Maybe it makes sense for you to create a micro survival kit that you can store in your pocket, or add to your emergency car survival kit.
You could include things like ways to make fire, sanitize water, sensitive data, fishing tackle and much more. What types of micro survival kits can you make?
Pill Bottle Survival Kit
A simple pill bottle is a great little vessel for storing survival gear. They are pretty waterproof as well so you could even store things like tinder inside.
You can get a whole lot of little preps into a pill bottle survival kit.
Altoid Can Survival Kit
Not only does an Altoid can present a creative space for storing small survival gear, but it can also be used to make char cloth in a fire. The tin itself can be filled with small bits of cloth and then tossed into a fire, with the lid closed and you will have char cloth in about 10-15 minutes.
A2S Protection LEDway Paracord Bracelet Survival Gear Kit – with Embedded Compass LED light Fire Starter Emergency Knife & Whistle (Black/Green Adjustable size)
Survival Bracelet
The popularity of the survival bracelet is astounding. These paracord based micro survival bracelets are very interesting though not super effective. Of course, they are only as effective as what you already have on hand.
While you might scoff at these micro kits from your air-conditioned homes if you stumbled upon something like this on your second day of being lost you might weep!
---
Bonus: Root Cellar That Can Be Used as a Bunker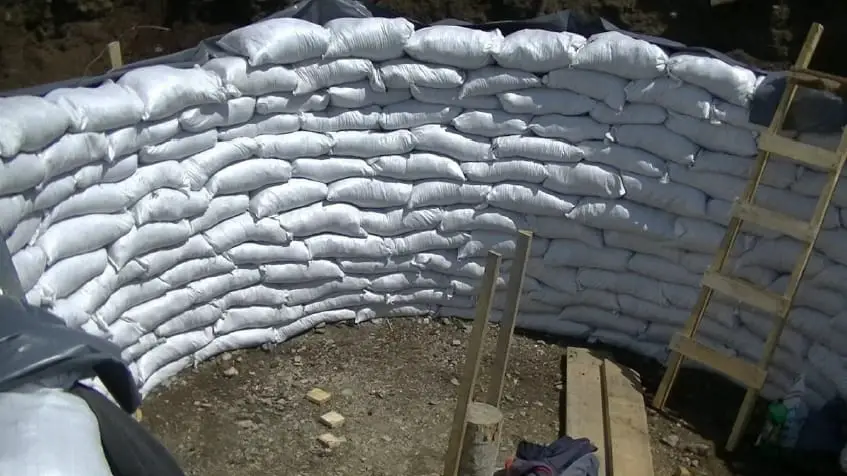 If you can't afford the box culvert option you can look into is building a backyard root cellar that can be used as a bunker.
If you want to learn how to build a backyard bunker like your grandparents had, without breaking the bank, then check out Easy Cellar.
Easy Cellar will show you:
How to choose the ideal site
Cost-effective building methods
How to protect your bunker from nuclear blast and fallout
How to conceal your bunker
Affordable basic life support options
Easy Cellar will also show you how a veteran, with only $421, built a small nuclear bunker in his backyard.