SHTFPreparedness may collect a share of sales or other compensation from the links on this page.
If you have ever had to treat a chicken who has been pecked to the point of serious injury, you quickly realize that chickens need something more to do than just focus on the pecking order.
Some chickens peck one another more often than others but one thing is for sure, busy chickens are better and more productive birds.
There are a number of interesting ways to keep chickens busy in their runs. That is the catch 22 of chickens and their level of boredom. In most cases, chickens need to stay in a run so they are not eaten by predatory birds or animals. Remember, chickens are delicious to everything.
In order to protect them you keep them in a run most of the time. Maybe you let them out rarely or when you are outside with them. Unless you are the type of owner that has 50 birds and just understands loss is going to happen.
Hang a Head of Cabbage
If you stab a hook or a large nail into a head of cabbage you can hand that vegetable in your chicken run from a short length of rope or twine and set the chickens loose on that. The cabbage is hard to really peck when its on a rope like this. It doubles as a bit of entertainment as well as cheap nutrition for your birds.
They will enjoy trying to peck this thing as much as they will enjoy filling their crawl with the vegetation.
Buy a Solution
The market has come to answer the question of chicken boredom. They offer all sorts of items to place in your chicken run that you can use to keep your birds entertained.
Frozen Squash
Another very simple thing that you can do to keep your birds busy, you can simply take an acorn squash or a butternut squash and slam it into the freezer for a few hours. It doesn't even have to be fully frozen but they will love the new toy/food to peck at.
---
Bonus: Root Cellar That Can Be Used as a Bunker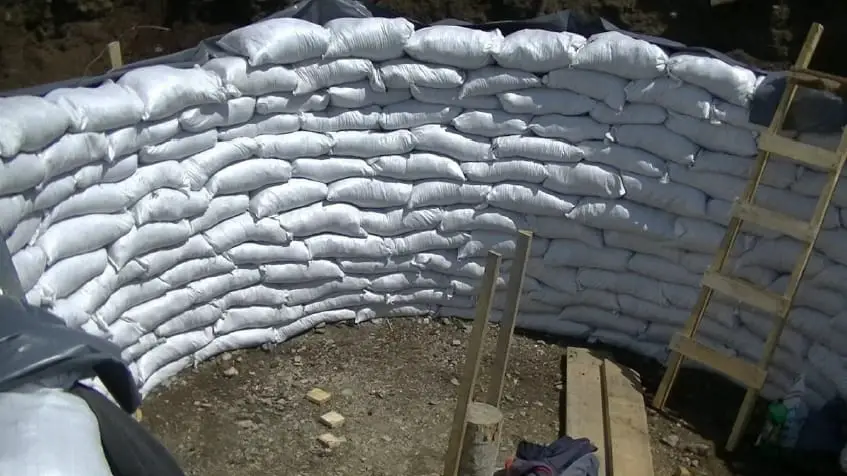 If you can't afford the box culvert option you can look into is building a backyard root cellar that can be used as a bunker.
If you want to learn how to build a backyard bunker like your grandparents had, without breaking the bank, then check out Easy Cellar.
Easy Cellar will show you:
How to choose the ideal site
Cost-effective building methods
How to protect your bunker from nuclear blast and fallout
How to conceal your bunker
Affordable basic life support options
Easy Cellar will also show you how a veteran, with only $421, built a small nuclear bunker in his backyard.