SHTFPreparedness may collect a share of sales or other compensation from the links on this page.
At 10:50 a.m. on Tuesday, three masked men exited a black Honda sedan on Olmstead Avenue in the Bronx and ambushed a 48-year-old off-duty NYPD officer.
Officer Muhammed Chowdhury, a father of three, was out jogging ahead of his 3 p.m. shift at the Central Park Precinct. The three suspects attacked him in broad daylight, striking him multiple times in the head and taking off with his cellphone, car keys, and wallet.
When fellow police officers located Chowdhury, he was unconscious and reportedly bleeding from the ear. At Jacobi Medical Center, he was found to have a fractured skull and bleeding in the brain.
According to his cousin Shobu Ahmed, the 18-year police veteran is presently unable to assist his fellow officers in determining who was responsible. "He's not really, really 100%."
Police are now conducting a manhunt for the three suspects involved in this robbery and in several others.
Police suspect that this attack is the latest in a series of 19 car-jackings, assaults, and robberies committed throughout the Bronx and Queens by the trio.
A video taken Monday is said to show another such instance where a 36-year-old victim on Quimby Avenue in the Bronx was robbed at knife-point by three men who had similarly exited a black sedan.
An NYPD officer is fighting for his life, in critical condition, after he was robbed and assaulted by three men while jogging in the Bronx.

Police believe the attack is connected to at least 19 other robberies/assaults throughout the Bronx and Queens.

Info? Call 1-800-577-TIPS pic.twitter.com/PhM5mbGRZh

— TalkRadio 77 WABC (@77WABCradio) August 24, 2022
Police have suggested that the trio may have started their crime spree on August 1, when they allegedly carjacked a 35-year-old man's 2011 Hyundai Sonata in Morris Park at knife-point.
The New York Daily News reported that the three are also believed to have perpetrated an assault and robbery on August 5 in the Castle Hill section of the Bronx, a carjacking at gunpoint of a 2020 BMW in Pelham Gardens, and several more armed car-jackings starting on August 7.
Patrick Lynch, the president of the NYC Police Benevolent Association, issued a statement saying: "While we pray at our injured brother's beside tonight, police officers across this city are searching for the cowards who did this to him … Make no mistake: we will find them."
Please pray for our injured brother and help us bring these cowards to justice. pic.twitter.com/hzcSkPYura

— NYC PBA (@NYCPBA) August 24, 2022
Without naming any one prosecutor, politician, or mayor in particular, Lynch also said, "We will need the rest of the justice system to step up and do its job … This is what happens when our leaders refuse to hold criminals accountable — not even a police officer can walk these streets safely."
Lynch may have a point. The year started off with the shooting of five NYPD police officers, four in under 72 hours.
As for robberies, just recently, on August 19, another off-duty NYPD officer was targeted by three masked men, but in this instance, the suspects robbed the victim at gunpoint and drove a white car. The suspects pulled up to the officer outside El Jefe Sports Cantina in Washington Heights, pistol-whipped the officer's cousin, and took the officer's wallet and phone.
On July 27, an off-duty NYPD officer had his firearm, wallet, keys and police identification stolen at gunpoint in the Bronx.
Anti-police hostility, bail reform, rising crime, and the perceived lack of support from "the rest of the justice system" may have spurred the mass resignation the NYPD is currently facing. 2,465 police officers have filed to leave the NYPD this year, 1,098 of whom are doing so without qualifying for a full pension.
Vincent Vallelong, president of the Sergeants Benevolent Association, stated "Politicians need to have the police's back, and we need our district attorneys to actually go out and do the job that they swore an oath to do."
---
Bonus: Root Cellar That Can Be Used as a Bunker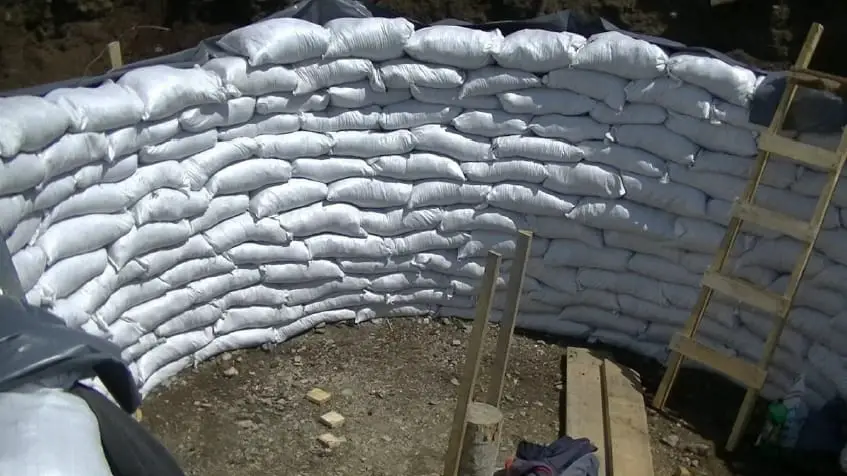 Do you remember the old root cellars our great-grandparents used to have? In fact, they probably built it themselves, right in their back yard.
If you want to learn how to build a backyard bunker like your grandparents had, without breaking the bank, then you need Easy Cellar.
Easy Cellar will show you:
How to choose the ideal site
Cost-effective building methods
How to protect your bunker from nuclear blast and fallout
How to conceal your bunker
Affordable basic life support options
Easy Cellar will also reveal how a veteran, with only $421, built a small nuclear bunker in his backyard.
Also included: