SHTFPreparedness may collect a share of sales or other compensation from the links on this page.
Why You Need To Have a SHTF / Emergency Food Supply Plan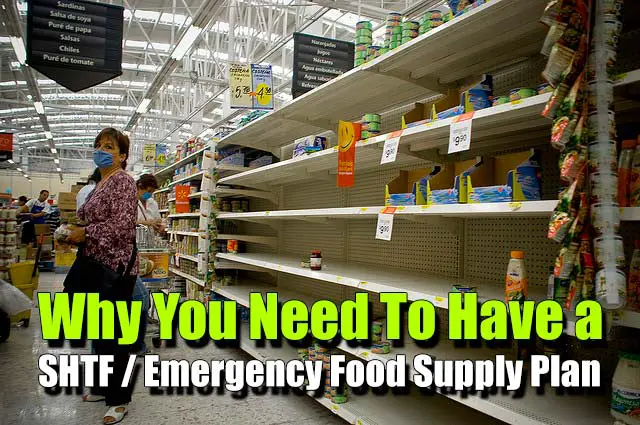 Food is one of the most important things you need to live. It's also one of the things that can cause armies, and even families, to be very happy or very upset – which can have a huge effect on their sanity or even survival. Unfortunately, there are times where you may not be able to just head on out to a grocery store or restaurant to eat.
Grocery stores only keep so much food onhand at any given time, and have to be resupplied very often or they run out. How likely do you think it is that they might not get supplied when they should? It's a lot more likely than you think.
Did you know that there are actually threats out there that could cause a long-term food shortage?
Have you ever heard of Colony Collapse Disorder?
Did you know that the U.S. government believes that there is a credible threat of a terrorist attack on our food supply?
Did you know that several countries have had their food supplies recently wiped out because of well-intentioned government rules?
Did you know that scientists believe climate change will severely affect our weather and our crops?
Did you know that there are things that you could do right now that could get you started in being prepared for a food shortage as well as other long-term things you could do to have your own food supply coming in?
There is a very thorough article that you should read that will explain these details as well as get you started with a thorough plan to make sure that you have food in case of a severe storm in your area or if things get much worse.
Check out this thought provoking and excellent article from our friends over at graywolf survival:
Why You Need To Have a SHTF / Emergency Food Supply Plan