Some of the links below are affiliate links. If you choose to make a purchase we may earn a small commission at no additional cost to you.
How a Pergola Can be Used to Protect Different Things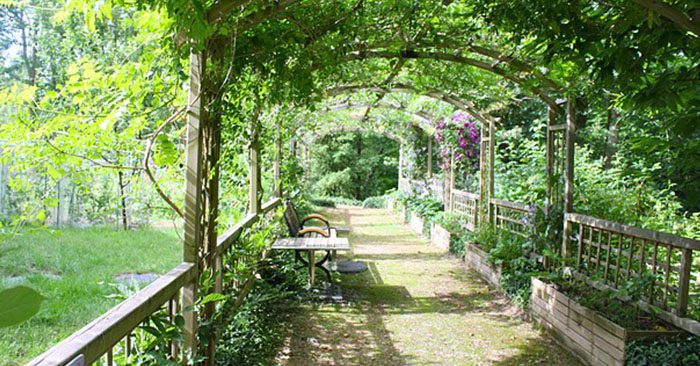 Sometimes we may want to relax in the yard, sipping on a cool beverage while enjoying the breeze while staying protected from too much sun. A pergola can provide an excellent location to experience this. This is an outdoor structure made up of columns which support a roof. The pergola's roof may be open or made up of beams and rafters just like that of a house. The columns are often thick and sturdy. The pergola may be attached to the main house or be a freestanding structure. It can be made of wood, metal, stone or a combination of these materials. Traditionally, the pergola had an open top and was designed to support vines. Today, this structure takes many designs and can have a nature aspect to it or not. Offering you privacy thanks to trellises and vines, the pergola is an ideal addition to your yard or home landscape. In modern times, it offers protection in addition to
beauty. Here is more on this.
Structure of Modern Pergolas
Generally, a pergola can be freestanding or attached to the side of a house and seem like an extension. In most cases, the pergola is rectangular in shape. However, it can be other shapes such as hexagonal, circular, octagonal or square. It effectively provides a shaded area for your verandah or patio. Should it be built with a closed roof, the pergola can have a gazebo featuring a peaked roof. Furthermore, a dome can be fitted to the top of your pergola so as to create a classic, architectural piece. Thanks to its freestanding nature and capability of having a roof, pergolas are often used to provide protection from the elements and much more.
Car Protection
Nowadays, pergolas are used as car ports. They are designed and built to provide
protection for your car from the elements. There are many companies which manufacture or construct pergolas to be used as carports. This can be for commercial or residential use. The pergolas that are used for car protection are made of durable materials such as stainless steel. They have durable roofs on them that protect your car in case it rains or snows. Furthermore, some of them even have modular walls that create a enclosure for your car. All these design aspects are added to provide complete protection for it. Your carport pergola can be custom-built in your property by a contractor. Alternatively, you can buy a carport pergola kit and build it yourself. Pergolas are decorative and beautiful. Hence, they make for excellent carports providing protection to your vehicle from the elements.
Garden Furniture Protection
Outdoor furniture can decorate your yard in a tasteful way. It also provides excellent
spots where you can relax. To keep it in great condition, it is important to protect your outdoor furniture from the elements and adverse weather. One of the ways to do this is through pergolas. There are various pergola designs that can protect your garden furniture. For maximized garden furniture protection, they can have a roof on them to prevent the snow or rain pouring upon your furniture. This is especially important if the item of furniture in question are made of wood.
Featuring decorative roofing tiles, pergolas can keep your furniture dry even in downpours. Furthermore, you can have the pergolas constructed to have some panels on their sides. This adds further protection from pets running in your yard, stray soccer balls or strong wind. The panels can be dotted with glass windows to facilitate beautiful views of your yard or feature simple vents instead. Circular, square or rectangular pergolas are ideal for protecting garden furniture. Seeing as they are made of durable materials such as stainless steel, the pergolas cannot rust or get worn out by the outdoor conditions. As a result, you get lifetime protection for your garden furniture.
Shelter Entry Protection
Safety always comes first. When you have a family or dependents living with you at your house, it is important to ensure that they will be safe even in the event of war or natural catastrophe. Many people have found a solution for this in underground shelters. These are specially-built building complexes that have thick walls to protect the occupants from bombs, air filtration systems, food and supplies within too.
While this may bring images of classic military structures, modern underground bunkers are actually very comfortable and even luxurious. They often contain furnishings in place, clothing, food,water and entertainment amenities too. Despite being impervious to bombs, bio-hazards and even fire, the bunker entrances still need to be protected from prying eyes. Pergolas provide excellent means to do
this.
A pergola can be constructed to be an extension or a freestanding structure. Therefore, if it is an extension of your house, it can be used to protect the door to your underground bunker. Featuring draping vines, opaque or translucent panels on the sides or a combination of both, the pergola can protect your shelter entry in a
tasteful way. Should your underground shelter be located a few meters from your main house, you can use a freestanding pergola to provide shelter entry protection. Some custom furniture can be added to further disguise the entry and provide you a safe, stylish entrance to your survival facility.
Conclusion
Pergolas are versatile structures to have in your yard. They can provide an excellent spot for relaxing with family or friends in the outdoors. Seeing as pergolas can have an open top or even a closed one, they can provide protection from the breeze or even
from the rain. Nowadays, pergolas are used to protect cars from the elements. Whether it is a freestanding one or an extension of your house, a pergola carport keeps your vehicle in great condition. These structures can also protect your garden furniture. This is most applicable for protection against harsh weather. Last but not least, pergolas can be used to protect the entry of your underground
shelter. By disguising it, they make it difficult for intruders to know where the entrance is and boost your chances of survival.