Some of the links below are affiliate links. If you choose to make a purchase we may earn a small commission at no additional cost to you.
Preparedness Month: Top 20 Survival / Prepping Books To Get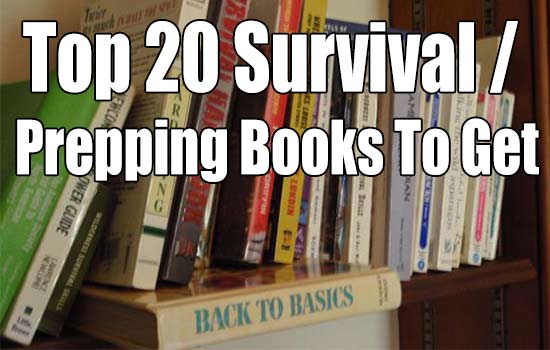 The book listed below are very good and highly rated survival / prepping knowledge we all should try and get for our preps. They are not in any particular order and some of them have been free so try your luck some may still be free to get on kindle/ ipad etc.
It's always good to have this knowledge on hand, if the grid goes down you will LOSE all access pretty much to your saved info. I personally have around 6 of these books and when I can will continue to build my survival library.
2. Survival Mom – How to Prepare Your Family for Everyday Disasters and Worst-Case Scenario
3. Build the Perfect Bug Out Bag – Your 72-Hour Disaster Kit
4. Edible Wild Plants – Wild Foods From Dirt To Plate
5. A Field Guide to Edible Wild Plants: Eastern and Central North America
6. Strategic Relocation – North American Guide to Safe Places, 3rd Edition
7. Mini Farming: Self Sufficiency on a 1/4 Acre
8. Prepper's Instruction Manual – 50 Steps to Prepare for any Disaster
9.Handbook to Practical Disaster Preparedness for the Family
10. How to Survive the End of the World as We Know It: Tactics, Techniques, and Technologies for Uncertain Times
11. Medicine for the Outdoors – The Essential Guide to First Aid and Medical Emergency, 5th Edition
12. The Forager's Harvest – A Guide to Identifying, Harvesting and Preparing Edible Wild Plants
13. When All Hell Breaks Loose: Stuff You Need To Survive When Disaster Strikes
14. The Survival Handbook: Essential Skills for Outdoor Adventure
15. The Prepper's Pocket Guide – 101 Easy Things You Can Do to Ready Your Home for a Disaster
16. Dirt Cheap Survival Retreat – One Man's Solution
17. 31 Days to Survival – A Complete Plan for Emergency Preparedness
18. Bushcraft – Outdoor Skills and Wilderness Survival
19. Barnyard in Your Backyard: A Beginner's Guide to Raising Chickens, Ducks, Geese, Rabbits, Goats, Sheep, and Cattle
20. Ray Mears – Essential Bushcraft
With those books being some of the best written knowledge on the internet please take 1 minute and vote for me HERE. I am trying to get to the top and I can only do this with your help. Thanks in advance 🙂