SHTFPreparedness may collect a share of sales or other compensation from the links on this page.
Preparedness Uses for 2 Liter Bottles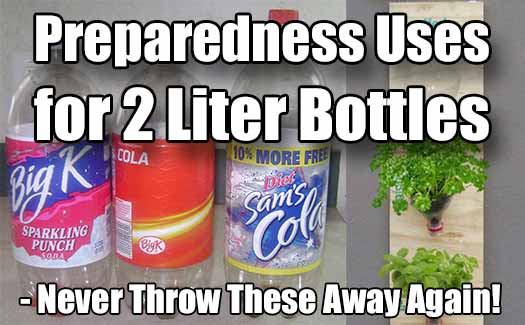 See how using old 2-liter bottles for survival could change your way of thinking about preparedness. Save you money and make you more self reliant than ever before!
I am sure many of you know that millions on millions of these little plastic gold mines gets thrown away or recycles each year… this is crazy because after reading the article from our friends over at myfamilysurvivalplan.com my eyes were opened and a "aha" moment happened to me.
This is also a great way of upcycling your trash that you would normally just throw away. If you do not drink pop or do not have many ask your friends and relatives to save them for you 🙂
I could use old pop bottles to help me prep and especially in the garden this spring and summer. They have a great list of things you could do with an old 2 liter pop bottle so head on over and check it out. My favorite was the Upside-down planter. genius.
17 Great Ways to Utilize 2-Liter Soda Bottles for Survival