SHTFPreparedness may collect a share of sales or other compensation from the links on this page.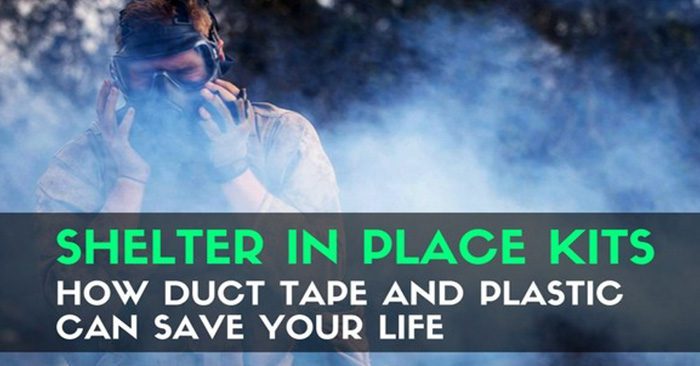 Like Broadway Joe once said "First, I prepare. Then I have faith." The Shelter in Place kit is not one you want to find yourself using if you can help it. As a matter of fact, you will probably need to use a lot of faith to survive what this kit protects against. If you are using this kit, it means that some of the nastiest stuff mankind has unleashed on this planet is heading in your direction. While the kit does not seem like much, it can be what stands between you and a painful end. There is not much drawback to the kit- it is cheap, simple, and the tools are multi-purpose. All it takes is a little forethought to stash one in your designated room to have a much better chance of 'riding out a storm.'
I have personally prepped many of these kits while in the military and drilled many troops on how to use them. You would be surprised at how a kit so simple is hard to set up quickly without practice. So if I leave you with just one extra piece of advice- it would be to practice and use your kits and tools. Check out the Shelter in Place Kit write up below:
Shelter in Place Kits – How Duct Tape and Plastic can Save Your Life
---
Bonus: How to Make Pemmican, the Original Survival Food
Invented by the natives of North America pemmican was used by Indian scouts as well as early western explorers.
Native Americans spent a great deal of time on the go and depended on having portable, high-energy, highly nutritious, and filling foods that would last for long periods of time without refrigeration.
Pemmican is a portable, long-lasting, high-energy food. It's made of lean, dried meat that's crushed into powder and mixed with hot, rendered fat. This makes it one of the ultimate foods to have stockpiled for when SHTF or disaster strikes.
People really should avert their gaze from the modern survival thinking for just a bit and also look at how folks 150 years ago did it.
These guys were the last generation to practice basic things, for a living, that we call "survival skills" now.