SHTFPreparedness may collect a share of sales or other compensation from the links on this page.
The bags and the load outs for some of these bug outs are getting bigger and bigger by the day. It's insane to see what people are lugging around on their backs.
There is something to be said about a lighter loadout. Of course, you have to be comfortable with the skills in order to pack less gear.
While minimalist packing has its downsides too, there are some very important areas in wilderness survival where you want to have redundancy.
Redundancy is the idea that we should have more than one of the same or similar items on hand. This is often described as a way to combat Murphy's Law.
So, in the realm of wilderness survival what are the things we need redundancies for?
Fire
Probably the most important piece of the wilderness survival puzzle, fire gives you so many things that it only makes sense that you have a number of methods for starting and growing a fire.
One of the best redundancies is a pair of lighters.
You can also invest in two large Ferro rods. Pack all 4 and they will take up very little space but offer that fire insurance.
bayite Ferro Rods 1/2″ X 5" XL Survival Fire Starter Drilled Flint Steel Ferrocerium Rod with Toggle Hole for Paracord(Pack of 2)
Water
Another huge player in the game of wilderness survival is water. You have to have a means to both filter water and sanitize it.
Now, your fire redundancy is going to help you with that but you are also going to want some things like tincture of iodine, bleach, aquatabs and the like. Having both options is redundancy and will go a long way.
Potable Aqua Water Purification Treatment – Portable Drinking Water Treatment for Camping, Emergency Preparedness, Hurricanes, Storms, Survival, and Travel (50 Tablets)
Aquatabs 100 Pack – World's #1 Water Purification Tablets
Cordage
The unsung hero of the wilderness survival world is undoubtedly cordage.
Cordage is the basis of shelter and its very tough to replicate in the wild. So, whether you have different types of cordage or just an excess this is where you want to focus on having extra, as well.
---
Bonus: Root Cellar That Can Be Used as a Bunker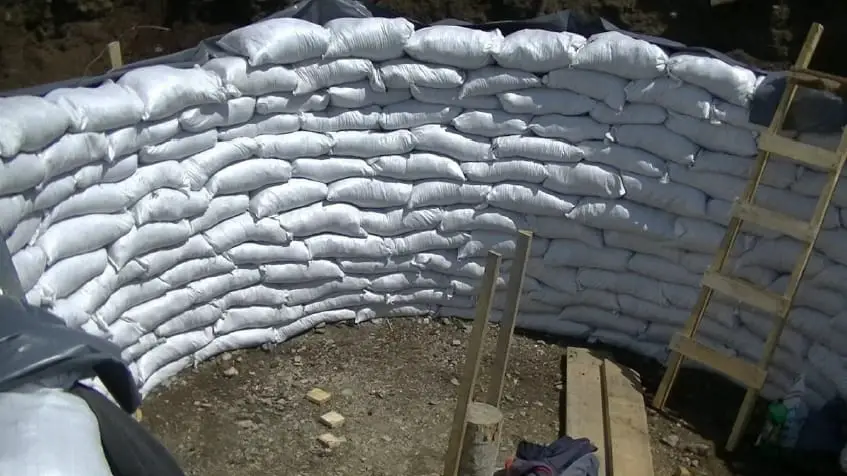 If you can't afford the box culvert option you can look into is building a backyard root cellar that can be used as a bunker.
If you want to learn how to build a backyard bunker like your grandparents had, without breaking the bank, then check out Easy Cellar.
Easy Cellar will show you:
How to choose the ideal site
Cost-effective building methods
How to protect your bunker from nuclear blast and fallout
How to conceal your bunker
Affordable basic life support options
Easy Cellar will also show you how a veteran, with only $421, built a small nuclear bunker in his backyard.