SHTFPreparedness may collect a share of sales or other compensation from the links on this page.
The skill of shelter making takes a lot of practice. It's not something you can just get out there and master. Of the making of many shelters, there is no end. That's for sure. Now, making a shelter from natural materials only is very impressive and can be effective if you are the type of person who knows what they are doing.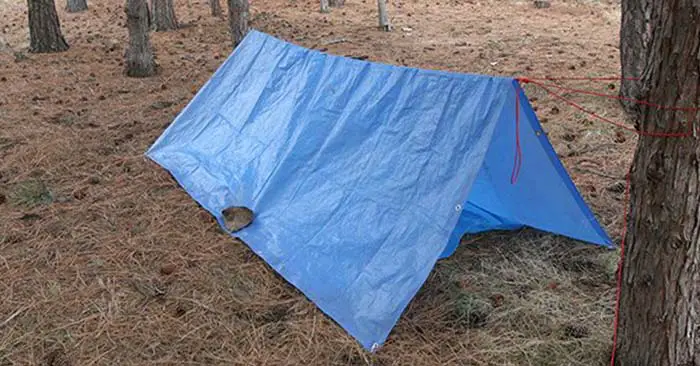 However, a simple tarp can make all the difference in the quality and efficacy of a shelter. Ideally, emergency shelter should not be something that takes three hours to build. A quick up tarp is a means of weatherproofing your camp and protecting against wind sheer.
Your quick up tarp shelter is going to require three things to be successful.
The Tarp
You want to have the right tarp for the job. This should depend on your size and the size of your camp. Look for a quality camping tarp with heavy duty grommets sewn into it. The more the better as this gives your shelter versatility.
Cordage
Whether you opt for bank line or paracord you need to make decisions about cordage and how it will serve you in this shelter. Its one of the most important parts of any survival loadout. Without cordage, you will not be able to get this shelter up in a hurry.
Typically you can find two trees that are far enough apart to fit you and create a ridge line with this cordage to drape the tarp over. In harsh weather be sure that the ridgeline descends from one tree to the next or even that one end is staked to the ground. This will give you a protective wall.
Stakes
That brings us to our final piece. Pack some small plastic stakes. Can you make stakes from wood? Sure you can but this is a quick up shelter. They weigh nothing and give you a shelter option much faster than whittling sticks.