SHTFPreparedness may collect a share of sales or other compensation from the links on this page.
Space is one of the three biggest hurdles that most preppers face. We all know that prepping has hard stops and those hard stops can be really tough to get around. It's no joke.
People struggle with these things every day of their lives. Their motivation is to get prepared but things are in the way!
Lets first talk about those hurdles because you might not even know what you are really up against.
Money
Space
Family
These things can get in our way.
We are going to look at number two today. You see, it's going to take more space to bring in more preps. That's the end.
So the only way you can get more space is if you keep on the declutter and organization. There are so many tools out there for an organization its mind boggling.
Are you going up with your storage?
Are you going under with your storage?
You have to take advantage of all the dead space. Spring is a great time to get involved in this declutter. Let's look at some methods for taking advantage of or making more space at home.
Donate
We all have too much stuff. The best method for getting rid of stuff is to donate it.
We live in a time of access that is unlike any other. Many children have toys that are not even opened! Donate that stuff.
You have clothes you wore twice and have sat in your closet since. Someone out there might be looking for exactly what you have!
Trash
Sometimes you just have to trash some things.
There aren't people on the planet that want your 10-year-old college tee that is full of holes and falling apart. Sometimes you just gotta make a couple of bags for the trash man. That's ok.
FLEXIMOUNTS 4×8 Overhead Garage Storage Rack Adjustable Ceiling Garage Rack Heavy Duty, 96
Reorganize
Your final option is to take on the task of reorganizing.
This is not a feat impossible and its something you can pull off if you are thoughtful. You might need to consider adding some shelving or clever storage spaces to your situation but it's possible.
If you find the space you can fill it with the preps.
---
Bonus: Root Cellar That Can Be Used as a Bunker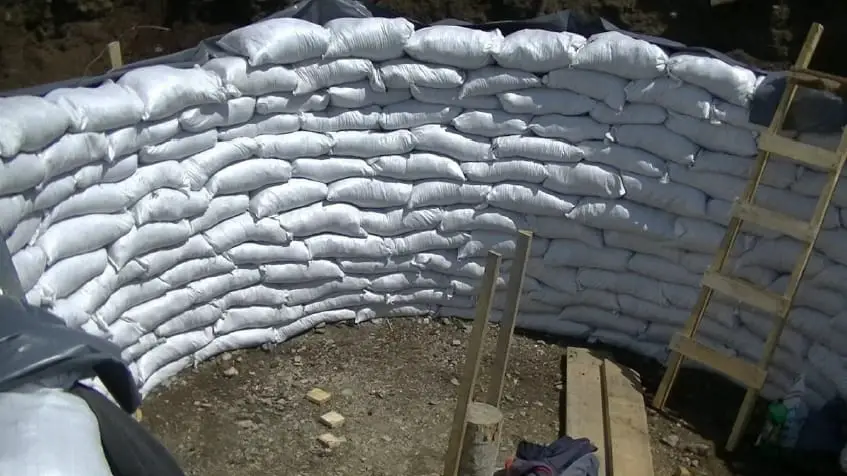 If you can't afford the box culvert option you can look into is building a backyard root cellar that can be used as a bunker.
If you want to learn how to build a backyard bunker like your grandparents had, without breaking the bank, then check out Easy Cellar.
Easy Cellar will show you:
How to choose the ideal site
Cost-effective building methods
How to protect your bunker from nuclear blast and fallout
How to conceal your bunker
Affordable basic life support options
Easy Cellar will also show you how a veteran, with only $421, built a small nuclear bunker in his backyard.