SHTFPreparedness may collect a share of sales or other compensation from the links on this page.
How likely is a nuclear attack to occur in our lifetime? Nobody can answer that for sure. But there's one thing that can be said for certain: if it happens and you're unprepared, you're as good as dead. So the question is; do you know how to survive a nuclear attack?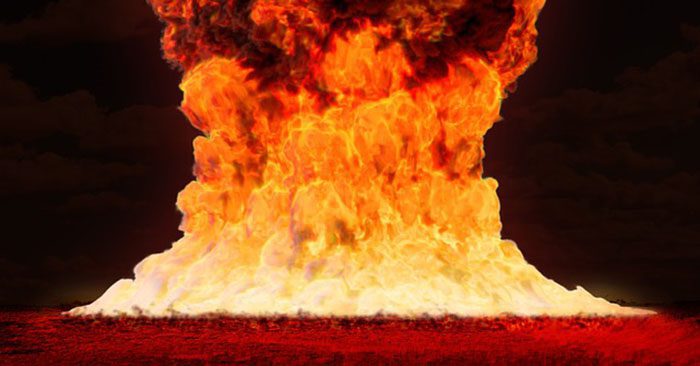 While WW3 hasn't happened yet, there isn't anything, in principle, preventing it from happening. Country A could suddenly get the urge to shoot off a nuke tomorrow, and country B would have no choice but to send them back.
Before you know it, hundreds of nuclear warheads would be in the air heading for different cities across the world. It's not a pretty picture, but if you're prepared, there are ways to increase your chances of survival.
Arguably the best thing you can do to prepare today is to have an build an underground bunker. Sure, you could invest $100,000 in a nice one, but who's got the funds for that?
If you're on a limited budget, you're better off building a cheaper underground shelter for $5,000 to $10,000. It won't be the most luxurious thing in the world, but it might save your life.
Learn where to find underground bunkers for sale.
Which leads us to our next point: it's not the blast that's going to kill the most people- it's the radiation. Nuclear fallout is by far the deadliest thing associated with a nuclear bomb. The gamma radiation from a nuclear bomb will cause sickness and death with minimal exposure and is capable of penetrating most materials.
However, things like lead and dirt can protect yours from gamma rays, which is why experts always recommend building shelters underground and covering them with a lot of dirt.
It also helps to live in the right area. There are certain cities in the world more susceptible to nuclear attacks than others. For example, cities like Miami, Los Angeles, Chicago, and New York would all be the first places to be attacked by a nuke.