SHTFPreparedness may collect a share of sales or other compensation from the links on this page.
Vegetables You Can Plant In July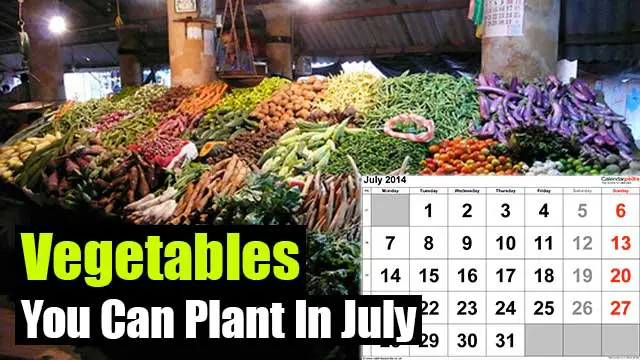 It's not to late peeps. Check out what you can plant now …
Despite what many people think, July is definitely not too late to start planting vegetables. July is also a good month to put in a second (or third) sowing of certain crops, such as carrots, radishes, and lettuce. It is also the perfect time to start planning the fall vegetable garden — fall will be here before you know it!
Below are lists, by U.S. region, of which vegetables and herbs you can plant in July. Unless specifically listed as "transplants" the items in this list can be direct-sown in your garden this month.
CENTRAL U.S./MIDWEST
Basil
Beans
Beets
Broccoli (Transplants)
Brussels sprouts (Transplants)
Cabbage (Transplants)
Carrots
Cauliflower (Transplants)
Cilantro
Cucumbers
Kale
Parsley
Radishes
Summer Squash
Swiss Chard
Turnips
Winter Squash
NEW ENGLAND + MID-ATLANTIC
Arugula
Basil (Transplants)
Beans
Beets
Brussels sprouts (Transplants)
Cabbage (Transplants)
Carrots
Cilantro
Cucumber
Kale
Leeks (Transplants)
Lettuce
Parsley
Radishes
Swiss Chard
NORTH CENTRAL U.S./ROCKY MOUNTAINS
Arugula
Beets
Broccoli (Transplants)
Cabbage (Transplants)
Carrots
Cilantro
Dill
Kale
Lettuce
Parsley
Radishes
Spinach
Turnips
PACIFIC NORTHWEST
Arugula
Beans
Beets
Broccoli
Brussels Sprouts (Transplants)
Cabbage (Transplants)
Carrots
Cauliflower (Transplants)
Cilantro
Dill
Kale
Lettuce
Parsley
Peas
Radishes
Swiss Chard
Turnips
SOUTHEAST/GULF COAST
Basil
Beans
Beets
Carrots
Cilantro
Collard greens
Cucumber
Dill
Eggplant (Transplants)
Peppers (Transplants)
Pumpkins
Tomato (Transplants)
Winter Squash
SOUTHWEST
Basil
Beans
Cilantro
Corn
Cucumbers
Dill
Peppers (Transplants)
Summer Squash
Tomato (Transplants)
Winter Squash