SHTFPreparedness may collect a share of sales or other compensation from the links on this page.
Animal rights activists held a large protest in New York City on Saturday afternoon. However, some of the participants became concerningly unhinged when a man committed the crime of eating a shish kebab, as seen in a viral video.
Independent photojournalist with the Twitter handle Viral News NYC covered the large protest by animal rights activists in New York City. The protesters were boasting signs with slogans such as "meat is murder," "it's not fashion, it's violence," and "go vegan."
Happening now in NYC. Massive crowd take the streets of NYC to fight for Animal rights #NYC #PROTEST pic.twitter.com/ej7VqcBJzr

— Viral News NY (@ViralNewsNYC) August 27, 2022
Massive crowd of Animal Rights activists shutdown the streets of #NYC to demand #AnimalRights pic.twitter.com/4u9aeCXuQz

— Viral News NY (@ViralNewsNYC) August 27, 2022
The animal rights activists were furious that people were eating ice cream.
Outside the Fendi store, protesters spilled fake blood and said the luxury fashion brand had "blood on its hands." There were also screams of, "50 dead animals for one fur coat!"
The crowd demanded a "fur-free NYC" in front of the Louis Vuitton store.
Outside a McDonald's restaurant, demonstrators yelled, "It's not McDonald's, it's mcmurder!"
Standing near the front door of the Nike store, animal activists claimed that the colossal shoe manufacturer kills 2 million kangaroos a year.
One man infiltrated the protest and trolled the animal rights activists by eating shish kebab right in front of the demonstrators. Multiple animal activists lost their minds because the man had the audacity to eat meat. The scene became incredibly intense, but the vitriol didn't stop the man from enjoying his shish kebab.
An irate animal activist lectured the man, "You disgust me. Who do you think you are? You're just a coward. You're a spineless piece of s**t, and you're embarrassing yourself. You're gonna die on your own."
Some in the crowd chanted: "Shame!"
An even more enraged protester shrieked obscenities in the meat-eating troll's face.
The man trolled the woman by licking the shish kebab with great delight.
In front of Nike in #NYC where animal rights activists were rallying in front. A man comes off the streets and starts mocking the activists and eats Shushka Bob in front of the activists. Activists start yelling at the man#pita #animals pic.twitter.com/puQ1I9EJlV

— Viral News NY (@ViralNewsNYC) August 27, 2022
The New York City protest was part of "World Day for the End of Speciesism" demonstrations organized by People for the Ethical Treatment of Animals (PETA).
Viral News NYC interviewed PETA campaign specialist Ashley Byrne about "World Day for the End of Speciesism."
"I'm here because this is our chance as animal rights activists to come together once a year to celebrate our movement, to let the world that we're taking a stand together against speciesism, which is the idea that humans are superior to animals and we have a right to use them for our purposes," Byrne said.
"And I think what we all want out of being here today is for people to think about their relationship with animals and to realize that animals are individuals," she added. "They were created for their own purposes. They're thinking, feeling individuals just like us. And they deserve better than to be used and exploited for human purposes."
This article was first published on The Blaze.
---
Bonus: Root Cellar That Can Be Used as a Bunker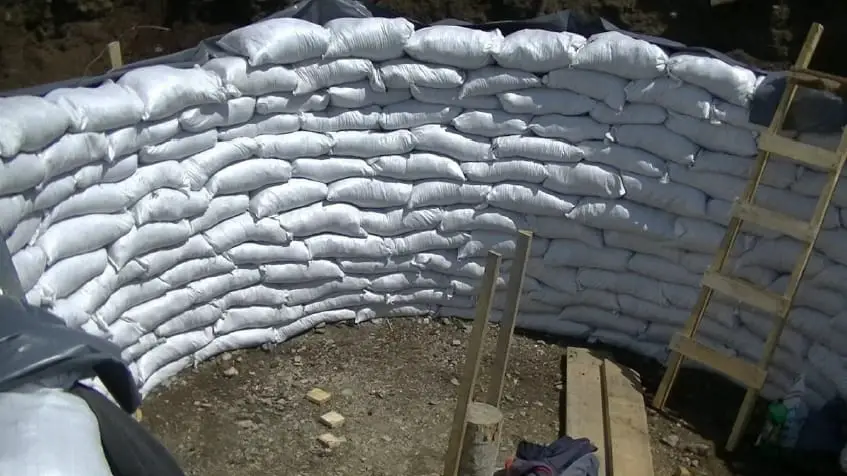 Do you remember the old root cellars our great-grandparents used to have? In fact, they probably built it themselves, right in their back yard.
If you want to learn how to build a backyard bunker like your grandparents had, without breaking the bank, then you need Easy Cellar.
Easy Cellar will show you:
How to choose the ideal site
Cost-effective building methods
How to protect your bunker from nuclear blast and fallout
How to conceal your bunker
Affordable basic life support options
Easy Cellar will also reveal how a veteran, with only $421, built a small nuclear bunker in his backyard.
Also included: