SHTFPreparedness may collect a share of sales or other compensation from the links on this page.
There is a lot of talk and effort put towards making primitive fire. Techniques like the bow drill or the hand drill are very popular in the bushcraft and survival communities. Everyone can understand the importance of being able to make fire in a survival situation.
Maybe its that making fire from sticks puts people's concerns at ease. They might feel like if they can make fire from wood then they can survive about anything? Not really sure where the motivation comes but its clear that people respect and practice these techniques.
Friction fire with wood is no easy undertaking. It's also not a method that is assured. You will find that dealing with wood has many, many variables. Unless you are carrying your soft and hardwood on your person, you are going to struggle to find and process a drill set if you are not very experienced.
Rather than depend on primitive means of fire it's better to be sure you can start fire fast with items that you carry. Primarily use metal implements for fire starting.
Why? Well, you can make fires with sparks and metal for a very long time. Wood is going to wear out, get wet or break. Primarily fire methods should be as quick, easy and repeatable as possible.
KonvoySG Flint and Steel Kit. Fire Striker, English Flint Stone & Char Cloth
Swiss Safe 5-in-1 Fire Starter with Compass, Paracord and Whistle (2-Pack) for Emergency Survival Kit
UCO Titan Stormproof Long Burning Waterproof and Windproof Matches (25 Count)
When Does a Primitive Fire Make Sense
Having the skill and owning the skill is more a matter of preference. If you really want to be able to make a fire using sticks than you should go for it. With the modern fire starting tools and implements, it doesn't really make sense to depend solely on sticks for fire.
A better motivation is to assure that you are overprepared for starting fire in your kit and your EDC.
Be sure that you have a number of means for starting a fire. Use flint and steel, lighters, ferro rods, matches, Fresnel lenses, charcloth, quick tinder, dryer lint and use them all in mass.
Fire is not something you need to leave up to chance.
https://www.amazon.com/KonvoySG-Striker-Traditional-Starter-Emergency/dp/B074W93F4B/ref=sr_1_12_sspa?ie=UTF8&qid=1549018083&sr=8-12-spons&keywords=flint+and+steel&psc=1
---
Bonus: Root Cellar That Can Be Used as a Bunker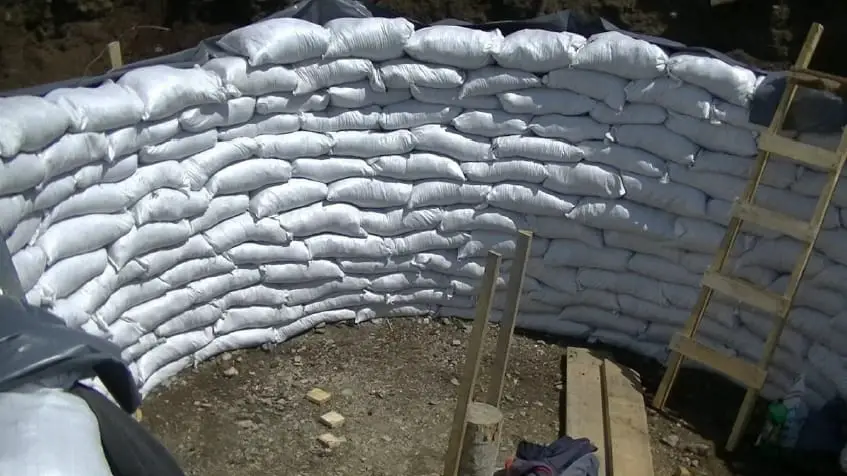 If you can't afford the box culvert option you can look into is building a backyard root cellar that can be used as a bunker.
If you want to learn how to build a backyard bunker like your grandparents had, without breaking the bank, then check out Easy Cellar.
Easy Cellar will show you:
How to choose the ideal site
Cost-effective building methods
How to protect your bunker from nuclear blast and fallout
How to conceal your bunker
Affordable basic life support options
Easy Cellar will also show you how a veteran, with only $421, built a small nuclear bunker in his backyard.