100 Days of No Processed Foods – Crock Pot Recipes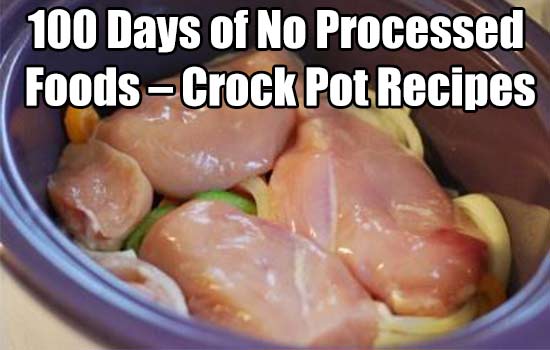 By "no processed" foods I mean that nothing in these recipes calls for cream-of junk (unless it's homemade), any pre-packed item like Italian Dressing, or Velveeta (bless Velveeta's heart), etc.
You WILL find ingredients like:  soy sauce, ketchup, canned beans, taco seasoning and mustard. Why? Because those things are minimally processed and you can even make your own scratch version if you like.
Mostly these recipes call for good, wholesome ingredients: meat, vegetables, broth and seasonings. But they're put together in such a way that they make you wanna slap yo mama (if you're not from the south, please know that's a good thing). See the full article below:
If you liked this post, maybe you will like some of our others, you can check some related articles below or search via categories on the right, be warned, you will be on here for hours. Enjoy 🙂
100 Days of No Processed Foods – Crock Pot Recipes