SHTFPreparedness may collect a share of sales or other compensation from the links on this page.
Free survival gear? You had me at free!
I'm a little more skeptical than that. The reality is, in this world of internet saturation, bloggers and advertisers look at every edge to get your clicks.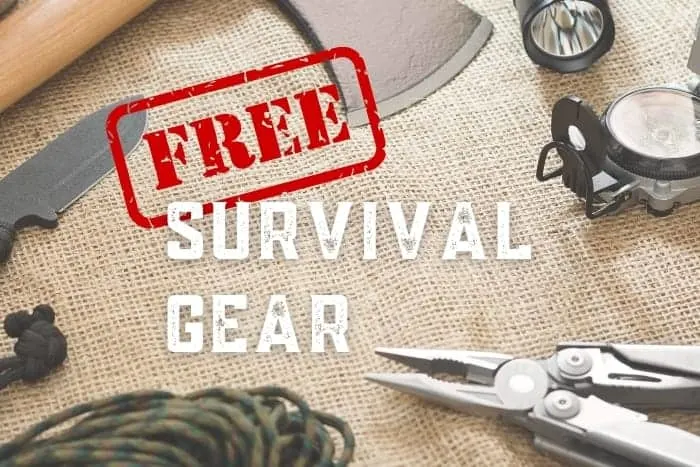 For example, this is often done with awesome content. These sites build a following with reliable and informational posts. Other times it with an encyclopedic series of links to other pages.
Most importantly, and to the benefit of you and me, a third group gets hits by offering free survival gear.
How They Do It
For example, they negotiate deals with various manufacturers to get large quantities of useful items for low cost or free. As a result, their search for clicks becomes our advantage.
They pass these survival tools off to you for either the cost of shipping or completely free. In other words, if you dedicate some time to some internet sleuthing you can get some great deals.
Being properly prepared takes knowledge and tools. In most cases knowledge surpasses tools. That being said, I'd still take a lighter if I had to make a fire in the rain. Therefore, take a good look at the links we've pulled together for you for some of the best free survival gear. There's a lot of effort here designed to help you accumulate some of the best tools to keep you safe and sound.
What's the Catch? Is This Gear Really Free?
In some cases, yes. In all cases, there will be a bit of information exchange at the least.
Most of the links below will send you your free survival gear as long as you cover shipping and handling.
Most websites will send out the tools as long as you cover shipping. Is the shipping cost a little inflated? Probably, but looking at the cost overall, you come out way ahead of the game.
Note: Carefully read all the fine print on the sales and/or checkout page. Some of these deals come with a monthly subscription service that they may automatically sign you up for. Some I'm a fan of, others I am not too excited about, but that's a personal preference.
In any case, make sure you are aware of what you are signing up for. If you want the item, but not the subscription, read their "Terms of Service" page on how to opt-out or cancel after you get your free survival gear.
A Trade of Information
The vast majority of the sites will also collect your email address (OK, all of them). This allows them to keep in contact with you or send announcements of new deals and additional free survival gear.
My advice is to dedicate a separate email address to these requests.
Free Survival Gear
Free survival gear sites are a fantastic way to collect starter tools for any new prepper or a prepper with a small budget. It's also a great way to add redundancy to your EDC or your BOB. Never underestimate the value of a spare firestarter or flashlight.
So let's get to the list. I have separated all of the free survival gear into categories. 
Knives
You can never be too safe. While you can go without food or water for days. Just a few seconds without a knife can be the difference between life and death.
A high-quality double edge knife with a matte black finish that looks really great. The dagger measures 9″ in total length with a 4.7″ blade and 4.3″ handle. It has a really comfortable rubberized handle. It comes with a  600D polyester sheath with a belt loop and clip lock.
A spring-assisted folding knife with a drop point blade. The extra-sharp blade combined with a belt cutter and glass breaker make this knife a great option for those that prefer folding blades.
This discreet defense tool makes a perfect every day carry! It's lightweight and at 4″ in length can be used as a discreet EDC neck chain knife.
This stylish and discreet defense tool makes a perfect every day carry. It's lightweight, unassuming can be used every day as a money clip yet can be used as a defense tool when needed.
Lightweight yet extremely strong and durable due to the 7.4-inch length, full tang design. A great knife for survival, EDC, hunting, camping, fishing, and general use. Comes with a protective sheath.
This survival and defense tool is a great addition to your survival kit. The durable, lightweight, stainless steel blade can be folded into the carabiner to transform into a low-profile multi-tool EDC.
An excellent knife for close combat and self-defense. The curvature of the blade makes this a great tool for clearing brush, slashing roots, and cutting through rope and fishing line. All useful for surviving in the wild. The finger ring is a weapon by itself, great for punching and hammering.
11 in 1 multi-tool that includes: Large and small blades, corkscrew, cap lifter with screwdriver and wire stripper, reamer, key ring inox, tweezers, toothpick, scissors, and multi-purpose hook/parcel carrier. Great compact EDC weighing 3 ounces and measuring 3.6 inches.
A 5-in-1 survival tool that includes a 3.25-inch clip point blade, an LED micro flashlight, a ferro rod, a glass breaker, and a belt slicer.
A brand new, shockingly-fast pocket knife, quicker than any switchblade. Unlike a switchblade, they've cleverly designed this knife to be perfectly legal here in the U.S.
This blade is 3 ½ inches of razor-sharp, corrosion-resistant M390 steel that is wear and tear-resistant. The overall open length is nearly 8 inches long.
Fire Starters
One of the most important tasks of survival is keeping your body temperature at 98.6. Fires keep us warm, purify our water, and are a friend in the dark. Have a fire starter as a part of your EDC, BOB, and in each pocket!
In a survival situation, fire is life. This tool will make sure that you can start a fire whenever, wherever you need it, even when it's wet.
Start a fire no matter where you are. This fire starter has a match stick that can be unscrewed and struck against the embedded flint in the tool to light. It also comes with a bottle opener and key holder.
The ability to make fire is essential in any emergency. This waterproof lighter will make sure you will ALWAYS have the ability to make fire anywhere, even in a flood.
This clever tool is an invaluable, possibly, life-saving utensil that fits discreetly on your wrist. With a collection of survival gear woven into a bracelet, this doesn't even need to go into a bag.
This compact credit card-sized fire starter fits easily into your wallet, never runs out of fuel, and can start a fire in 60 seconds flat. When matches and lighters fail you, the Optic Fire Starter becomes invaluable helping you start a fire when you need it most. Fits in your wallet and weighs next to nothing!
If you are looking for something more reliable than waterproof matches or a Bic lighter, then you may want to consider an 'arc' lighter. This lighter can produce a 2000-degree plasma stream which you can easily light on a winder day. It also has a built-in flashlight. Just don't forget to charge it.
Books, Guides, & DVDs
The more you carry in your brain, the less you need to carry on your back. We can't all take face-to-face classes every weekend. Books, guides, and DVDs are your gateway to survival knowledge.
Immediately stop the pursuit to collect your data and control your world. Learn how to stop the illegal collection of our data and personal information.
If you agree with the author that the unprecedented surge of money being printed will obliterate the value of the US Dollar, then you may want to read this ebook.
The best close-quarter battle (CQB) Techniques to help preserve your life when attackers are in your face and ready to take the breath from your lungs.
This guide will teach you how to prepare for disaster—any disaster—before it happens, and how to survive it when it does.
How to use the stiletto knife – just like intelligence operatives and spec ops – so you can be the protector and guardian of your family in the violent and unpredictable world we live in.
Sure, you'll have a gun with you, so you must also learn how to prepare a firearms survival plan for your family while also learning how to hide your guns and ammo from ANYONE who tries to steal them from you.

This book will give you the blueprint and peace of mind of how to shelter your loved ones from disaster, should the unthinkable strike within our borders.
With this information you could be blindfolded and dropped off in the harshest wilderness with only your knife… and you'll have the skills to not just survive, but thrive for as long as you wanted.
The First 72 Hours covers what to do when the neighbor has a bomb and is willing to use it against you to get your food stores… how to guarantee you escape a madman prowling a theater with an AR-15… and more.
Bug Out Bags & Packs
Your bug out bag is there when you need to get off the 'X' and to safe ground. These free survival gear tools will get you home in the best and worst times.
This bag was designed to be rugged, versatile, lightweight, and have a high level of mobility. Constructed from 600D Oxford Cloth every panel has "back-stitching" and is lined with high quality yet light-weight waterproofing to keep your goods dry.
Stores your gear and allows you to drink hands-free while you hike, shoot, hunt, fish, drive, or ride your bike or motorcycle.
A great tactical bag to carry around all your firearms, ammo, and other gear.
Made from 100% 600d nylon. Water, wear, and scratch-resistant inner lining that protects your gear from drops, water, and other potential damage.
A lightweight, compact, rainproof backpack that would be good as a get home bag for your car, or even for your regular travel needs.
Extend Your EDC
Being prepared means being prepared at all times.  Moreover, your EDC is there for life's rough patches both big and small.
This RFID tool fits in any wallet (just like a credit card) and works by forming an electronic barrier around your cards, making them — and your personal data — invisible to identity thieves.
Creates an intense 100-decibel shriek that can easily be heard from a mile away. This whistle could help save your life.
11 invaluable tools in 1 low profile multi-tool: can opener, knife edge, flathead screwdriver, ruler, bottle cap opener, 4 position wrench, wingnut wrench, saw blade, direction ancillary indicator, 2 position wrench, and keychain/lanyard hole.
This is one of the coolest looking EDC tools I have seen. Includes a hex wrench, wire splicer, fish hook maker, bark shredder, screwdriver, vehicle rescue, map reading, ruler, letter opener, etc.
Face Masks & Covers
Pandemics aside, masks offer protection during medical procedures and dusty events (think of the survivors of the 9/11 attacks). Mostly have them for the events that we haven't thought of.
This mask is made 100% from soft cotton material, is highly breathable, and comes with adjustable ear loops. The replaceable filter blocks out tiny particles that have a diameter as small as 2.5 micrometers.
Awesome camouflage American flag design. Made from a durable, lightweight, and breathable material. Perfect for hunting, bike riding, fishing, and even for protecting yourself from breathing harmful dust when mowing the lawn and other similar jobs.
Dark camouflage design. Made from a durable, lightweight, and breathable material. Perfect for hunting, bike riding, fishing, and even for protecting yourself from breathing harmful dust when mowing the lawn and other similar jobs.
Dark black tactical design. Made from a durable, lightweight, and breathable material. Perfect for hunting, bike riding, fishing, and even for protecting yourself from breathing harmful dust when mowing the lawn and other similar jobs.
A regular protective face mask with the Stars and Stripes on it.
A regular protective face mask with a pro-gun message on it for gun lovers.
Free personal face shield to protect yourself from droplets, saliva, sneeze particles, debris, and other unseen dangers floating in the air.
First Aid & Medical
We all learn to make holes. Guns and self-defense are sexy, active, and fun. What is often neglected is the ability to patch holes. This takes knowledge and medical gear.
Compact 11-piece first aid kit that includes gauze, wound dressing, iodine pads, bandaids, q-tips, alcohol pads, tape, and scissors, and other first aid tools.
Flashlights & Lanterns
You never know when you need to bring a little light into the situation. Whether it's for convenience or safety, there is nothing like lighting up the night!
Powerful, yet compact enough to fit in your pocket, purse, glove compartment, or backpack so you can keep it with you at all times.
I love hat lights. They free up your hands, allowing you to work at night with both hands and plenty of light. A must-have.
Super bright flashlight with an aircraft-grade aluminum body that is waterproof and shock-resistant. Has a beveled edge that can double as a defense tool.
Bright enough for camping and other outdoor use, but with a matte bulb that provides soft and comfortable light. The hanging hook is designed to hang in your tent, outside branches, or on your backpack when hiking. Light and compact at only 75g with batteries.
30,000-hour bulb, 170-foot visible distance, waterproof up to 50 feet, and easily fits in your pocket at just 3.5″.
500-lumen waterproof flashlight with strobe. Also included is a mini flashlight with a pocket clip and a 3 pronged beveled edge.
Super bright LED bulb at 1,000 lumens will last for 100,000 hours. The 8-LED side panel doubles as a room-brightening lantern. Measures 2.75″ in length and weighs 2.9oz.
150 lumen LED bulb that uses hands-free night vision technology to cut through the darkness.
Gun Accessories
A gun without bullets is an expensive club. Without training, a gun is an accident waiting to happen. Without accessories, a gun can be more of a nuisance than you deserve.
Comfortable concealed carry option if side holsters both you.
Discreet firearm concealer. Made from breathable, high stretch nylon, this ankle holster is comfortable and compatible with sub-compact, mid-size and full-size pistols.
A great tactical bag to carry around all your firearms, ammo, and other gear.
Protects your firearms from scratches and damage while protecting your work surface oil, water, and solvents.
Great for concealing or storing your firearms. Mount guns under a desk, in a car, behind a door, in a gun safe, or pretty much anywhere.
One-hand release ankle holster that fits most handgun sizes. This holster can be used by either right- or left-handed people.
Can safely hold and conceal up to 35 lbs. of firearms. Both parallel and perpendicular mounting. Compatible with nearly all gun types: handguns, CCWs, rifles, shotguns, pistols, revolvers, and magazines.
Will fit almost any handgun, allows both right- and left-handed quick draw, and is very discreet. Includes an extra pouch for spare mags, or other small gear.
Made from 100% 600d nylon. Water, wear, and scratch-resistant inner lining that protects your gear from drops, water, and other potential damage.
A really cool wall display for fans of the 2nd Amendment with text: 'A well-regulated militia being necessary to the security of a free state, the right of the people to keep and bear arms shall not be infringed.'
Add a compact laser sight to your firearm.
A sling will distribute the weight of a weapon across your shoulder or back, making it easier to carry and transition quickly to your sidearm.
It is a really cool flag for fans of the 2nd Amendment and those who want to boldly proclaim their right to bear arms.
Long Term Food Storage
We all need to eat. That can entail a daily trip to the grocery store or you can set up your own grocery store. Long-term food storage is the key to food security.
This is the 'Holy Grail' for most preppers: an easy, affordable, storable, portable, delicious food supply that doesn't require cooking, shopping, juicing, or messes.
Miscellaneous
Sometimes you just need a "junk drawer" for your stuff. Here are a few items that don't fit into the other categories.
These emergency fire starter sets make an excellent survival tool. They are tornado-proof, hurricane-proof, waterproof, etc. They even stay lit when you try to bury them or drop them in a puddle.
Contains 75% alcohol and kills 99% of germs with a fast-drying gel and no sticky residue.
Small and discreet spy camera with 1080P video with a 140° wide-angle lens. Has 6 infrared lights for night vision and motion sensor activation. Great as a security camera.
Full 1080p video with audio recording. Includes a waterproof case, 2″ LCD screen, and 8GB memory card.
Easily install a camera for front (or back) 1080p HD recording with night vision. Includes suction cup car mount for easy installation to your windshield. The gravity sensor detects any sudden impact and automatically locks the video to prevent overwriting.
A great looking commemorative coin to celebrate the veterans in your life.
You can win former CIA Officer Jason Hanson's personal off-road Humvee.
It's an iPhone Lightning charger with an elbow or right-angle design.
You can't go wrong with the Stars and Stripes.
On the front: 'God Bless America'. On the back: 'God bless those who serve, who give of themselves without reserve.'
On the front: 'The Star-Spangled Banner In God We Trust'. On the back: 'Whose Broad Stripes and Bright Stars, Through the Perilous Fight, O'er the Ramparts We Watched, Were So Gallantly Streaming?'
A cool hat with the Stars and Stripes and the message 'God Bless America' on it.
Show support for our troops with this great hat!
This is a great looking timepiece of American Patriotism!
Multi-Tools
Never, never be without a multi-tool. Daily I find a use for mine. Squeaky chair. Bent jewelry. Improvising a lockpick for a little E&E practice. A multi-tool is like a flashlight. You'll never know how much you'll use it until you carry one daily.
This is one of the coolest looking EDC tools I have seen. Includes a hex wrench, wire splicer, fish hook maker, bark shredder, screwdriver, vehicle rescue, map reading, ruler, letter opener, etc.
Limited info is provided on this tool, other than it has 6 tools in 1.
Other Weapons
We all know about the rule of threes. One of the unspoken rules is safety and security. When your life is threatened, you need a defensive device in three milliseconds. There is no asking the threat to wait while you retrieve your weapon.
I have the Strikepen, and I love it. It looks like a normal pen but is constructed from lightweight, military-grade aluminum with a tungsten steel defense tip. Inside the pen, you have the option of a concealed knife or a multi-tool. It also has a bright LED flashlight.
A hardcore offensive and defensive fighting weapon designed to improve punching power to create ultra destructive blows when needed. The design forces more pressure to a smaller point ultimately increases damage.
This is a very durable stabbing weapon. It is just over 7-inches of fiberglass reinforced nylon, that won't set off any metal detectors.
This discreet, tactical self-defense tool, is so resourceful. Many law enforcement agents carry a pen just like this.
This high-powered stun gun will disable any sized opponent without causing permanent damage, giving you the means to effectively stop any attacker.
Shelter
You can die from exposure in less than 3 hours. Even the most modest shelter like a blanket or poncho can be the difference between survival and you becoming a major headline.
Statistically, the #1 thing that will kill you when SHTF is exposure to the elements. This sleeping bag will trap 90% of your body heat while keeping the freezing wind and water out. And it's smaller than a soda can.
Emergency survival poncho that retains up to 90% body heat, helps to prevent hypothermia and shock, and keeps you warm and dry when in extreme emergencies. This survival poncho can also be used as a backpack cover, rain poncho, emergency signal, shade cover, dust shield, sleeping bag liner, wind blocker, water collector, and many other creative applications.
Designed to reflect & retain over 80% of radiated body heat and helps prevent shock. This survival blanket is a waterproof, windproof, and moisture-resistant ground cover that provides shelter from the elements. It can be also used as a reflective emergency signal.
Made from a lightweight reflective material, they help you retain as much as 90% of your body heat, keeping you warm in a variety of extreme conditions.
Survival Kits
Any survival item on your person is one step closer to mastering a dangerous situation. Survival kits don't have to be BOB sized to get you through troubled times.
With this 15 in 1 Survival Grenade, I can take everything with me that I may need to use in a survival situation. Keep a few of these handy, just in case.
A compact grenade-shaped survival kit that includes 13 essential survival items wrapped up in 9 feet of 550-pound paracord.
How to Use Your Survival Gear
Gathering some free survival gear is a great first step into emergency preparedness. However, this is just the beginning, as these tools of the trade are just small components of a complete SHTF plan.
Are you ready to bug out at a moment's notice? If you lost your electricity or water supply today, what would you do? Do you know how to use, maintain, and maximize the gear you've gathered?
If you've got more survival questions, we've got answers. Dig deeper into the extensive resources at SHTF Preparedness to create your full survival plan. Some great next-step articles include:
How to Start Prepping For Beginners Guide
Essential Bug Out Bag Checklist
Using Your EDC Knife for Self Defense