SHTFPreparedness may collect a share of sales or other compensation from the links on this page.
You might be saying to yourself right now, powdered milk… NEVER! I used to say that, now though, I am so glad I am stockpiling it. I found a great article that goes over 6 ways to use powdered milk, some say dry milk but they are both the same.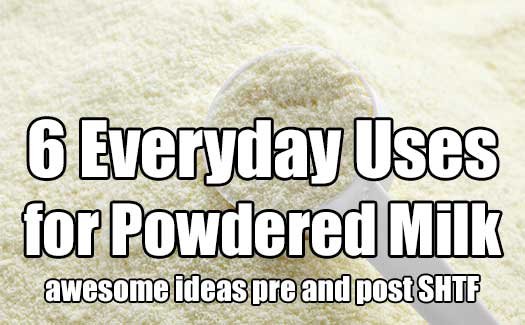 I wrote an article a few months back on How To Dehydrate Milk For Long Term Food Storage and now having this article on how to use it is just fantastic. I am so happy to tie the two articles together.
In a SHTF situation please try and remember that if you have small children or are a nursing mother, it is important to have even more powdered milk stored as this can be litter ally a lifesaver for a child.
Even if you are not with child or have children, it could help neighbors too. If you liked this post, maybe you will like some of our others, you can check some related articles below or search via categories on the right.
6 Everyday Uses for Powdered Milk
---
Bonus: How To Grow a Backyard Supermarket
Having a backyard supermarket will allow you to grow pork and beef, chicken, organic eggs, non-GMO fresh fruits and veggies, including all the essential components you need to make your food staples, desserts, and even drinks.
If you are willing to put in a little elbow grease, this isn't too good to be true. The good news is that some of this can be automated.
Our great-grandfathers and great-grandmothers did this every single day. It's called "homesteading", and it can help you save money on food, furniture, tools, clothes, and much more!
This is as self-sufficient as it gets. Watch this eye-opening video to learn more:
Homesteading will take you back to the roots of your ancestors. It's not only a healthy, stress-reducing pursuit, it's a lifestyle.