SHTFPreparedness may collect a share of sales or other compensation from the links on this page.
The world is full of surprises and being prepared for them is an absolute must. It's essential to prepare for unknown circumstances – even more so with food.
Taking a look at the effects of COVID-19 on the food supply chain or looking into apocalyptic beliefs, stalking up is necessary. In this article, we'll review the best long-term food storage containers to help you get the job done right.
Our Best Long-Term Food Storage Containers Reviews and Comparisons
Product Highlights
If you are looking for a variety of sizes in your storage containers for your pantry or prepping use, look no further than this airtight set.
Being airtight, you can best rest assured that your food won't go bad too quickly. With 4.7 stars overall, many happy reviews, and several return customers, this set might just be for you!
Features
Air-tight bins
Dishwasher, freezer and microwave safe
BPA-free
Clear
What We Like About the Airtight Food Storage Container Set
Although they are more expensive than a generic, grocery-store brand, they're worth the extra money. They don't leak, are air-tight, and easy-to-open. One reviewer even went swimming with her and says it went swimmingly well with no leaks or complaints about it!
What We Don't Like About the Airtight Food Storage Container Set
The title is misleading – lids are included in the total count of items included. They are strong enough, which can be good, which makes it difficult to lock for people with weaker hand strength (not so good).
The stackability/nesting of the containers on top of each other isn't great, but one reviewer, in particular, says it's easy to look past this due to the high quality of the containers.
Pros
Under $50
Durable
Has a solid and tight seal
Cons
Many of the containers are unique to the set so if you lose a lid or a container, there goes its matching cover
There are only 18 matching sets, the lids count in the "36-piece set" headline
No color options
Product Highlights
In comparison with the Airtight Food Storage Container Set, these Rubbermaid containers are a runner-up. Also with 4.7 stars, this smaller set is sure to fit your needs whether it's camping, prepping, or simply saving some leftover grub.
Features
Shatter-proof technology
Microwave-safe bases, dishwasher safe, and freezer safe
BPA free
What We Like About the Meal Prep and Food Storage Containers
In comparison to the Airtight Food Storage Container Set above, this container has a snap-on, easy to take on, and take-off lids. It also has shatter-proof technology enabling it to be stronger than most advertised Tupperware of its kind.
It's easy for nesting/stacking due to its well-designed lids which makes it fantastic for organized storage purposes. Many reviewers commented on how long-lasting the set is – some have had their set for over 15 years and even after continual use, the set is still in good shape.
What We Don't Like About the Meal Prep and Food Storage Containers
There were several reviewers who commented on how the set didn't come complete at first (it was missing a lid or two, for example) but once they contacted the seller, the set was completed.
The biggest complaint is that while the set is advertised as sturdy, some people felt their set lasted less than a year before they started to see faults (lids morphing due to heated dishwashing or bases cracking); however, those comments are few and far between the positive remarks.
Pros
Easy-on, easy-off lids
Shatter-proof (made from tritan material)
Stain and odor resistant
Easy nesting
Cons
There are only 14 matching sets, the lids count in the "28-piece set" headline
No color options
Product Highlights
If you're looking for long-term storage solutions, chances are you will be storing rice, grains, sugar, flour, and wheat products for which these containers are great.
With a variety of sizes, including a tall one for spaghetti pasta, you're sure to find an easy-to-store and easy-to-access solution while maintaining organization and aesthetics.
Features
Leak-proof, airtight, and waterproof with four-sided locking lids with a silicone seal ring
BPA free and made with high-quality food-grade plastic
Comes with labels and a permanent marker
Various size options
Dishwasher-safe bases (not lids)
What We Like About the Airtight Food Storage Containers (Wildone)
Sometimes size matters and when it comes to having enough storage space for your items, it's important to have enough.
Luckily, these storage containers come in three sizes: 0.8L/ 27oz, 1.6L/ 54oz, and 2L/ 67oz with color options (khaki, gray, and black) available, too, depending on the size!
Another great aspect of this product is that when it says it comes in a set of 16, they mean it. Unlike the other products above, it comes with 16 containers and 16 lids so you're sure to have enough storage boxes. What's best is they are designed to be stacked easily on top of each other which makes them easy to store.
What We Don't Like About the Airtight Food Storage Containers (Wildone)
While this isn't the world's biggest issue, once you write on the labels with the marker, the names don't rub off.
This is great if you always keep cookies in the "cookie" jar, but if you put sugar in the cookie jar, you won't be able to change the wording on the label without changing the label itself.
Another negative aspect to keep in mind is that one box won't hold a 28 oz. box of cereal so they may be smaller than what you could require.
Pros
Impenetrable for air, water, and leaks
Easily stackable
Quality material
Cons
Smaller than often expected/pictured
Labels are a one-time use
4. Airtight Food Storage Containers (Auliand)
Product Highlights
Similar to the Wildone containers above, this set of 16 containers (and lids) is great for storing baking and dry goods.
The biggest differences between the two container sets – Wildone and Auliand – are that the labels for Wildone are one-time use whereas the labels for Auliand are chalkboard-based and reusable.
Also, the former option has three sizes to choose from whereas the latter has a variety of four sizes only.
Features
Air-tight, watertight, and leakproof
BPA free and made from high-quality food-grade plastic
16 reusable chalkboard labels and a chalkboard writing utensil
Measuring spoon set (⅛ cup, ¼ cup, ⅓ cup, ½ cup, 1 cup)
Cleaning brush
What We Like About the Airtight Food Storage Containers (Auliand)
While you can't choose a surplus of one size, this container set comes in a variety of sizes: four tall containers (2.8L /11.83 cups), four large containers (2L /8.45 cups), four medium containers (1.4L /5.92 cups), four small containers (0.8L / 3.38 cups) which makes this set more functionally diverse in comparison to other similar sets on the market.
Another positive aspect is that the boxes are stackable and don't take up too much space considering they are tall, not wide.
What We Don't Like About the Airtight Food Storage Containers (Auliand)
Some past purchasers of this product complained that the box didn't come with the labels, markers, and/or measuring cups; however, of the 224 ratings, only a handful complained of this.
Others noted the quality, or rather the lack thereof, citing the thinness of the boxes which makes them akin to regular tupperware.
While that isn't necessarily a bad thing, the advertising might lead someone to believe it's thicker or not like regular tupperware material.
A positive reviewer did mention that their 5-pound bags of sugar and flour wouldn't fit in the bigger boxes and they ended up having to buy another set to fit all of their dry goods.
Pros
Reusable chalkboard labels
Variety of sizes
Easy-to-clean
Stackable
Cons
Opaque plastic (not 100% transparent)
Difficult to pull apart at first (fresh out of the box)
Thin material
Product Highlights
This set of three, heavy-duty buckets is ideal for anyone looking for long-term, solid, bulk storage solutions. Since 5 gallons of water is 40lbs of liquid, these made-in-the-USA buckets are a great addition to any bulk food storage pantry.
Features
3 buckets and lids
Heavy duty
90 mils thick (.09 inches)
Air-resistant sealing technology
BPA-free plastic
<h4?What We Like About the 5-Gallon White Bucket & Lid
With excellent customer service from the company, it's hard not to like these buckets.
Overall, they are thicker (.09" compared to .07" at Home Depot for a similar product) and more economically priced than most buckets you can find at many hardware stores.
Although many customers commented on how ineffective the lids are, the majority of comments for 5-star and 4-star reviews mention how great, easy-to-use, and effective the lids are.
The handle ring, which is all metal, has a plastic, molded grip on it which makes it easy to carry for heavy, bulky loads.
What We Don't Like About the 5-Gallon White Bucket & Lid
Finding bugs in your 20lbs of oatmeal might bug you or give you the creepy crawlies, but that's exactly what more than one customer found with these buckets.
While they say they followed the instructions on closing the lids properly, it could be that those were flukes as most customers say the seal works fantastically.
That said, many customers complained about the lid quality overall which could make it easy for the little buggers, air, or liquid to seep in therefore ruining a bulk quantity of food. Some reviewers said they needed to use a mallet to properly close the lids.
Most importantly, the buckets aren't marked as "food grade" or "food safe" which is essential to keeping food – especially on a long-term basis.
Pros
Durability
Sturdy
Multi-purpose
Cons
Not marked as food-grade
Flimsy, difficult lids
Product Highlights
This bucket will seal the deal with its Gamma Seal technology making it ideal for a proper, airtight, impentrenatable storage option. While the company doesn't recommend it for "long-term" storage, it doesn't define how long that is.
Plus, with the easy access to lid-sealing technology, this bucket might be ideal for frequently used items that are bought in bulk and get used often and quickly such as cereal, flour, and dog food.
Compared to the 5-Gallon White Bucket & Lid by Living Whole Foods, this is the more expensive option as this is only one bucket and the former comes in a set of three buckets. However, this product is marked as food-safe, which is a huge plus.
Features
1 bucket and lid
BPA-free plastic
Food-grade, food-safe
What We Like About the Premium 5-Gallon Bucket & Lid
These buckets are so sturdy that they can take up to 190ºF liquid and are freezer compatible. Plus, their lid design allows for easy, organized nesting which is great if you are buying many containers and have a small storage space allowance.
Smells don't leak from the bucket which is fantastic if you're using it for dog food so the doggos don't go sneaking in it for an extra bite to eat.
What We Don't Like About the Premium 5-Gallon Bucket & Lid
The plastic, which is HDPE 2, does make the product arrive with a "factory smell". However, it's easy to get rid of with the right washing.
A lot of customers also commented on how they felt their buckets were "defective" since they ended up not benign airtight or watertight/proof.
Pros
Easy access (advanced sealing lid technology)
Comes in various colors (yellow is a favorite among past buyers)
Odor sealing technology
Food grade
Cons
Not recommended for long-term storage (however, many people said they had no problem with any food stored long-term in them)
It's twice as expensive as similar buckets at most hardware stores
Product Highlights
While this product isn't necessarily a typical bucket like items five and six, it still makes for a great bulk-storage option for long-term food storage and differs from the buckets as it's larger, commercial-grade, and is great for stacking.
However, it is significantly more expensive than the buckets. That said, reviewers say you get what you pay for: quality.
Features
Comes in three sizes
NFS approved, food-safe, food grade
Easy-access lid design
What We Like About the Shelf-Storage Food Ingredient Bin
These durable and sturdy bins come in multiple sizes: 40-Cup 2.2Gal/8Qt/8L, 100-Cup 4.4Gal/17.6Qt/20L, or 200-Cup 8.8Gal/35Qt.40L and have an easy-access lid design – even when they are stacked one on the other.
What We Don't Like About the Shelf-Storage Food Ingredient Bin
While the overall lid design is a plus, there is no latch which makes storing dog food or items that need to be sealed difficult.
(One reviewer who keeps a powdered concentrate in her bin found a good solution though: "Because the product is in a bag and then sits inside the bin, my product does stay fresh.")
Pros
Durable
Large and stackable
Great for dog-food and pantry organization
Cons
Product Highlights
Plastic bins and glass containers aren't the only way to keep food stored well long-term.
Mylar bags are a great alternative and this pack of 25 reusable, sealable bags might just be the solution for you. These bags are great for dehydrated vegetables, grains, and legumes.
Features
Reusable
Airtight & easily sealable
BPA free
Aluminum mylar foil, extremely thick
25-pack
10×14 Inch
Holds 1 Gallon
What We Like About the Airtight Vacuum Sealing Mylar Bags
It's top ratings are over 4.5 stars for freshness and durability which when looking for long-term food storage containers is fantastic!
These bags are wonderful for freeze drying purposes and are quality.
Plus, the company has a 100% customer satisfaction guarantee which should make any shopper feel safer in purchasing their products.
What We Don't Like About the Airtight Vacuum Sealing Mylar Bags
The top reviews imply that the product is falsely advertised and isn't as thick as the company says (not 188 microns/ 7.4 mil; it's only 104 mic. thick).
Plus, the bags aren't compatible with just any vacuum sealer which is unfortunate. However, one reviewer said that "if you want to throw food inside and add oxygen absorbers, it should be fine."
One size doesn't fit all and when it comes to food storage, that saying is truer than ever.
Pros
Odor-free
Heat resistant (temperature range: 0°F – 176°F)
Light and moisture proof
Standup Gusset For Better Organization
Cons
Comes in one size only
Incompatible with vacuum sealers
Product Highlights
Just like the Mylar bags above by PROPREMIUM MYLAR, these bags are great for storing dried goods. However, the biggest differences between these two bag options are the pack quantity – the former is a 25-pack while this one is a 100-pack.
Features
Food grade/ food safe
Light proof
Aluminum, Iron material for thick product walls
What We Like About the Airtight Vacuum Sealing Mylar Bags
This bag is incredibly easy to use and great for keeping dry goods. One customer speculates his goods will last 20-25 years if they were packaged properly in these bags. If that's not long-term storage, I don't know what is.
What We Don't Like About the 5Airtight Vacuum Sealing Mylar Bags
It's important to keep in mind that while it's great this set comes with oxygen absorbers (since vacuum packing/sealing doesn't work with this product), the bags won't have a "vacuum-packed look".
According to the company, the absorbers "only work to absorb O₂, which is about 21% of air, so 4/5 of air will remain no matter how many oxygen absorbers are used".
It's not the worst thing on the planet, but if you're hoping to have a vacuumed look for your "airtight" dehydrated veggies, this might not be aesthetically what you're looking for.
Pros
Oxygen absorbers are included
Free return policy by the company
Easy to use
Cons
Doesn't look airtight/vacuum packed
Easy to tear if mishandled
Final Verdict
Considering the variety of food storage options are plentiful, the best in terms of smaller, more tupperware-like containers (items one and two) the second option, Meal Prep, and Food Storage Containers by Rubbermaid, is the one to go with. It's easy to stack and nest, incredibly long-lasting, doesn't break/shatter like option one and has lids that are easy to put on and remove.
For taller, larger, more-for-dry-goods containers (items three and four), the overall better option is number four, Airtight Food Storage Containers (Auliand), due to their reusable labels, high stackability ability, and surplus of goodies that come with it (measuring cups, a cleaning brush, labels, and a marker). This container set will definitely give you a better bang for your buck.
When it comes to bigger, bulkier options, the buckets (items five, six, and seven) are where it's at. To get a better deal and better quality, go with the bin option because even though it isn't airtight, it comes in many sizes and can be engineered to be airtight and lockable if necessary.
Furthermore, it's highly durable and has very easy access to open – even while stacked – due to its great design.
To bag this up, items eight and nine will do. However, option nine, the 100-pack of Mylar bags, is the better one overall due to its top reviews, 75 packets more than option eight, and still ideal use for freeze-drying and dehydrating purposes.
FAQ Section
What containers are best for cheaper long-term food storage?
Plastic buckets are a great inexpensive option to keep bulk amounts of dry food products long-term.
Can you use just any bucket or container for long-term food storage?
No, it's best to use glass or plastic containers marked as "food grade". Some plastics, such as BPA plastic, can leak into the food which means you will eat it. However, it's also important to keep in mind what has been stored in the bucket before.
Food grade doesn't mean it's okay to use if harsh chemicals or toxins were stored in it beforehand.
Check out other related readings:
---
Bonus: Root Cellar That Can Be Used as a Bunker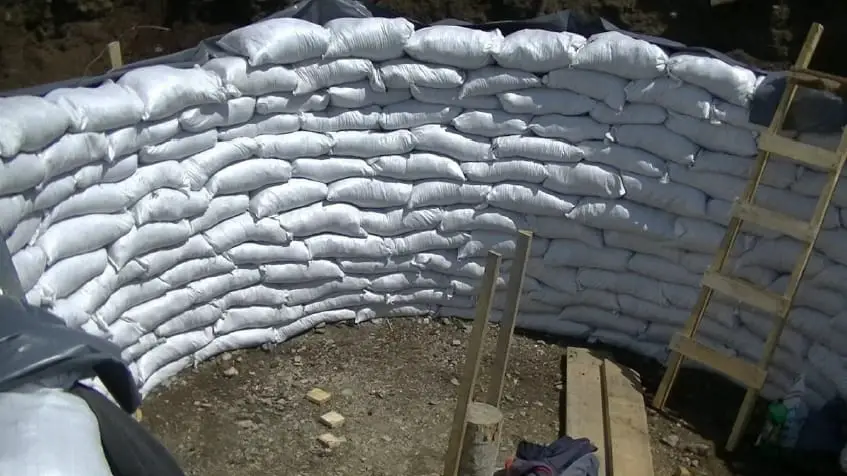 Do you remember the old root cellars our great-grandparents used to have? In fact, they probably built it themselves, right in their back yard.
If you want to learn how to build a backyard bunker like your grandparents had, without breaking the bank, then you need Easy Cellar.
Easy Cellar will show you:
How to choose the ideal site
Cost-effective building methods
How to protect your bunker from nuclear blast and fallout
How to conceal your bunker
Affordable basic life support options
Easy Cellar will also reveal how a veteran, with only $421, built a small nuclear bunker in his backyard.
Also included: