SHTFPreparedness may collect a share of sales or other compensation from the links on this page.
A survival shelter is essential for staying alive and well in the wilderness. The best kind of a survival shelter is one that completely protects you and is easy to set up. 
A quality tent protects you from rain, snow, wind, and other elements. It helps keep you dry and warm. This is why stashing a lightweight tent in your bug out bag or your vehicle is always wise. 
Most survival tents look the same on the outside. But they can be radically different when it comes to the materials used and construction quality. A poorly constructed emergency tent only serves to make your survival efforts even more difficult. A quality survival tent, however, could save your life. 
This guide discusses four of the best emergency tents for survival situations. Then, we'll dive into the most important qualities to consider in a tent and additional pieces of survival gear to bring with you.
Best Survival Tent for Emergencies
Here are our choices for the best survival tents for emergencies and staying dry:
The GoTime Gear Life Tent is a very small and compact tent that fits two adults when set up. It's built out of a windproof and waterproof polyethylene material, with an interior designed to reflect body heat back to you. 
The tent comes with twenty feet of 550 pound nylon rope that should be tied between two trees. This then lifts the ceiling of the GoTime tent around four feet up from the ground. 
The GoTime also ships with a portable stuff sack. The sack compresses down into 5.25 inches by 3.25 inches and weighs less than nine ounces. It can be easily stashed away in a backpack to be carried on hiking or hunting trips. 
The Grizzly Gear Emergency Weatherproof 2 Person Thermal Tent is one of the best choices for a thermal survival tent. It's constructed out of high quality mylar to reflect your body heat back to you. This creates a thermal barrier to prevent shock and hypothermia. 
Grizzly Gear also designed this tent to be fully windproof and waterproof. It measures eight feet by three feet when built, and can fit two adults. Besides its intended use as a tube tent, Grizzly Gear claims this tent can also be used as a signaling device or as a sleeping bag. 
ALPS Mountaineering is a big game in the camping tent industry. They make both season tents and tents intended for a survival situation. The Lynx 1 person tent from ALPS is a three season tent intended to be used during the spring, summer, and fall seasons. While not fully waterproof, it does come with a rain fly that does an excellent job of keeping water and moisture at bay. 
The tent itself is constructed out of a strong and UV resistant polyester material. This is important, because UV rays from the sun discolor and degrade your tent's quality over time. 
The Lynx utilizes a two pole, free standing design. This allows you to get the tent set up in a matter of minute. Mesh walls allow air to flow in and out easily for ventilation. Mesh storage pockets in the inside of the tent provide convenience for storing smaller items.
The SE Emergency Outdoor Tube Tent is a great option for a tent designed purely for emergency situations. The interior of the SE is made with an aluminum coating. This is designed to reflect your body heat back to you. It also offers much insulation.
SE ships 9-inch carbon steel stakes to help secure the tent firmly to the ground. The outside of the tent is fully waterproof as well as tear resistant. This tube tent also weighs just one and a half pounds and folds down very compactly. It's very light, portable, and easy to carry around in a backpack.  
Qualities To Consider When Choosing a Tent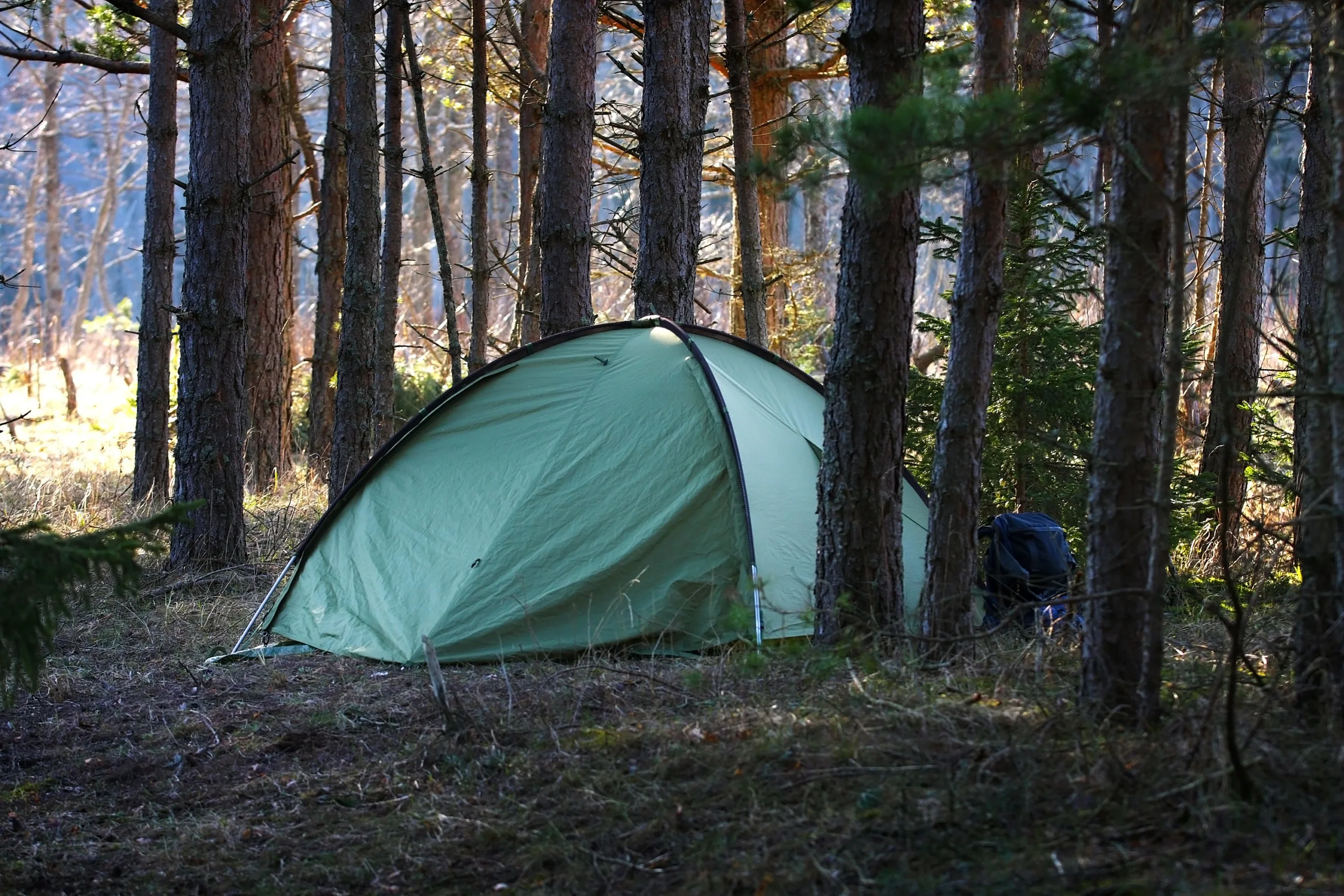 Here are the top qualities you should consider when choosing a backpacking tent for survival purposes:
Weight and Size
Survival tents are designed to be very lightweight and fold down into a compact size. This way they can be easily stashed away into a backpack or bug out bag. 
Look for tents that weigh less than five pounds overall, and that fold down into a stuff bag only a few inches in length and diameter. The idea is the folded up tent should not take up much space or weight in your backpack. 
Easy to Set Up
Survival tents also are designed to be very easily set up and taken down quickly. This stands in contrast to larger canvas tents, which are designed to be set up for extended time periods. Most survival tents should be set up in a matter of minutes.
Durable Construction
Many lightweight survival tents admittedly look a little flimsy. But looks can be deceiving. Look for tents that come with a strong polyester, tear resistant material. Tents that are waterproof and that come with mesh for ventilation purposes in hotter environments. If your tent isn't waterproof, it should at least come with a rainfly to keep moisture at bay.
Warmth
Survival tents are designed to do two things: to shield your body against the elements (such as the high wind or rain), and to preserve as much of your body heat as possible. Some survival tents come with an aluminum interior that reflects your body heat back to you much like a mylar survival blanket. 
Colorful Appearance
Survival tents should come with a colorful appearance on the outside that stands out against the surrounding natural environment. This way, they are more easily detectable by search and rescue teams. 
Space
Last but not least, make sure your tent has plenty of space for you and your additional items. This includes your backpack, clothes, boots, and other gear. You shouldn't have to leave anything outside, where it could become soaked in the rain. 
More Survival Gear
Here are some additional survival gear items you should also invest in if you have a survival tent:
High quality backpack

 

Sleeping bag or bivvy

 

Thermal blanket
Fire starting devices
First aid kit
Flashlight
Water bottle and purification tablets
Protein bars
Knife
Multitool

 

Power bank
Whistle
Hand and feet warmers
Hat, gloves, and spare socks
Cooking vessel
Duct tape
Map and compass
Conclusion
A compact, lightweight, and yet durable survival tent is an essential item to stash away in your bug out bag. When searching for a tent, keep the above qualities in mind, and give the models of tents that we've covered here a close look.