SHTFPreparedness may collect a share of sales or other compensation from the links on this page.
Being able to hide things 'in plain sight' is something many preppers seek to accomplish as often as possible. Whether you want to keep a firearm handy in case of intruders or simply stash away some extra cash or other valuables, having a hidden secret drawer in your night stand is something almost anyone can appreciate and utilize.
Even if you consider yourself only moderately handy, this DIY guide on making nightstands with a hidden drawer will help the newbie understand and easily follow along through all the steps with both pictures and videos that make the whole process easy and decreases the potential for frustration and failure. Depending on what kind of furniture you have elsewhere in your home, you may be able to apply the knowledge to make other hidden cubbies and drawers that can increase your security overall and keep potentially dangerous items from young children.
Learning the basics of furniture building is not required before starting in on this project because it teaches you how to do everything from beginning to end. Having knowledge of simple construction basics is the real bonus here due to the overall usefulness of the skill plus, you did it yourself and learned for free!"
DIY Night Stand With Locking Secret Hidden Drawer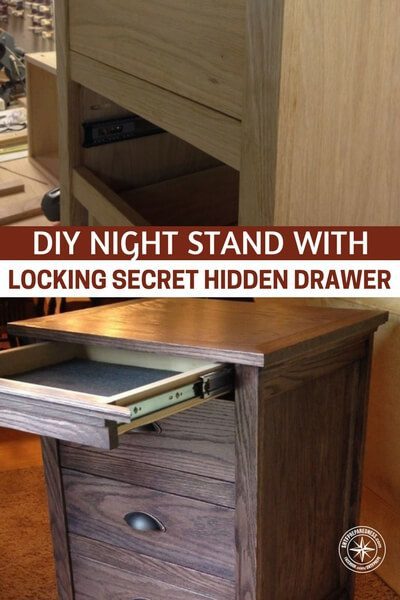 ---
Bonus: How to Make Pemmican, the Original Survival Food
Invented by the natives of North America pemmican was used by Indian scouts as well as early western explorers.
Native Americans spent a great deal of time on the go and depended on having portable, high-energy, highly nutritious, and filling foods that would last for long periods of time without refrigeration.
Pemmican is a portable, long-lasting, high-energy food. It's made of lean, dried meat that's crushed into powder and mixed with hot, rendered fat. This makes it one of the ultimate foods to have stockpiled for when SHTF or disaster strikes.
People really should avert their gaze from the modern survival thinking for just a bit and also look at how folks 150 years ago did it.
These guys were the last generation to practice basic things, for a living, that we call "survival skills" now.