SHTFPreparedness may collect a share of sales or other compensation from the links on this page.
With shifting weather conditions or seasonal changes, your mattress endures dust, perspiration, hair, drool, skin oil, temperature changes, and worse! This is why it needs a deep cleaning to keep it fresh and smelling good. Likewise, learning how to clean your mattress naturally will ensure the durability and long life of your mattress.
You can use natural cleaning products which do the same job without being exposed to nasty chemicals. If you want to sleep in a bed or mattress that is clean, free of chemicals and smells good, check out these tips on how to clean your mattress naturally.
Clean Your Mattress Every Six Months
Your mattress should be cleaned regularly to avoid the buildup of dirt, hair, and body fluids. Cleaning it every three months is highly recommended. However, if you're too busy with family and work, clean your mattress at least every six months.
However, if your mattress is more than eight years old or the components are popping out, you might consider checking out the great mattress deals in 2019 on offer so you can buy a new one. Investing in a high-quality mattress can help ensure you have an easy-to-clean and durable mattress.
Treat Stained Areas Immediately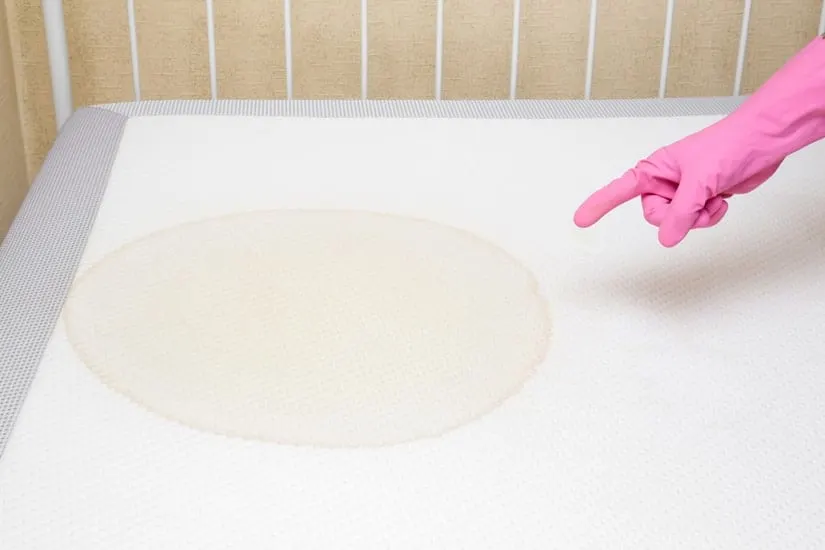 If your mattress has been stained from spilling coffee, chocolate, or has any other type of stain, it's best to clean it right away. By doing so, you'll prevent the stain from settling in the mattress for too long, which makes it more difficult to remove.
Here are the things you'll need:
How to Clean a Mattress Naturally
Cleaning a mattress may take 30 minutes up to an hour depending on the severity of stains. It's best to do it on your day off or free time.
Step-by-Step Process:
Strip the bed
First, you have to strip the bedding and remove all linen from your mattress, tossing them into the washing machine while you're working.
Vacuum the mattress
When vacuuming your mattress, start at the top, followed by the sides, and finally underneath the bed. Ask for extra help if lifting the mattress is difficult for you.
Sprinkle baking soda
In a bowl, mix a few drops of lavender oil with one cup of baking soda. Put the lavender and baking soda mixture in a strainer. Shake the fragranced baking soda over the entire mattress. You can leave the baking soda until you've finished washing and drying your bedding. After which you'll need to vacuum the bed to remove the baking soda.
Treat stains
Mix salt, water, and baking soda in a bowl to make a paste and use it to spot-clean any mattress stains. Rub the stains on your mattress with the paste. Let it sit for 30 minutes and wipe the stain away using a damp clean cloth.
Remake the bed
Use clean linen to remake your bed. Make sure to change soiled pillowcases too.
Lavender Essential Oil – 100% Pure Therapeutic Grade by Healing Solutions Essential Oil – 10ml
How to Clean Sweat and Urine Stains from Your Mattress
Mattresses become discolored because sweat produces yellowish stains. Bedwetting is a common problem when you have toddlers and preschool kids, as well as elderly family members. Your mattress can become musty smelling over time.
Instructions:
Prepare a cleaning solution
In a bowl, mix one cup of 3% hydrogen peroxide, a few drops of liquid dishwashing soap, and three tablespoons of baking soda. Stir well until the baking soda is dissolved.
Soak the mattress
In a spray bottle, pour the cleaning solution. Spray the stained areas of the mattress and let the cleaning solution soak into the stain.
Dry the mattress
For about an hour, leave the cleaning solution to air dry. You can speed up the drying process by setting a fan blowing directly on the mattress. Using a blow dryer is also a good idea. Set it on the cool setting.
Amazon Brand – Solimo Hydrogen Peroxide Topical Solution USP, 32 Fl. Oz (Pack of 6)
How to Remove Bloodstains from Your Mattress
Bloodstains may result from menstrual leaks, open wounds, cuts, and abrasions. They are usually challenging to remove. That's why you have to treat the bloodstain immediately.
Instructions:
Prepare the cleaning solution
Simply fill a spray bottle with 3% hydrogen peroxide.
Spray the bloodstain
Spray the mattress area with the bloodstain. Use a clean towel to blot the stained areas. Spray and blot until the bloodstain is completely gone.
Dry the mattress
Let your mattress air dry. Also, you can speed up the process using a blow dryer.
How to Remove Vomit Stains From Your Mattress
Children usually experience a bad tummy night. Eating too many carbs, playing while eating, and suffering from a digestive virus may cause nausea and vomiting. That's why you need to know what to do when your mattress has vomit stains.
Instructions:
Create a cleaning solution
In a spray bottle, mix a 50/50 solution of white vinegar and water.
Treat your mattress
Spray the vomit stains or soiled areas of the mattress. Blot the mattress with a spray solution using a clean towel. Spray and blot until the mark disappeared.
Apply baking soda
Sprinkling baking soda over the mattress is a good idea to eliminate the vomit smell. After an hour, you can vacuum the baking soda.
Air dry your mattress
You can speed up the drying process using a blow dryer.
Expert Tips to Keep Your Mattress Cleaner for Longer
It's important to invest in a high-quality mattress cover to protect against moisture, mold, and mildew. Make sure to change your bedsheets once a week. It will help prevent dead skin and dust mite infestation.
Also, vacuuming the mattress will remove dust mites. Use the crevice tool so you can get into tight spots. Lastly, sprinkle baking soda to get rid of odors.
Conclusion
Cleaning your mattress should be done naturally. Using harsh chemicals like bleach may ruin the components and foam of your mattress.
You can use water, baking soda, white vinegar, and essential oils to remove stains naturally. Remove sweat, urine, blood, and vomit stains by creating your natural and mattress-friendly cleaning solution.