SHTFPreparedness may collect a share of sales or other compensation from the links on this page.
If you ever find yourself surrounded by a world you do not recognize you might have to consider bugging out. Your bug out plan is how you are going to get away from town or away from the city you live in. Of course, having a bug out plan is not all you need.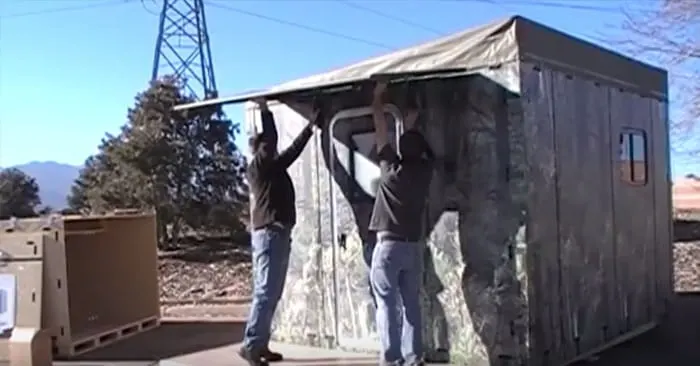 Image Credit: CompassionShelters.com
When you arrive at your bug out location it would be nice to have someplace to hide out from the elements, right? Even a simple structure can protect you from the wind and rain. This is massive. You have to escape from the elements. This is particularly true in seasons like winter. The lean-to is just not going to get it done! 
There are a few affordable options out there for quick up shelter in a bug out situation. 
Nemo Equipment Bug Out Tent
This simple bug out tent offers a built-in screen and cover from the rain with a top that is standalone. This shelter is interesting in that it's a standalone structure but holds up like something tied to a ridgeline. The Nemo is a great, lightweight solution to a bug out shelter issue. 
Nemo Equipment Bugout Tent (Green/Black, 9 x 9-Feet)
Tarp/Hammock/Bug Net
One of the best sleep and shelter system that is rarely spoken of is the trifecta of a good hammock, tarp, and bug net. While it might seem too simple, it's a great combo for sleeping and getting out of the rain. 
Popup Tents
Another quick and lightweight solution to bug out shelter is the popup tent. These tents are great options that naturally pop up in a hurry and can give you some privacy and space that aren't afforded to you by the other two options. 
The reality of the bugout is that you are going to need a quick and lightweight solution at your bug out if you don't have a cabin or a shed waiting for you at the bugout location.