SHTFPreparedness may collect a share of sales or other compensation from the links on this page.
Survival can be a fun hobby. While we all take it seriously, you only survive a long-term prepper mindset by making it fun and making it interesting. Some do this by purchasing gear, others by taking classes. One rewarding way of adding fun to the mix is through survival cooking. Let's look at a fun survival dandelion bread recipe.
Dandelions are the scourge of green-obsessed suburban lawn owners across the country. Other, more reasonable, folks learn to live with the little yellow accents. The most industrious of us know the hidden uses of dandelions. Dandelion greens, dandelion tea, and even dandelion coffee are staples of foragers.
A golden-brown loaf of dandelion bread is yet another way to appreciate this early spring gift. Let's look at one of the great foraging food recipes… survival dandelion bread!
Heck, you can even make amazing crafts like this beautiful dandelion globe. This is quite a versatile little plant.
What is Dandelion Bread?
Dandelion bread is a great way to spice up your survival food rotation. Dandelions have three edible parts: roots, leaves, and petals. This bread uses bright yellow dandelion flowers to add color and flavor. We'll save the roots and leaves for another day.
This survival dandelion bread recipe starts its life as standard sweet bread. The leavening agent is baking powder rather than yeast. You can use any sweetener you wish, but I prefer the taste provided by honey.
For an extra treat, use local specialty honey like clover, Japanese knotweed, or even orange. They will add a layer of complexity that may pique your interest even further.
Survival Dandelion Bread Recipe FAQ
Before we cook, let's answer a few dandelion questions.
Are Dandelions Safe to Eat?
Yes, yes, and yes. Although shunned as a weed, they are both tasty and nutritious. You may gather the roots year-round, however, the leaves are best collected in early spring before the flowers bud. Once this happens the petals get bitter. Like most foraged foods, because of natural competition and environmental stressors, dandelions are very nutritious.
How Can I Use Dandelion Petals?
With the yellow petals, once separated from the rest of the plant, you can use them in bread and in jellies. You can even steep them in boiling water for a mild tea or even make dandelion wine.
How Can I Use Dandelion Leaves?
The leaves are the ultimate spring tonic. Well washed and rinsed they are an excellent substitute for arugula or other bitter greens. Wilted they can take the place of kale in a side dish or warm salad.
How Can I Use Dandelion Roots?
It's well known that you can use dandelion roots as a coffee "substitute." I'm not sure that they'll replace my morning cup but many people seek them out for this. Some also cook the roots like carrots.
What Does Homemade Dandelion Bread Taste Like?
Much like our other simple bread recipes, you have complete control. The main sweetener is honey, so that becomes the dominant flavor. The dandelions add a subtle floral undertone. Too strong for you? Cut the petals back by half. Want a bit more? Add another 50%.

Again, the dandelions add a very subtle flavor. Feel free to experiment!
Should I Take Any Precautions?
When trying a new wild edible, always take two precautions.

First, try a little to see how your body adjusts to this new food. My grandmother would eat a big bowl of dandelion salad each spring. The dynamic gastrointestinal response that kept her in the bathroom for a day was her spring "tonic." For this, and for many reasons, she was a stronger person than I'll ever be. So take it easy when trying any new food.

Second, never harvest your dandelions from a lawn that the owners have fertilized or applied pesticides. Dandelions are plentiful enough that you don't have to risk poisoned foraging for the sake of convenience.
Prepping Dandelions
At the peak of spring, dandelions are easy to gather in bulk. This recipe only takes a cup so collecting them should only take a few minutes. If you missed that peak then you might look a little longer. But not much.
To gather the petals, pop the flower heads off and collect them into a small basket or another container.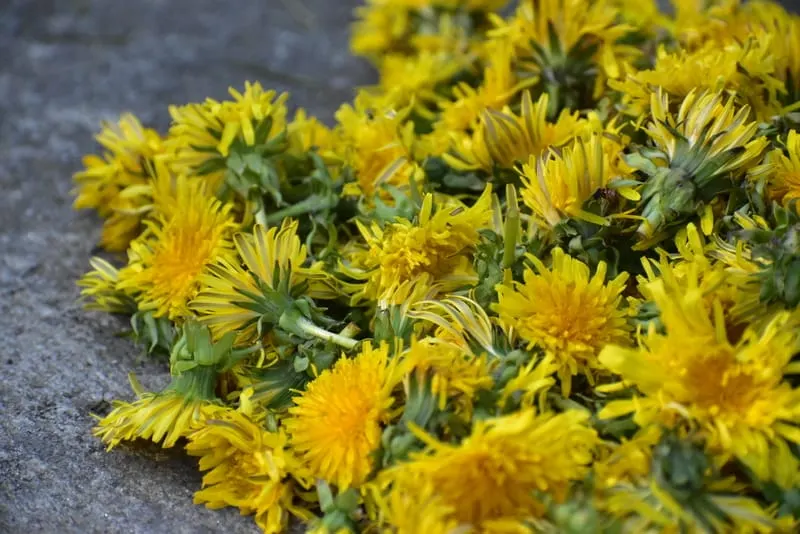 Once you have a nice pile, start stripping out the petals. I have the best luck by splitting the flower head in half then peeling out the petals.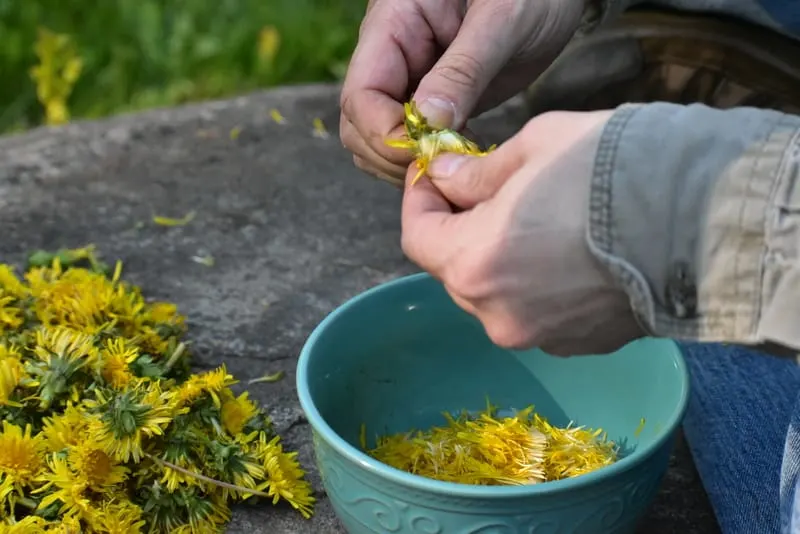 You will soon find the sweet spot for flower maturity where the petals almost fall out of the flower. This is easy and fun enough to sick your little house critters on the task.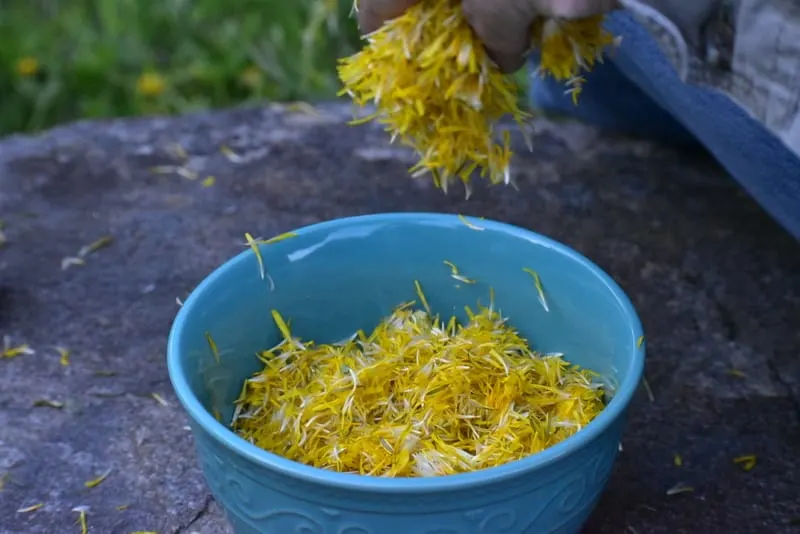 How to Bake Dandelion Sweet Bread
Additional Time:
20 minutes
This survival dandelion bread recipe is a standard quick bread recipe that is not unlike a zucchini or banana bread base. Feel free to experiment once you have mastered the basics.
Ingredients
1 cup dandelion petals
2 cups all-purpose or bread flour
1 ¼ cup milk
½ cup honey
1 egg
2 teaspoons baking powder
3 tablespoons vegetable oil
pinch of salt
Instructions
Preheat the oven to 400° F degrees
Separate the petals from the flowers



Go through the petals to remove any leaves or critters
Mix the dry ingredients (flour, salt, petals, baking powder) in a large bowl



In a separate bowl, mix the wet ingredients (egg, oil, milk, and honey) until the egg is combined with the other ingredients
Add the wet ingredients to the dry and mix until a wet batter forms
Line the bread pan with parchment or spray with the cooking spray
Pour the dough into the bread pan and tap the pan on the counter to settle the dough into the corners



Put the bread in the oven and bake for 15 minutes
After 15 minutes turn the oven down to 350° F and bake for an additional 15 minutes
Test the bread with a toothpick, the top should be golden brown and the toothpick should come out clean
When done, remove from the oven and allow the bread to cool for 20 minutes



Slice, top with butter or dandelion jelly, and enjoy!


Notes
Instead of a loaf pan, use a 9x9 cake pan and fill ¾ of the way. Shorten the times by 5 minutes each.
Make muffins or cupcakes. Reduce the total cooking time to 10-12 minutes.
Glaze the bread. Mix ½ cup of confectioners' sugar with the liquid of your choice (milk, water, lemon juice, rum) until thin enough to pour. Sprinkle in a pinch of petals.