SHTFPreparedness may collect a share of sales or other compensation from the links on this page.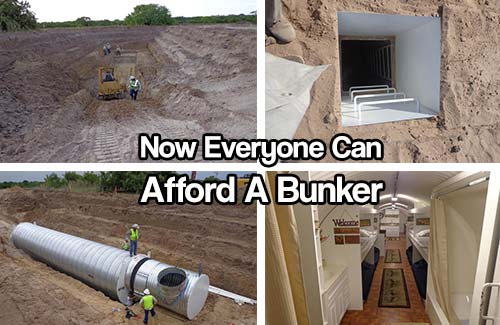 I would love to build an underground bunker at my bug out location, heck even at my house if my city actually let me. Honestly they are pricey but not out of reach… if we budget right and keep our prep heads on this dream can become a reality for majority of us reading this article.
Did you know that the one in the picture above was actually installed for under $40,000. That is pretty cheap for the size. I absolutely loved seeing how they installed the bunker and how awesome it would be if I could install one tomorrow.
Atlas Survival Shelters have some of the best shelters on the market and unlike their competition, they do not over price! Which is a rare commodity in this day and age.
I found a great website that shows us how they install a typical Atlas survival shelter that is 10′ x 50′. Read on to see a lot of pictures and a lot of info about it.
Now Everyone Can Afford A Bunker
---
Bonus: How to Make Pemmican, the Original Survival Food
Invented by the natives of North America pemmican was used by Indian scouts as well as early western explorers.
Native Americans spent a great deal of time on the go and depended on having portable, high-energy, highly nutritious, and filling foods that would last for long periods of time without refrigeration.
Pemmican is a portable, long-lasting, high-energy food. It's made of lean, dried meat that's crushed into powder and mixed with hot, rendered fat. This makes it one of the ultimate foods to have stockpiled for when SHTF or disaster strikes.
People really should avert their gaze from the modern survival thinking for just a bit and also look at how folks 150 years ago did it.
These guys were the last generation to practice basic things, for a living, that we call "survival skills" now.