SHTFPreparedness may collect a share of sales or other compensation from the links on this page.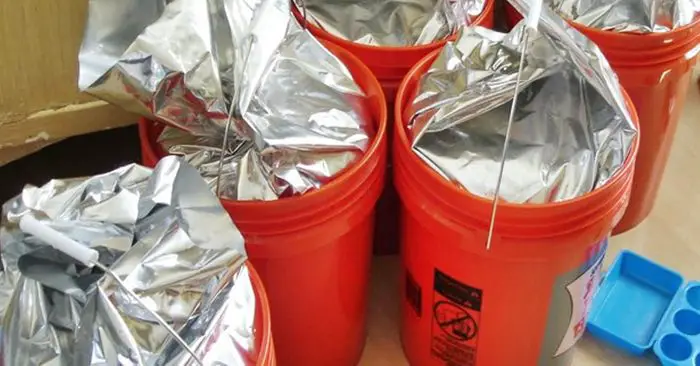 Many people have heard about using mylar bags to store food in, as well as using buckets for the same thing. Combining these two practices makes for some solid, long term food storage! The thing is, learning about them can lead to some confusion for newbies just getting started on their preparedness journey.
Mylar bags are thicker than most plastic food storage bags and are intended to be filled with food for long term storage. The mylar helps preservation by having the oxygen removed (O2 absorbers) and sealed. They are also usually dense material that will keep light out. Finally, they keep all moisture out and that helps keep the food fresh. The one thing it will not protect against is pests.
That's where the bucket comes into play. Not only does the bucket with a proper lid help keep moisture, air, and light out – it also keeps pests like bugs and rodents out of your food stash, too! It helps the seal stay strong because you're moving a whole bucket versus the individual bags. Even a pinhole can cause the mylar bag to fail. There really is little mystery to it but for the full explanation, click the link below!
Unraveling The Mystery: Using Mylar Bags and Buckets
---
Bonus: How to Make Pemmican, the Original Survival Food
Invented by the natives of North America pemmican was used by Indian scouts as well as early western explorers.
Native Americans spent a great deal of time on the go and depended on having portable, high-energy, highly nutritious, and filling foods that would last for long periods of time without refrigeration.
Pemmican is a portable, long-lasting, high-energy food. It's made of lean, dried meat that's crushed into powder and mixed with hot, rendered fat. This makes it one of the ultimate foods to have stockpiled for when SHTF or disaster strikes.
People really should avert their gaze from the modern survival thinking for just a bit and also look at how folks 150 years ago did it.
These guys were the last generation to practice basic things, for a living, that we call "survival skills" now.