SHTFPreparedness may collect a share of sales or other compensation from the links on this page.
When it comes to off-grid living, emergency preparedness, bugging out in a survival situation or even just enjoying time with your devices outside, nothing beats a solar generator for providing clean, green energy and the peace of mind that you can be prepared and self-sufficient no matter what.
Solar generators aren't really generators, they're essentially huge power banks, but seen as their purpose is so close to a traditional fuel generator, they've become popularized by the same term.
Solar generators harness the sun's energy and turn it into clean, renewable electricity for all our power uses.
In this article, we'll go through our best solar generators on the market and help you find the perfect device to fit your needs.
Our Best Solar Generators for Off-Grid Living Reviews and Comparisons
BLUETTI EB240 Portable Power Station 2400Wh with 2pcs Solar Panel 120W, Lithium Backup Battery Solar Generator for Home Emergency, 1000W AC Outlet , MPPT, Foldable Solar Panel Bundle, Indoor & Outdoor Power Alternative
【Portable Power Station with Solar Panel Included】1*BLUETTI EB240 Solar Power Station (2400Wh/1000W) and all the accessories for EB240( 1*200W AC adapter*1,Solar Charging Cable(DC to MC*4, Length:1.7m)*1, Manual*1) and 2 pcs 120W foldable solar panels and all its accessories(MC*4 charging cable, Length:3m).
【BLUETTI EB240 Power Station】-2400Wh huge capacity solar power station with a wide 14-68V/Max.500W/10A solar Input, MPPT, allowing recharge from AC wall outlet and solar panel. Two 110V AC outlet(pure sine wave) can load max. 1000W devices continuously. Regulated DC12V protect your car-powered devices and other sensitive 12v devices.
【BLUETTI 120W Solar Panel】It's made of high qualified monocrystalline silicon cells which is 5% higher efficient than traditional monocrystalline. It features with ETFE lamination thus has better light transmittance, more durable, scratch-proof, and easy to clean by wet cloth. Foldable design with handle, weight only 9.48lbs. Convenient to carry around for outdoor camping. Easily adjust the angle by the kickstands for better solar absorption.
【Solar Recharge time】According to the wide open circuit voltage range 16-68V, we recommend you can connect at least 2pcs SP120 solar panel in series, The actual recharge time may varies from weather condition, temperature or the angle or the location you place the solar panel.
【Durable & 2500+ Cycle Life】Built in automobile-level 3C high rate battery cell and multi-protection BMS(Battery Management System) design,extend battery life through  short circuit / overcurrent /overvoltage / overload /overheating protection
Product Highlights
First up on our best solar generators for off-grid living is the renowned Bluetti EB240. As leading figures in the market, you can be assured Bluetti are a brand that holds up.
Manufacturers having an industry presence is really important when it comes to choosing a device you can rely on and will prove to be a worthy investment with time.
Many of the cheaper solar generators manufactured by companies with little or no industry presence should be approached with caution.
The Bluetti EB240 is the latest model from the company and is their biggest solar generator yet. It comes equipped with over 2400Wh/1000W of lithium battery storage for long run times and reliable power.
Producing 1000W of continuous power and 1200W surge power, the Bluetti EB240 is capable of running all the devices you'd require in an off-grid living situation.
We especially liked its design, the aesthetic is simple and friendly, in keeping with the company's visual signature, and conveys strength and ruggedness to give this product a durable reputation.
Features
2 AC power outputs
1 regulated 12V DC output
4 USB-A outputs
1 45W USB-C output
Digital display
Intelligent cooling controller
2400W capacity making this a huge solar generator
Ergonomic handle for ease of transport
What we like about Bluetti EB240 Solar Generator
We loved the aesthetic of the EB240 by Bluetti, its simple color pallet of blue and white gives it a clean, almost medical feel.
The enlarged ends of the case give it a robust and rugged feel, all of which convey a sturdy and durable product with incredible build quality. As well as this its large capacity makes it one of the best bang for your buck options on our list.
What we don't like about Bluetti EB240 Solar Generator
Unfortunately, the EB240's low surge rating means it won't be of any use if you need any of those more power-hungry devices.
Power tools and medical devices are out of the window and it may not even be able to handle certain fridges depending on their initial surge requirements.
PROS
Package comes with 200W AC wall charger, solar charging cable and 2 Bluetti PV120 solar panels
It's massive charge capacity and high output ratings make it capable of supporting off grid living
Manufactured by a leading industry expert you can count on for long term support and reliability.
CONS
Such an excellent device for off-grid living comes at a price, and the bulk offer with 2 solar panels makes this an expensive option.
1200W surge rating means the Bluetti isn't capable of handling heavy duty power tools and such devices.
Weighing in at 22kg this is one of the heavier solar generators.
Sale
Jackery Solar Generator 1500 1534Wh Capacity with 4XSolar Panels SolarSaga 100W, 3x110V/1800W AC Outlets, Ideal for Home Backup, Emergency, RV Outdoor Camping
Clean and Unlimited Solar Energy: 100% clean and unlimited solar energy with smart MPPT controller for your camping or family emergency storage. The power station can be charged for 0% to 80% with 4 Jackery SolarSaga 100W solar panels within 4 hrs or only 4 hrs via AC wall outlet charging.
Easy to Use: The ergonomic shape of the handle grants an ease grip. And use in one touch with simple and speedy setup within 60s to enjoy outstanding charging efficiency and ensure quiet and peaceful charging.
Safe & Reliable for Outdoor Camping: Features industry-leading cylindrical batteries (popular with manufacturers of Electric Vehicles) that meet UL safety standards. Certified with Impact-Resistance Class 9, passing the UL drop test (withstanding 3 drops from 0.9m height on any surface). The pure sine wave inverter delivers constant voltage that protects equipment from damage.
Power Pretty Much Anything: Power 94% home appliances with 1534Wh (1800W AC output power) and 7 outlets (3*AC outlet, 1*USB-A quick charge 3.0, 1*USB-A, 1*USB-C PD 60W, 1*Car outlet). Ideal for outdoor off-grid activities and home backup power to power the most of your appliances - refrigerator, TV, mini cooler, electric grill, fan, and more for your outdoor and home needs.
Quiet & Strong: At a such large capacity, this Explorer will leave you with VERY LITTLE to NO noise, giving you the peace and power all at once. Extra bonus for the built - unlike most other portable generators, this supports pass-through charging while its battery life is protected.
Product Highlights
The Jackery Solar Generator 1500 is truly a device to provide when it comes to off-grid living. This option integrates the jackery explorer 1500 with 4 SolarSaga 100W solar panels.
Providing a 1534Wh capacity and 1800 running wattage.
The system can handle massive 3600W surges, making this a device capable of running all your electronic needs, from freezers to power tools.
It also uses advanced MPPT technology: Solarpeak. Meaning rapid solar charging can be achieved, with up to 80% charge obtainable in as little as 4 hours.
The Jackery Explorer 1500 features the signature Jackery design with a stylish and Ergonomic handle and striking cool grey and orange colors.
Features
3 pure sine wave AC outlets
1 60W USB-C port
1 quick charge 3.0 port
1 USB-A port
1 DC 12v car port
MPPT built in
Digital display
Ergonomic handle for ease of use
Fast solar charging
What we like about Jackery Solar Generator 1500
The use of Jackery's patented Solarpeak technology sets this solar generator aside in the market, with the rapid charging technology meaning the device can provide fantastic functionality whilst saving you time and convenience in an off-grid scenario.
What we don't like about Jackery Solar Generator 1500
Though the Jackery Solar Generator 1500 can provide high continuous and surge power ratings, its capacity lets it down, keeping the top spot on our list out of its reach. The capacity is good, though to be relied upon for full-time off-grid living, it would only just be enough.
For Overlanding, RV's or van life scenarios it's a fantastic option, but if you're looking at this for an off-grid scenario in a permanent structure, you should consider using additional products with your system.
PROS
The jackery solar generator 1500's massive surge rating makes this the most diversely applicable solar generator we've found.
Jackery's reputation won't let you down as a leading industry expert, meaning the company can be relied on to help you out should you have any problems.
Featuring 4 SolarSaga panels allows for rapid charging on the system to equip all your needs quickly and reliably.
CONS
1534W capacity is good but it's going to mean you need that fast charging technology. In an off-grid living scenario this system's capacity would only just be enough.
As the system comes with 4 solar panels and the generator, its price reflects this, and again, the jackery solar generator 1500 is a costly option for off-grid living.
EF ECOFLOW Portable Power Station DELTA 1300, 1260Wh Solar Powered Generator with 6 x 1800W AC Outlets, Solar Generator(Solar Panel Optional) for Outdoor Camping
0-80% in under 1 Hour. Ecoflow DELTA power station recharged at 10 times the speed of most portable power stations in the market with just a standard AC cable.
Huge 1.2kWh Capacity. Portability doesn't have to sacrifice capacity. DELTA is a solar powered generator with a massive 1.2kWh capacity. Enough for hours of backup power.
Power Almost Anything. DELTA's huge AC output can even support power tools up to 1800W (Surge to 3300W, Pure Sine Wave). That makes it the best portable power station at this size for output.
Solar Charging, Car Charging & More. DELTA is equipped with a lithium battery pack, it can be charged by the 10-65V solar panel (not included), AC wall adapter and car charger efficiently. Charge to full in as fast as 4 hours with EcoFlow solar panels.
Supports 11 Devices at Once. All the ports you'd ever need for your gear. Power up to 11 devices all at the same time via AC, DC or USB outlets. Ideal as a outdoor generator for blackouts.
Product Highlights
Next up on the list is a truly showstopping solar generator. The EcoFlow Delta is the company's latest model and features some satisfying statistics when it comes to comparisons.
The Ecoflow Delta comes with a 1260Wh capacity and 1800W continuous power rating, with surge ratings of 3300W through its pure sine wave outputs, this is a device that can handle anything you can throw at it.
This surge rating makes it compatible with virtually any device you could need, water pumps, AC units, power tools, you name it.
In an off-grid living situation, you can charge the station between 3.5 and 7 hours using 3 160W solar panels.
But if you're able to access the grid, rapid charging of up to 80% can be achieved in a jaw-dropping 1 hour. And full charge in 1.6 hours from an AC input.
EcoFlow is a relative newcomer to the market, but don't let that cast any doubt, with an assured industry reputation, EcoFlow is a brand you can trust, and their cleaner, modern aesthetic sets them aside from most other solar generators, which is especially the case with the EcoFlow Delta.
Features
4 AC outlets
4 USB-A outlets
2 USB-C outlets
1 DC 12V output
1 DC 12Vinput
Xstream quick charge technology
MPPT built in
Digital display
Warranty
What we like about EcoFlow Delta
EcoFlow Delta is undoubtedly the prettiest solar generator on our list. Its looks set it well and truly aside from anything else on the market.
The cool grey and black soft-touch finishes give it a sleek and futuristic appearance, with the digital display being one of the largest we've reviewed.
But aside from its looks, EcoFlow's Delta holds up when it comes to performance.
It may have a smaller capacity, but with high power and surge ratings coupled with EcoFlow's Xstream fast charging technology, the Delta is a competitively priced contender.
What we don't like about EcoFlow Delta
The Fast charge technology really does redeem the Delta as its capacity is on the cusp of off-grid living requirements.
Honestly, it's not quite enough to live off-grid with a setup like this as your main power system, so you'd need other systems if you went for this option.
PROS
The EcoFlow Delta comes with a warranty card in the box for your piece of mind, as well as charging cables for the wall and car, and cables to connect to solar panels.
Massive surge rating means this can handle any device you'll require.
Relatively cheap compared to other solar generators on the list, but on account of it not coming with solar panels.
CONS
As it doesn't come with solar panels, you'll need to source some, so think about that when weighing up costs.
Despite its high power ratings the Ecoflow Delta doesn't have a huge capacity meaning in an off-grid living environment you may need other options as part of your system, especially if you're going to be taking advantage of that high surge rating, it can handle your devices but not for long.
No products found.
Product Highlights
Moving down the list we come to the Yeti 1500X by Goal Zero. This is a product from another industry leader, so you can put your faith in its quality and reliability, both the company and the product rate very well from customer reviews.
The Yeti 1500X comes with a 1500W lithium-ion battery and can provide continuous power of 2000W, with surges up to 3500W, making this device adequate for meeting the needs of any device you can throw at it.
Power tools, water pumps, full-size fridge freezers, all can be powered with Goal Zero Yeti 1500X's massive surge rating.
You can charge the Yeti 1500X with solar, AC power, or even through your car. Making it a suitable option for off-grid living. Though again this product's capacity will mean a lot of charge time is required.
Features
2 120V AC outputs
Regulated 12V
MPPT built in
2 USB-A ports
2 60W USB-C port
APP and 8mm input ports making it compatible with most solar panels
Digital display
Monitor and control your device through the Yeti 3.0 app
Striking design signature of Goal Zero
What we like about Goal Zero Yeti 1500X
With its multiple inputs for APP and 8mm socket connections for solar panels, the Yeti 1500X by Goal Zero is compatible with more types of solar panels than any other on our list, meaning any solar panels you already have will likely fit, and if you need to get some to set up your system, you'll have the most options available.
What we don't like about Goal Zero Yeti 1500X
And it's a good job the Yeti 1500X comes with so many options for solar input, as unfortunately, it doesn't come with solar panels.
Considering its price, that factor really pushed it down this list, so if you already have panels, Goal Zero's Yeti 1500X is an option worth considering.
PROS
New inverter size means the Yeti 1500X from Goal Zero can handle all your power-hungry devices, Perfect for off-grid living.
Though not massive, the capacity is decent and will be enough for off-grid living in an RV, van life type scenario, or Overlanding in a 4×4 for extended periods of time.
Goal Zero are well known and respected in the industry, assuring you they can be relied on for contact and assistance.
CONS
The Yeti 1500X's capacity might not be quite enough if you living full-time off-grid in a permanent structure, though provided your system can account for the charge time it will make a solid foundation to your power supply
Considering it doesn't come with solar panels, the Yeti 1500X is almost as expensive as equivalent models or even better models from the likes of Jackery and Bluetti. This solar generator isn't competitively priced.
No products found.
Product Highlights
Finally, we come to the Yeti 6000X from Goal Zero. Much like the Yeti 1500X, this product is capable of tackling all your power needs, but unlike the 1500X this Yeti features a staggering 6000Wh capacity.
This mammoth solar generator's capacity certainly makes it the best on our list, though we've placed it at the bottom due to one very important factor.
The Yeti 6000X will be all you need to live full-time off-grid and power all your devices for days on end, but it's only an option for those with a big budget.
Much like the Yeti 1500X from Goal Zero, the company's largest model, the Yeti 6000X can provide 2000W of continuous power, and up to 3500W surges. Add in its capacity of 6000Wh and this solar generator becomes a mouth-watering dream on statistical comparison.
Features
8mm and APP inputs for most standard solar panels
Regulated 12V DC output
2 pure sine wave AC outputs
2 USB-A outputs
2 60W USB-C outputs
Digital display
Integrated wheels and Ergonomic handle for transporting this gargantuan power bank
Monitor and control your device using the Yeti 3.0 app
What we like about Goal Zero Yeti 6000X
The Yeti 6000X from Goal Zero is in truth one of the best solar generators we found. You'll need several solar panels to charge it, but it can be the foundation of your power system in an off-grid environment.
We really liked the addition of wheels to this design, necessary given its weight, but Goal Zero has kept their signature visual footprint in this design, and incorporated some great usability features with the wheels and handle.
What we don't like about Goal Zero Yeti 6000X
Simply; the price. Though this crazy big capacity from a reliable, excellently built, and stylish product from a reputable company is sure to suit all of your power needs and then some.
This comes at a price, if you can afford it the Yeti 6000X hands down wins, but its price puts it well out of most people's budgets.
Balancing up your power needs against what you can afford is a really important part of this process. So read on for more information and help when it comes to choosing the best solar generator for you.
PROS
The Yeti 6000X from Goal Zero boasts a capacity that can simply support off-grid living, full time, in a permanent structure, it's all you need as a system for running everything for days on end.
Goal Zero is a reputable and dependable company.
Supportive of massive surges so it can handle any device.
CONS
A system as good as this comes at a price, and this product comes in at more than twice the value of any other on the list, but for a lot more than twice the capacity.
As you'd expect, a mammoth capacity requires a mammoth amount of time to charge. With an input of 400W from solar, you can expect to fully charge the Yeti 6000X between 18 and 36 hours. So if this was your main system in a permanent off-grid setup, you should consider a secondary smaller and cheaper unit to keep the essentials like a fridge going during your charge times.
Final Verdict
After all our research, we've decided to hand first place to both the Bluetti EB240, and the Jackery Solar Generator 1500. Both are such fantastic options for off-grid living, coming equipped with their own solar panels and priced in similar regions.
The Bluetti EB240 is the perfect all-rounder with its extra-large capacity and many ports available to all your devices for living off-grid, even in a permanent setup when solar power needs to be relied upon heavily.
Unfortunately, it's lacking in being able to handle those high-power devices.
It's been designed for low usage for a long time, and as such its low surge rating means it might not be adequate for permanent off-grid living situations, though it is perfect for semi-permanent off-grid living survival situations, emergency preparedness, over-landing, or those extended camping trips.
Where the Bluetti EB240 falls down, the Jackery Solar Generator 1500 picks up the torch.
Its higher continuous power and surge ratings make it the most widely applicable product for all your power needs.
Though unfortunately, it does just have that smaller capacity. But considering its fast charging capabilities and its coming with 4 solar panels, it deserves its place at the top of our list.
It's really about your power needs and the situations you'll be in when it comes to selecting your solar generator for off-grid living.
So we hope our list has narrowed things down for you. Read on for a lot more help when it comes to what you need to consider when selecting what's right for you.
Which Solar Generator for Off-Grid Living is right for me?
Solar generators are an excellent option for getting power to where you need it in an off-grid living situation. Whether you're living in a permanent structure in an off-grid location, traveling around in an RV, or Overlanding for extended periods of time in survival situations.
Solar generators harness the sun's energy and convert it into usable power to power your devices. They consist of Solar panels, and a generator, which is essentially a huge power bank.
This means you can collect and store energy in a clean green and efficient way, without any smelly fuel being burned and polluting the atmosphere, and without all the noise that comes with a conventional fuel generator. And of course, you don't run the risk of running out of fuel.
But when it comes to choosing the best type of generator for you, the task can become daunting, and the technology intimidating. Keep reading and we'll go through all you need to know to find the best device for you and your family.
So how do solar generators work?
All solar generators have the following basic components:
Solar panels for converting the sun's energy into electricity for your needs.
A battery to store the power.
A charge controller to control the flow of charge to the battery.
And an inverter, which converts the current of the power stored in the battery into usable power for your devices.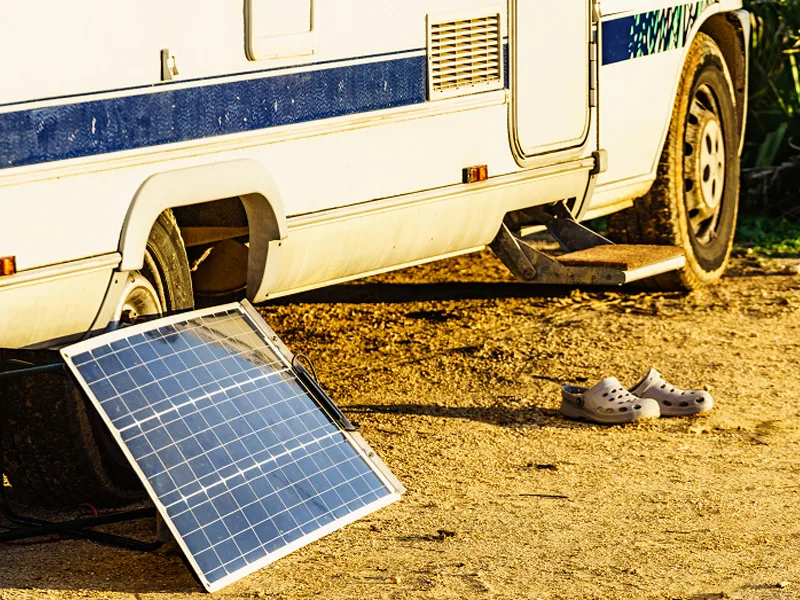 When it comes to choosing the best solar generator for you there's really only one thing you need to determine first. What do you need? Knowing your power requirements, and how you're going to need to use the power is essential to start looking for the best solar generator for you.
Since the market is full of manufactures and models that overlap so broadly in their costs and benefits, it's really about finding the one that's going to do everything you need for your specific circumstances.
For off-grid living situations, there's a very important factor to consider. Do you need continuous power? And how much of it will you need?
Solar generators can be a great way of providing this power in an off-grid scenario, but they can be slow. If you're needing to power many devices that need to be on all the time, such as a fridge, water pump, ac unit, etc.
Then building a system to get you that reliable stream of non-stop power is going to be more difficult. Solar generators store their power in batteries, which need to be recharged between uses.
Many solar generators can't charge and use power at the same time, so you should consider this when deciding what type of system you need.
But as well as determining your power needs, you need to consider what you can afford, and which features are important to you. Looking into these factors will make establishing which devices will work for you and which won't a lot easier.
What size solar generator is best for me?
There are two critical ratings when it comes to solar generators, continuous Watts and surges Watts. Continuous Watts is the power that can be consistently maintained the entire time the generator is in use. And surge Watts is the maximum wattage your generator can withstand for an initial start-up of electric motors.
To calculate continuous power, we multiply the number of Watts being used, by the number of hours they're being used for.
So for your needs, add up the total Watts all your devices will need (a phone charger is around 10 Watts, a laptop charge around 100 Watts, and a fridge upwards of 500 Watts daily) and multiply that by the number of hours you'll need to run everything daily.
So if you were living off-grid in a van or RV, running a fridge all day, and let's say 1 laptop charge and 2 phone charges daily, a 700w solar generator would probably be enough for your needs.
If you're living in a more long-term outfit and running lighting, kitchen appliances, a fridge freezer, maybe even a water pump, your energy requirements are going to be much higher and they'll be a limit where a solar generator can't quite provide all you need.
If that's the case you could look at using multiple batteries and multiple solar panels, so the panels can always be charging batteries whilst others are being used.
In that case, a solar generator can be that fantastic bit of kit to give you that much extra for peace of mind and dependability in a blackout or survival situation.
When it comes to surge, Watts, this is the initial burst of power devices with electric motors need, some solar generators are capable of withstanding 3500w surges, making them more than enough for even the beefiest power tools if you're working off-grid.
So if you have a fridge that uses 500 Watts daily, but needs 1500 Watts to get it going in that initial second surge, you're going to need a solar generator with a 1500 watt surge rating.
Other things you need to consider when choosing a solar generator
Solar Panels
The energy production of Solar panels is also something we measure in Watts. The watt rating of the panel multiplied by the number of hours sun exposure gives you the number of Watts produced and stored in your generator.
So if you're using a 100-watt solar panel for 5 hours, you're going to produce 500 Watts of usable energy. So let's go back to our scenario requiring a 700-watt solar generator. We're powering a fridge daily, 1 laptop charge, and 2 phone charges daily for an off-grid, van life type arrangement.
A single 100W solar panel on your roof is going to take 7 hours to charge the generator, many generators can't be used during that time.
2 200 watt solar panels on the roof are going to give you 400 Watts an hour, meaning you'll charge your 700W generator in as little as 1 hour 45 minutes. But of course, 2 200 watt panels are going to cost you more than 1 100 watt panel, so it's about balancing things up for your needs.
Also, consider with solar panels, day sun exposure will constantly vary, and cloudy days will mean your panels are less efficient and take longer to charge your generator.
Your generator can only use stored energy, so if your panels can produce more energy than your battery can store, it will be wasted energy and you won't gain any extra power.
There's no point trying to charge a generator that can only take in 100 Watts an hour with 4 100 watt panels, you'll still only get 100 Watts an hour, and the other 3 panels' power won't be going into the battery.
Battery power and Capacity
Capacity
The capacity of your solar generator is the maximum power your battery can store. But this doesn't always mean that power is available all at once.
That comes down to the battery's power rating. So if the capacity of your bank is 1500 watts but the power rating is only 500 Watts, then the most power a device can use continuously is 500 Watts.
It's important to check these factors picking which solar generator is best for you
Trickle charging
Some solar generators use trickle charging, this means you can use the battery whilst charging it, meaning you can rely on your continuous power a lot more and will need an overall smaller unit. But this technology is expensive and only comes with the best solar generators.
A range of battery types exist, but the most commonly used are lithium-ion and lead-acid.
Lithium-ion batteries are lightweight, compact, and generally last a long time, they're the type typically used for power tools. They have a longer lifespan than lead-acid batteries and these factors make them popular for solar generators.
Lead-acid batteries are the most common and least expensive. They're the types used in cars, but their short life spans mean solar generators that use them won't last as long and you'll have to regularly replace your system.
Power inverters
Power inverters convert DC (direct current) energy to AC (alternating current) DC is the type of power stored in a solar generator's battery, but AC is what most appliances use, and is what comes out of your wall outlets.
Pure sine wave inverters will protect your devices and provide more consistent and reliable power, but any soar generator that uses a pure sine wave inverter will be more expensive.
Charge controllers
Solar generators need charge controllers to regulate the current for the solar panels and stop the batteries from overcharging. The most basic ones just cut the power when full charge is reached, but this can be inefficient.
Generators with MPPT charge controllers will be much more efficient and squeeze more power out of your rig. MPPT stands for maximum power point tracking, and it just means they can handle the current more effectively.
For the best usability in your device, look for a solar generator with a digital display. Some of these can be very basic, and others much more detailed, showing the AC and DC power being used and how much charge is left in the battery.
Weight
Weight is an important factor to think about depending on your circumstances. If you're living permanently off-grid in an established setup, weight is less important as your system can remain relatively unchanged once you set it up.
If however you're living in a van or RV, doing camping or survival trips and your solar generator is going to move around a lot more, weight suddenly becomes very important.
The weight of Solar generators can vary anywhere from 5 to 30kg, and that's a lot if you were needing to carry your generator from your van, truck, RV, etc, to a survival camp you've set up in the bush. Something to think about depending on what you're going to be doing.
Things to avoid
Like with all purchases, there are certain things to be aware of when making any decisions on which solar generator is right for you.
Having weighed up your own needs in terms of how much power you need, what appliances you'll be using it for and how long you'll need power, as well as taking into account recharge times and your budget, the rest of your decision should factor in how your purchase will fair long term.
Longevity on items as costly as solar generators is extremely important, and there's little point going for cheaper options based purely on their price, only to find you have to replace them in a relatively short space of time.
So what to look out for? As solar generators hit the market and began to grow in popularity, they used proprietary components that could often not be upgraded or replaced, meaning entire units needed to be replaced directly from the manufacturers at hefty prices.
It's important any piece of emergency equipment is realistically usable and repairable in the real world with off-the-shelf components.
Also, look out for kits that are sold as only one part of a system, and require costly additions. Buying a generator alone could be a good option for you if you already have standard panels, but these can often be costly options.
Watch out for systems with proprietary options that no longer make replacement parts.
Waterproofing is an important factor for a device intended to be used as survival equipment and emergency preparedness in an off-grid environment. But through lots of options that come with waterproofing it's not standard in the industry yet, so weigh that up in your decision.
A warranty is always a huge weight off your mind when it comes to purchasing decisions, so look for solar generators that come with warranties, and watch out for companies with little or no industry presence.
Many cheaper options are vastly available, but if you're buying from a company no one ever heard of, you should set low expectations for things like built quality, reliability, and durability, and next to no expectations in terms of customer service and support.
The leading industry experts hold their positions for a reason, so trust them. Buy once, cry once.
A Final Summary
So as we've learned, solar generators are a fantastic piece of kit to have on hand when setting up an off-grid living situation in a permanent structure, or for prolonged trips doing off-grid traveling in RV's, 4×4's or vans, they can save your life in a survival situation and bring all the creature comforts of home to an Overlanding or camping trip.
Generally, they're solid pieces of kit that you can rely on to last a long time, but all good things come at a price.
What's most important is you understand your own needs for how much power you'll need and for how long, in order to make sure you're making the right decision when it comes to which solar generator can improve you and your family's lives.
Take your time, do your research, and trust yourself to make a reliable and informed investment. If you get it right, you won't regret switching to a renewable energy source that's good for the planet and could save your life.
Take your time, do your research, and trust yourself to make a reliable and informed investment. If you get it right, you won't regret switching to a renewable energy source that's good for the planet and could save your life.
Related Articles