SHTFPreparedness may collect a share of sales or other compensation from the links on this page.
Jerky is one of those things every prepper needs to have. Filled with protein, tasty, and easy to store and transport, it's perfect for every bug out bag and every food stash. Most people go for the beef jerky, but did you know there are alternatives? Let's look at turkey jerky vs beef jerky and see which one might be better for you and your family.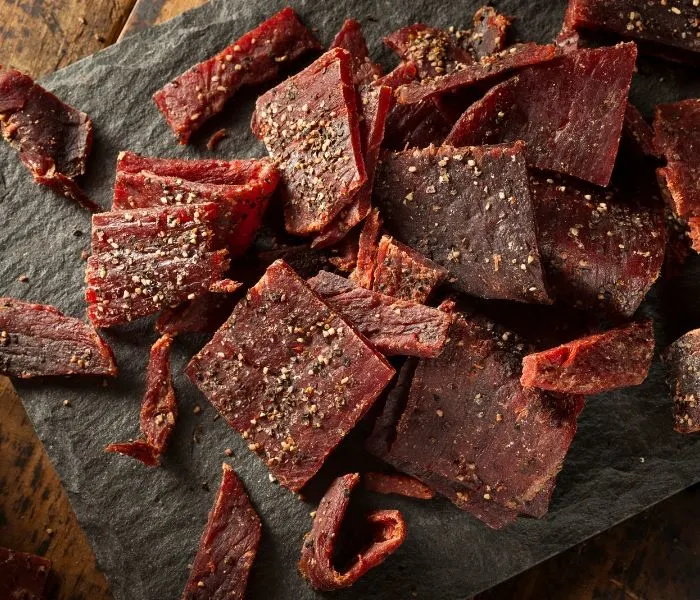 Benefits of Jerky
For years, jerky has been seen as bodybuilders' food. However, today's dehydrated meats have gone upscale by including more variety, more flavors and even free from sketchy additives. That way, the biggest star of the treat is shining brighter – protein! In fact, you can find some strips that are exceptionally lean, consisting of just one gram of fat or absolutely none at all.
The protein-packed, low in fat snack can be highly versatile. You can even go for a low sodium diet to balance it out on days when you consume jerky.
Jerky makes for a great travel snack while perfectly fitting into a healthy diet plan. While the first meat that comes to mind when thinking of jerky is beef, the varieties extend beyond that. You have turkey, bison and more.
Turkey Jerky Vs Beef Jerky
Beef Jerky Variety, 1.25 oz, (9 count)
MSG Free Turkey Jerky, 2.85 Ounce (Pack of 4)
While this growing number of options is exciting, it can also get confusing. How can you decide which meat is a better choice? To begin with, a comparison between beef jerky and turkey jerky reveals that both are low in fat. And they both make for a healthy treat that the whole family can enjoy.
When it comes to the flavors, there is similarity there as well. The differences begin to show when the nutrition factors are compared.
The number of calories, carbs and more are different in each kind of jerky.
Looking at 1 oz piece of jerky, beef jerky has 73 calories, while the turkey has 89 calories. Take a look at the other nutrients listed below.
Beef jerky:
Total fat content: 1 g
Cholesterol: 20 mg
Iron: 8%
Protein: 12 g
Sugar: 1 g
Carbohydrates: 4 g
Sodium: 410 mg
Turkey jerky:
Total fat content: 0.5 g
Cholesterol: 25 mg
Iron: 4%
Protein: 13 g
Sugar: 5 g
Carbohydrates: 8 g
Sodium: 410 mg
It is important to know that there might be slight variations in the nutritional factors when a company uses its own marinade recipe. The unique cuts they make and the water content that decides how juicy the jerky would make a difference too.
The variations in nutrition are one of the factors that can help you decide the kind of jerky that you would want to consume as per your health and dietary requirements. The second factor that could help you decide is discussed below.
Which Jerky Should You Choose for Better Health?
Depending on your digestion and the general fact about red and white meat :
Beef jerky is the most well known and vastly consumed. The reason why turkey is starting to gain popularity is because of the fact that red meat is a bit harder on the digestive system when compared to poultry.
Besides, the many health reports that have been released over the past few years have reinstated the many benefits of white meat.
In general, the latter is easier to break down by the digestive system and gets assimilated into the body quicker in comparison to beef or other forms of red meat.
Texture and Taste Differences Between Turkey and Beef Jerky
It cannot be denied that choosing between the two meat options for a jerky, individual preferences play a bigger role. So, coming down to comparing the taste and texture of the two, beef is a little chewier than turkey and many people would even find the latter juicier.
The time taken to prepare the meat does play a role in this, but in general, for those who do not like to exercise their gums a lot, turkey is a softer alternative.
When it comes to taste, the unique flavor of the meat is a major contribution along with the layers of flavors that are added.
Choosing between beef and turkey jerky is an entirely personal decision unless you have been particularly advised by a doctor.
Some people might be allergic to certain kinds of meat or they might be asked to adhere to a specific diet wherein one of the two may have to be avoided. In case these concerns are kept aside or for that matter, in case they are included when you have to decide whether to choose one kind of jerky over the other, it all depends on how well you like the taste of one or how the nutritional facts of the other lure you better.
Advantages of Consuming Jerky
In case you are wondering why you should buy jerky in the first place, there are two key words: health and convenience.
As stated earlier, both beef and turkey jerky are excellent sources of protein while being 97% fat-free! These are two of the many amazing health benefits of this delicious snack.
Coming to the part about convenience, the snack is easily portable. The long shelf life, vacuum-sealed packaging and the fact that it can even be repackaged after opening add great value to both beef and turkey jerky.
In other words, contrary to the myth about "bodybuilders' food only", jerky is great for hikers, campers or absolutely anyone looking for a protein-dense snack on the go. Healthy and convenient, now with all the nutritional facts and other details laid bare, the snack is all the more appreciable to multiple consumers.
In case you still feel conflicted, you can always do it yourself. In other words, if you own a food dehydrator, you can actually make a small batch of jerky by yourself.
That might help you to make up your mind before you spend on larger batches. You can even experiment with the basic flavors that are easily available at the manufacturer you are planning to buy from. Trying it yourself also lets you decide the thickness of the meat and control the level of moisture and so on.
It is important that you buy your jerky from a reputed and trusted seller so that the levels of quality and freshness are guaranteed without any compromise with the taste and texture of the cuts.
So, is it easier to make a decision? Turkey jerky vs beef jerky: which one's your favorite?