SHTFPreparedness may collect a share of sales or other compensation from the links on this page.
If the zombie apocalypse happens you need to make sure you are prepared and weapons are an essential in order to make sure that you survive.
You may not have access to a range of weapons should zombies take over so it is important to stay stocked with weapons in case it happens.
Also important is to look at survival weapons DIY should you need to improvise on the fly. We have found some "killer" zombie survival weapons to allow you to defend yourself should the worst happen.
Zombie Apocalypse Survival Weapons For Sale
First let's have a look at some quality zombie survival weapons that you can buy off the shelf and that will allow you to stay safe during the zombie apocalypse.
This throwing ax comes with a double head that can allow you to keep your distance from a zombie while throwing it in for a kill.
It is super sharp and with a good grip will let you get the job done effectively. This ax option will allow you to have repetitive kills if you have good aim.
This survival spear will make an excellent zombie apocalypse weapon. You will be able to defend yourself with this spear by piercing, prying, impaling, and breaching a zombie.
This double edge stainless steel blade will allow you to deal with zombies with ease.
A small but deadly weapon option, this knife will be easy to store and carry during the zombie apocalypse but is sharp enough to defend yourself in close combat.
A great portable survival weapon choice that can save your life.
During any apocalypse situation having multifunctional tools and weapons is very helpful.
This folding camping shovel can be functional for everyday use but will make a great zombie survival weapon as you can use the sharp end of the shovel in self defense if you are in a pickle.
If you are looking for a more heavy duty zombie apocalypse survival weapon then this is an ideal one. This thick and uniquely designed machete is easy to use and will cut through almost anything including zombies should the need arise.
If you have watched any zombie series or movie you will have seen a character that has used a sword knife as a survival weapon.
The long blade comes in handy to keep the zombies at arms length and the shard blade slices through zombies with ease.
Another fan favorite in terms of zombie apocalypse survival weapons is a crossbow. It gives you the advantage of taking care of the zombies from a high vantage point and this option is self cocking adding to its ease of use.
Sometimes you can use pure strength with a good self defense weapon that does not have a blade like this baseball bat.
This steel bat will make a great zombie survival weapon and allow you to swing at the zombies and knock them out of the park.
Having a survival weapon that uses fire can only be an asset in the zombie apocalypse. This weed torch option could take care of a number of zombies if you find yourself surrounded or in a tight spot.
A weapon choice that can become part of your body and basically extend your limbs with a deadly edge is a huge plus. This forearm blade allows you to attach a sharp and deadly blade to your arm and defend yourself in the zombie apocalypse.
Survival Weapons DIY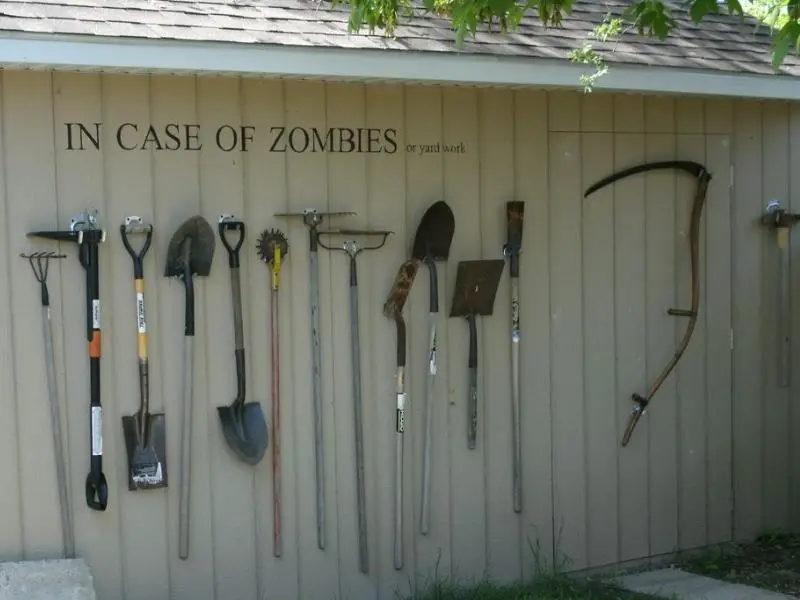 If you find the zombie apocalypse has hit at a time before you were able to prepare then you will need to improvise and make do with what you already have.
Using Items You Can Find Around Your House
The kitchen is a great place to start for DIY survival weapons. Using things like knives and pots and pans are all viable options to use in self defense.
Knives can even be modified into spears using a broom handle and some duct tape giving you some added advantage to fight zombies at a distance. Things like blenders can also be modified with a bit of ingenuity.
Graters will make good additions to zombie apocalypse weapons. Basically anything sharp that can cut is your friend.
Using Items You Can Find Around Your Garage
Tools that can be found in your garage will be an asset as zombie apocalypse weapons. A lot of them are sharp and combined with other items can become deadly.
Think adding nails to the end of a baseball bat or using a chainsaw as long as your battery is good to go. The options with your tool store are truly endless from a DIY survival weapon point of view.
Make Your Own Weapons From Wood
Sharpening sticks to use them as makeshift spears and knives will really help in your fight against the zombies as you can continue to make your own weapons as long as there are trees around.
You can even make your own bow and arrows with some logic or a basic tutorial if you have some wood and the right string to make your bow.
Conclusion
One thing is certain is if the zombie apocalypse comes to pass you will only be limited in terms of survival weapons by your creativity.
Whether you have purchased zombie apocalypse weapons and are ready to go should the worst happen. Or if you have to improvise with what you have on hand in your home or surroundings you will be the ultimate survivor with these great zombie survival weapon options.
Read Other Related Article:
---
Bonus: Root Cellar That Can Be Used as a Bunker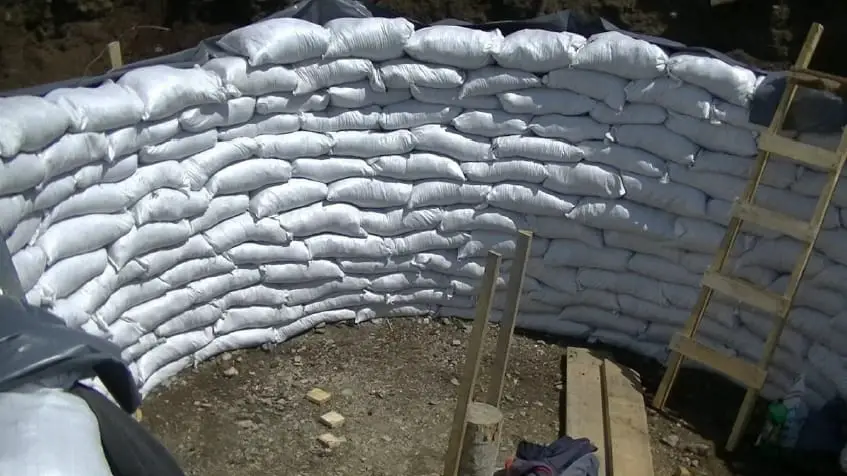 Do you remember the old root cellars our great-grandparents used to have? In fact, they probably built it themselves, right in their back yard.
If you want to learn how to build a backyard bunker like your grandparents had, without breaking the bank, then you need Easy Cellar.
Easy Cellar will show you:
How to choose the ideal site
Cost-effective building methods
How to protect your bunker from nuclear blast and fallout
How to conceal your bunker
Affordable basic life support options
Easy Cellar will also reveal how a veteran, with only $421, built a small nuclear bunker in his backyard.
Also included: