SHTFPreparedness may collect a share of sales or other compensation from the links on this page.
If the apocalypse hits then you are going to need to become one thing and that is self sufficient. Certain things will not be easy to manage and all of your usual comforts will be a distant memory.
Organization and preparation is key to surviving the apocalypse and having your own apocalypse survival kit will give you an added edge.
We have looked at what is essential in terms of apocalypse survival gear to keep you a step ahead of everyone else.
What Is Apocalypse Survival Gear Anyway?
Basically any gear that will help you to survive after the apocalypse is classified as apocalypse survival gear.
From suitable clothing that can withstand the elements to portable survival shelters anything that will help you be self-sufficient and protect yourself.
If you put together a comprehensive kit you will be able to navigate the post-apocalyptic world much more easily.
What Apocalypse Survival Gear Clothes Should You Have?
The keyword when it comes to survival gear clothing is functionality. Clothing must provide a purpose in the form of protection or heat retention to make the list.
Having a good quality face covering is a must for your apocalypse survival kit. The air quality may be poor or there could be airborne pathogens that you need to minimize inhaling.
Either way you want to make sure you have a breathable and protective face shield like this desert scarf to keep you safe. This scarf can protect you from the sand, sun, wind and dust to enable you to handle the elements more effectively.
Multi purpose items will serve you well in the apocalypse and this hybrid emergency blanket and rain poncho will really protect you from all of the elements.
Made from a durable, NASA-engineered, tear-resistant, and incredibly tough mylar, so you can retain 90% of body heat, keeping you warm and safe. The poncho gives this emergency blanket added functionality.
What Portable Shelter Should You Include In Your Apocalypse Survival Kit
Lightweight and durable are the essentials when it comes to a portable shelter for your kit. You need something that really works at protecting you from the elements.
If you cannot make it to your bug out location or house you may need a quick and portable shelter option in a post-apocalyptic environment.
This emergency survival shelter is lightweight, easy to carry, waterproof and windproof. This 2-person tube tent is constructed from extra-thick tear & puncture resistant polyethylene material that locks out rain, wind, and snow.
It will protect you and the interior reflects up to 90% of your body heat keeping you warm and dry.
How Can You Carry Your Apocalypse Survival Optimally
You will need an effective way to store and carry your apocalypse survival kit to keep you mobile and ready with all your essentials in one convenient location.
No products found.
A quality bug out backpack will have everything you need in terms of space and practical storage compartments to keep your kit in order.
This military backpack is made of high density fabric which is both durable and water-resistant. Molle webbing is included & throughout for attaching additional tactical pouches or gear.
It is hydration compatible and works great for a hydration bladder adding to its functionality.
Combining as many of your essentials into one in your apocalypse survival kit is ideal. This emergency survival kit includes 21 pieces of multipurpose survival tools, it also offers 106pcs first aid kit, and a fishing tools set which can meet your different needs and provide the safest and comprehensive protection in survival times.
This is all packed neatly into a lightweight and compact nylon bag which is easy to carry or attach to a bigger bug out bag.
Food And Water For Your Apocalypse Survival Kit
Having safe food and water to consume after an apocalypse may not be easy to come by. You need to have options for both ready to go to keep you going for as long as possible.
Having well preserved food options that can last a long time are ideal for your apocalypse survival kit. A great option is this emergency food supply.
This selection is a freeze dried meat option that will provide a good protein source. There are different types of freeze dried food options to add to your kit.
This option contains a good amount of portion sizes with a 15 year shelf life; some other food varieties have a 25 year shelf life.
Having a safe water source may not be practically possible to include long term in your survival kit but having a filtration system like this one is.
Having the ability to safely filter water sources you find in your surroundings will be a huge asset.
Power And Fire Options For Your Apocalypse Survival Kit
Having a power source that can be recharged with solar will give you an added edge in your survival kit. In addition, a good fire starting kit will mean you have a heat and cooking source on hand at all times.
A lightweight and portable solar generator will allow you to power up certain devices that can still serve you in post-apocalyptic times.
It can also provide power for light sources like this generator option and can keep your shelter well lit. The ability to recharge with solar means it is still useful even with no electricity in sight.
Having a portable fire starter kit like this one will enable you to make a fire successfully every time. It contains all you need to make a fire and the many waterproof components it contains means you can make a fire in any situation.
Final Verdict
Making sure you have all these basics in your apocalypse survival kit means that you will be the ultimate survivor of the apocalypse.
Sufficient and suitable clothing and shelter options to keep you protected from the elements. Safe and nutritious food and water selections will keep you strong and fighting fit.
Portable and renewable power and fire sources to keep you powered, warm and lit up. These apocalypse survival gear items will give you a real chance at survival in a post-apocalyptic world.
Read Other Related Article:
---
Bonus: Root Cellar That Can Be Used as a Bunker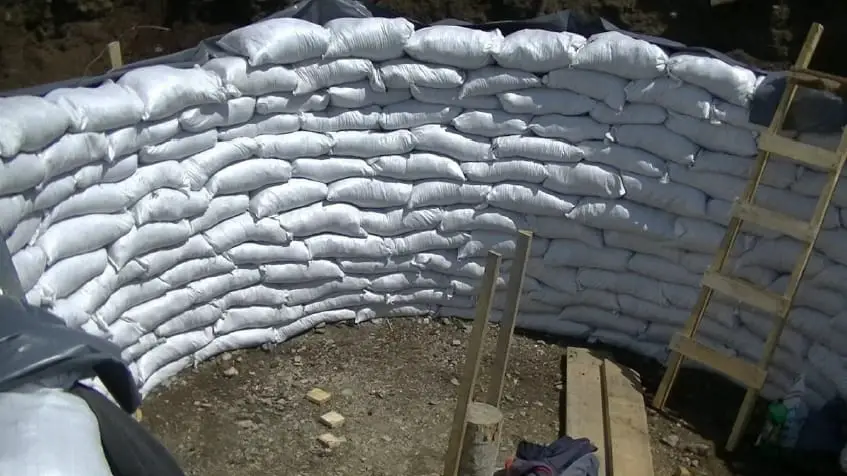 Do you remember the old root cellars our great-grandparents used to have? In fact, they probably built it themselves, right in their back yard.
If you want to learn how to build a backyard bunker like your grandparents had, without breaking the bank, then you need Easy Cellar.
Easy Cellar will show you:
How to choose the ideal site
Cost-effective building methods
How to protect your bunker from nuclear blast and fallout
How to conceal your bunker
Affordable basic life support options
Easy Cellar will also reveal how a veteran, with only $421, built a small nuclear bunker in his backyard.
Also included: