SHTFPreparedness may collect a share of sales or other compensation from the links on this page.
I enjoy backcountry camping. For me, camping is all about the solitude of nature. That being said, it takes a tremendous amount of planning and effort to "get away from it all." Sometimes you just need to get out. For these occasions, a simple canopy can be the ticket to fresh air. These 7 best pop-up canopies for camping will get you away quickly and easily.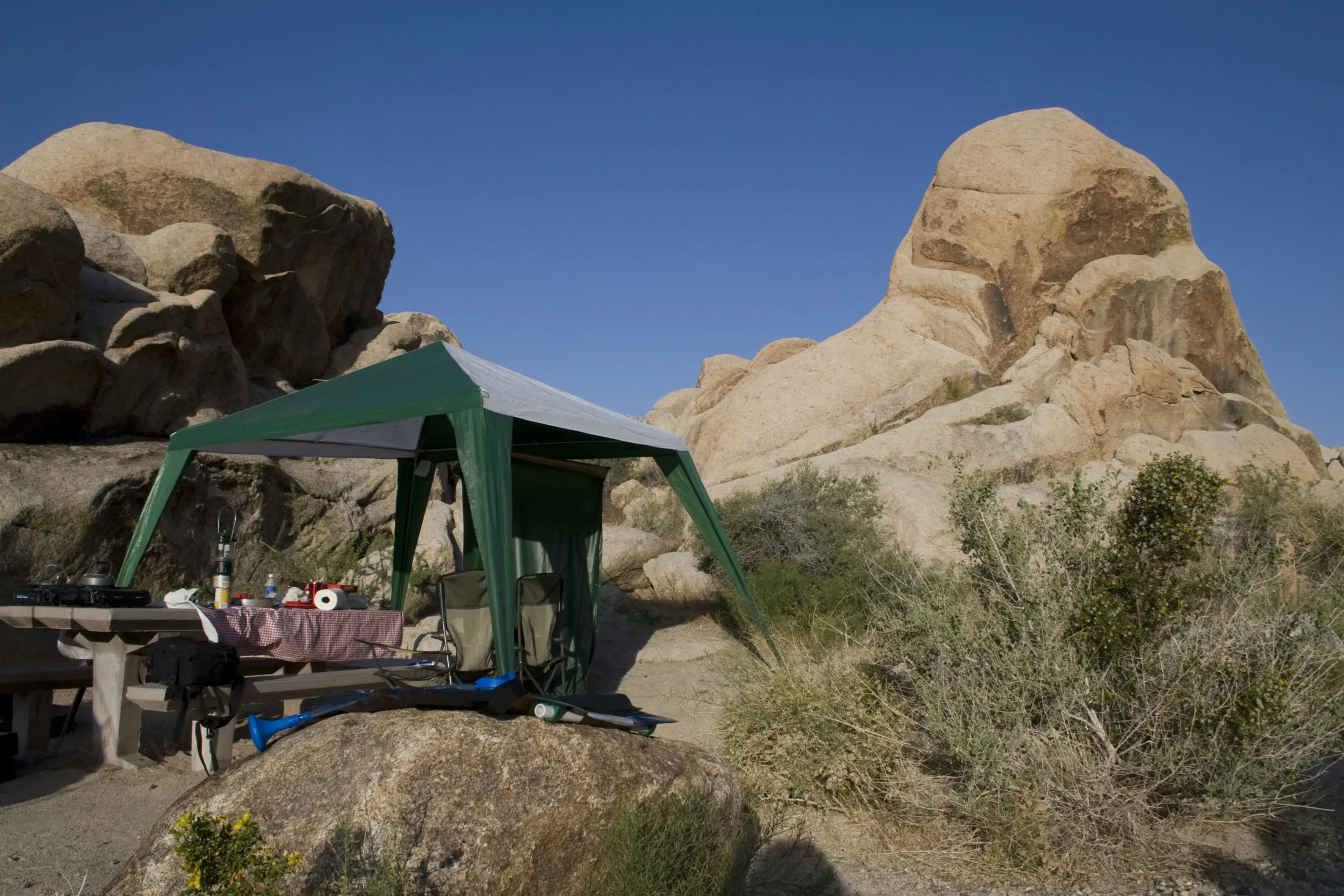 What is a Pop-Up Canopy?
We are all familiar with most of the tools for camping: backpacks, tents, and stoves. Once you move beyond hiking with everything on your back, many options open up. One of those is additional coverage from sun, rain, and mosquitos.
You have a few options for sun and rain. Most of these include a simple tarp strung between a few trees. The bother here is that you need trees in the right location for this to work. Additionally, stringing up a tarp is quite a pain. Also, consider if you may be under pressure. This may include rain, sun, or just the lateness of the hour.
Finally, pop-up canopies are a perfect solution to give you extra sun protection and rain shelter all in a few minutes. Pop-up canopies are explicitly designed to go up in a hurry. Most include four or more poles with a connecting structure that helps deploy the canopy, legs, and supports all at once.
At their core, pop-up canopies are a quick and efficient way to add shelter to your camp out.
Why Choose Pop-Up Canopies Versus Tents
Canopies and tents serve very different purposes.
A tent is a critical component of a camping trip. Unless you're an avid bushcrafter heading into the woods with only a knife, you will probably use a tent.
A tent generally provides temporary shelter either for sleeping or during extreme weather. As such, a tent must only provide enough room for the occupants and a minimum amount of gear. Often, we weigh tents in ounces and measure them in tens of square feet.
Canopies explicitly provide shelter outside of sleeping hours and are usually used socially or for specific tasks (e.g., cooking). Pop-up canopies with sides can block the wind and sun, while pop-up canopies with netting keep out mosquitos and blackflies. If you wish to use a tent for this, you'll be alone and cramped. Canopies provide a level of flexibility not available with anything but the largest tents.
Best Features for Pop-Up Canopies
Several desirable canopy features make camping life easier or a bit more convenient.
Speed and Weight
The first is speed of setup. If you're already trading car camping for a long walk in the woods, then you might as well get your site set up so you can move on to relaxing.
Specifically, set up time is a factor of the overall design of the canopy. Some take traditional poles, while others use an all-in-one structure. There are even more exotic design that make use of air poles. Regardless, you need to look at the time and ease required to set up your canopy.
The best pop-up canopy will go from the bag to the complete in about 3 minutes.
If you happen to be alone, it will take a little longer, but most canopies are fairly easy to manage solo (Instant Canopy 10X10 Setup – One person (and take-down) – YouTube).
Next is weight. As with camping tents, weight adds up. Even if you are only carrying it a few yards from your car/trailer to your campsite, weight matters. The lighter the package, the easier it will be to deploy. The easier it is to deploy, the more you will use it. Look for a canopy that you can move around and into position with little effort.
Here's a great video on securing your pop-up canopy without corner tiedowns (EZ Up Canopy Tie Down Hack – Fastest way to secure a 10×10 Canopy – YouTube)
Size and Extras of Pop-Up Canopies
Further, you must also consider the useable size. Only two of you camping? 8×8 may be plenty of room to sit and spread. Cooking for, and feeding, 6-8? There's a good chance you'll want the largest canopy on the market. Make sure that your pop-up canopy fits your camping lifestyle and group.
Additionally, consider your camping environment? Camping in damp or swampy areas? You'll definitely need a canopy with netting to keep the critters out. Expecting snow or a little blowing rain, then invest in a canopy with sides.
Finally, I'm a proponent of the mantra "buy once, cry once." There is nothing more frustrating than purchasing something to only have it break within one or two uses. Worse yet. You use it a half-dozen times, you know just enough to get beyond the return period or the warranty, then it breaks.
Specifically, reviews and warranties are your friends here. The longer the warranty, the longer your ability to get a replacement, or hopefully, your money back. I've found that reviewers aren't shy about expressing their displeasure in a poorly constructed product.
7 Best Pop-Up Canopies
In no particular order, here are the 7 best. Each fits a niche of cost, capabilities, and durability. Look at the options and choose your personal best!
E-Z UP Sierra II
Sale
E-Z UP SR9104BL Sierra II 10 by 10-Feet Canopy, Blue
Lightweight & portable - weighing only 31 pounds This lightweight canopy is one of our lightest and most portable models.
One minute setup - takes only a minute to set up. Folding steel frame with no loose parts. No tools required. Setup and breakdown is quick and easy with the push button toggle Leg adjustments and the oversize easy grab pull Pins at the top corners.
Angle leg design - 64 sqft of shade. Stable base with an extra wide 10'x10' Footprint and 8'x8' At top. Weight: 31 lbs.
Take anywhere - this canopy is ready for anything and anywhere. Take this to the beach one day and a family BBQ The next. This lightweight canopy is easy to transport from place to place.
Fire resistant/ 99% UV protection – the canopy meets CPAI-84 and nfpa-701 fire resistant requirements as well as offers 99% UV protection.
Quick Snapshot
Size: 10 x 10 feet
Sidewalls: No
Insect Netting: No
Weight: 31 lbs
Water Protection: Water-resistant
Other: 1-minute setup, stake\weight down legs
Description
Sometimes you just need to experiment with a tool before you make a major investment. If this is the case, and you have $100 to invest in the experiment, the E-Z UP is for you. First, this utilitarian pop-up sets up in a literal minute with two people. Grab a pole, walk backward, lock-in, and you're ready.
Second, the 100 square feet of relaxation space is enough room +4 people and chairs or 4 people and a small table. Third, the EZ-UP is quick and easy to secure. You can either stake down the legs or add optional sandbags to keep it in place during the occasional wind gusts.
Fourth, the EZ-UP comes with a zippered storage bag that is complete with carrying handles and wheels. Therefore, transportation from your car to your campsite will be as quick as it is easy.
Core 10' x 10' Instant Shelter
No products found.
Quick Snapshot
Size: 10 x 10 feet
Sidewalls: No
Insect Netting: No
Weight: 38 lbs
Water Protection: Water-resistant
Other: 1-minute setup, stake\weight\tie down legs
Description
Stepping up the build quality a little is the Core 10' x 10' Instant Shelter. The Core is a little more expensive than the EZ-UP. However, the extra money gets you several upgrades.
First, there is the vented roof. The dual vents provide extra air circulation and wind resistance. The vents keep the wind from grabbing and pulling the canopy off to Kansas.
Next are the additional corner tie-downs. Secured at the top of each corner, you can tie down to a ground stake, tree, stump, or rock. By all means, make sure to use an anchor that will withstand the local weather.
Next, the over-large locking buttons guarantee a reduction of painful pinches. They ride on steel, not aluminum, telescoping legs, and securely lock your pop-up in place.
Finally, at 38 pounds, the carrying case will be needed to transport your canopy. The wheeled carrying bag is more than sufficient to carry the pop-up, stakes, and tie-down ropes.
ALPS Mountaineering Aero Awning
ALPS Mountaineering Aero Awning, Gray/Blue, One Size

Innovative one-piece air pole design offers quick and hassle free set-up and take down no assembly required
68D 190T polyester with 1500 mm coating resists UV damage and stays taut
Two eaves are higher for improved visibility and easy entry/exit points
Our Aero Awning included a sunshade panel for extra protection (attachment points located on all four sides) steel stakes guy ropes hand-pump and carry bag
Base Size 10' x 10' Packed Size 9" x 9" x 28" Center Height 6'4 Total Weight 10 lbs 2 oz
Quick Snapshot
Size: 10 x 10 feet
Sidewalls: One side panel included
Insect Netting: No
Weight: 10 lbs
Water Protection: Water-resistant
Other: air-pole design, stake\tie down legs
Description
The lightest and most interesting pop-up canopy we have on our list is the Aero Awning. Compared to the other canopies on this list, the Aero weighs only 10 pounds.
It achieves this with air-poles for support rather than aluminum or steel. Specifically, each pole is a rugged balloon that is inflated with the included pump. In a matter of 3 minutes, all the poles are inflated, and the Aero becomes self-supporting.
Second, the Aero is the first on the list with an additional side panel for sun and light wind protection. The Aero is staked down and the corners can be tied to nearby trees or to additional ground stakes.
Finally, the Aero comes with a compression storage bag. Specifically, the compression straps tie up and shrink down the Aero into the smallest package possible. In order to get the most out of this bag, you must be diligent in removing the air from the Aero poles.
YDYL Screen House
Screen House 13'x9',Canopy shelter,Insect Proof, Easy Installation for Outdoor Kitchen Blue Color Suitable for a Family with 5-8 People Upgrade to Thicker and Stronger Fabric

Warning: Our Screen house is not design for strong wind, we suggest not to set up this screen tent in a windy area.Thanks for your understanding.Durable fiberglass with steel tube to hold up this roomy screen house,keep your kitchen area dry and clean, mesh walls. Upgrade to Thicker and Stronger Fabric, since year 2021
Product size 13 feet L x 9 feet W X 6.9 feet H, Which is big enough for a family with 6-8 people, ideal to put this screen room with the outdoor table and chair in the camping site.
Easy installation. Two people will only take 5 mins to set it up. Two entrance zipper door offers no restriction to get in and out.
Multi Function Usage, Not only for outdoor camping, but also for your patio or backyard. Great place to sit in,in your backyard, or for the flea market.
This will be your best choice for outdoor camping
Quick Snapshot
Size: 13 x 9 feet
Sidewalls: No
Insect Netting: Yes
Weight: 14 lbs
Water Protection: Water-resistant
Other: 5-minute setup, stake\tie down legs
Description
The YDYL Screen House is a 13' x 9' monster screened shelter that is guaranteed to fit all your friends in its bug-free environment.
Contrary to the EX-UP and Core, this is the first pop-up that uses a traditional tent pole design. In detail, the YDYL uses flexible bungeed fiberglass poles to lift the YDYL to its full 6' 9" height.
Next, the mesh walls keep bugs out while allowing maximum airflow. The YDYL is best used for camp-outs on those hot days and evenings where you need a break from the mosquitos and blackflies.
Finally, one of the best features of the YDYL wide dual-zippered openings. For example, when the bugs are at bay, open both sides for maximum movement. Close both when the critters come out. Stake down own side of each door to make the zipper open and close that much easier.
Eurmax 10'x10' Ez Pop-up Canopy Tent
Eurmax USA 10'x10' Ez Pop-up Canopy Tent Commercial Instant Canopies with 4 Removable Zipper End Side Walls and Roller Bag, Bonus 4 SandBags(White)

Eurmax Canopy is the most trusted & best selling pop up canopy brand based in the USA. We stock all kinds of accessories and parts for the products we are selling and if you have anything about our products, we are ready to help you.
10x10 Ez pop up frame:(1)Strong full truss structure design(2)Hammertone powder coated finishing,Good looking and rust resistance.(3)The latest thumb lock system,easy to lock and release(4)Three height positions,clearance height from-peak height from 10.5ft,10.8ft to 11.1ft.Set up and take down easily by 1 or 2 person in minutes without any tools.
10x10 Commercial canopy tent fabric:CPAI-84 fire retardant certificated durable polyester PU coated to block about 99% UV rays.Stitching lines are all seam sealed to prevent water penetrate from seames to make our canopy tent water-resistant. The rolling storage bag:Eurmax unique L shaped roller bag is oversize designed,it is easy to put frame and top in th bag.Big wheels, heavy duty strong polyester fabric,2 layers fabric sewed,reinforced handles,all these makes the bag long lasting.
The package includes:10x10 Pop up canopy frame + 10x10 Canopy top + 3 Removable enclosure sidewalls + 1 wall with door and window + Tent bag with wheels + Bonus 4 Sandbag canopy weights.10x10 Commercial pop up canopy tent for party,parties, picnics,market stall/market trade show or any outdoor events.Canopy top front valance with 4 name banner sleeve to customize and personalize your shelter. Help you attract customers.Eurmax commercial canopy tent suitable for both sunny and rainy days.
Quick Snapshot
Size: 10 x 10 feet
Sidewalls: Yes
Insect Netting: No
Weight: 79 lbs
Water Protection: Water-proof
Other: 3-minute setup, stake\weight\tie down legs
Description
If you prefer a little more privacy, a canopy with walls may be your style. The Eurmax includes four sidewalls for wind, rain, or line-of-sight protection. Consequentially, the extra walls add significant weight and the complete package is over 70 pounds.
Compared to the other canopies on this list, the Eurmax is a beast. Not only does the Eurmax use powder-coated steel left, which adds weight, but it also uses a PVC-coated polyester material for the canopy.
This durable canopy is also completely waterproof, as well as much more resistant to the occasional gust and most rain.
Coleman Screened Canopy Tent

Quick Snapshot
Size: 12 x 10 feet
Sidewalls: No
Insect Netting: Yes
Weight: Not listed
Water Protection: Water-resistant
Other: 3-minute setup, two doors, stake\weight\tie down legs
Description
The Coleman is the only six-sided canopy in this collection. Don't let this concern you as it goes up just as quickly with two people as the other best pop-up canopies for camping on this list.
Additionally, the Coleman is differentiated not only but by its completely screened-in sides but also by the fact that the screening can be completely removed. Further, it has two zippered doors that can also be rolled back, giving you two wide points of entry.
Finally, the Coleman has a skirt that assists with keeping out both flying and crawling critters.
One reviewer commented that the canopy can benefit from a waterproofing spray. Any, camping and tent quality spray will work on the canopy. Especially the seams.
Wenzel Magnetic Screen House
Quick Snapshot
Size: 11 x 9 feet
Sidewalls: No
Insect Netting: Yes
Weight: 17 lbs
Water Protection: Water-resistant
Other: 3-minute setup, 10-year warranty, stake\tie down legs
Description
For the most room to enjoy your bug-free dinner, there is the Wenzel Magnetic Screen House. At only 17 pounds, this 11' x 9' pop-up canopy can easily secure a picnic table from mosquitos and other pests.
First, the rectangular shape will easily fit a small camping table with ample room to move around. Additionally, the screened walls open your outdoor view while keeping out the critters.
The next benefit, as was seen in the Coleman and others, is the dual doors. The flexibility added by the second door allows better movement through the tent and egress from it.
The most interesting feature of the Wenzel is the screen closures. Rather than using zippers that can bind and break, the Wenzel uses magnetic closures. These closures provide a bug-proof seal from top to bottom that you can walk through without the need to unzip and re-zip.
Buying Guide
As with most purchases, you should determine the features that are most important to you before you pull the trigger on buying a pop-up canopy for camping. A canopy is not an insignificant expense therefore, you should direct your dollars in the directions that provide the best return.
Personal Features
First, determine the size that you will need. Will you only use it with one other person or do you enjoy the outdoors surrounded by many friends? An 8' x8'x canopy will either be just right or uncomfortably small.
Second, determine the build quality and materials that you desire in a canopy. Some canopies are all-aluminum construction. While these are light, they do not have the strength to withstand much abuse. You can choose steel, but if you expect hard use, you may wish to go with powder-coated rather than painted.
Additionally, you will need to look at the canopy material. Vinyl is durable, easy to clean, and much more resistant to wind and rain. Polyester tends to be much lighter, "fluid" (easier to put up and down), however, it is not as resistant to tears as well as rain infiltration. This is the tradeoff for a lesser expensive canopy.
Furthermore, look at the available accessories that come with or that can be added to your pop-up canopy. Do you need solid walls for privacy or wind protection, or do you need screening for a bug-free environment? You may even desire to accessorize with third-party equipment like sandbags to hold down the canopy. Permethrin sprayed on the screening to further deter insects (noseeum spray for screens). Or even graphics printed on your tent to identify it as yours! These are all options that, when chosen carefully, will make your canopy purchase even better!
Price and Budget
Finally, consider the price of the canopy. This equates to both your budget as well as the fair price for the accessory and build-quality you need. It's always a balance between the two. However, if you enter into the purchase educated, you will never wonder what you have left on the table.
Closing Up Pop-Up Canopies
For the beach, for camping, for a shady spot in an otherwise open backyard, pop-up canopies are perfect for when you need a little extra protection from nature's best. Even when camping, we occasionally need a break from carrying everything on our back. Try car camping and make the trip extra luxurious with a pop-up canopy.
A pop-up canopy can provide a bit of respite from sun, wind, and insects. It can also just be a place to relax and enjoy the company of your camping companions during a meal or over a cold refreshment.
Take a look at these 7 best pop-up canopies for camping to see if one fits your camping lifestyle.