SHTFPreparedness may collect a share of sales or other compensation from the links on this page.
If you find yourself off the grid, either by choice or by circumstance, you'll need to cook meals without the usual conveniences found in the home. The easiest solution can be to open a can and heat something over a fire. But that can get old when you have a family to feed. Today I'll share with some quick and easy camping food ideas and recipes that can break up the monotony of low-tech cooking.
Favorite Camping Recipes Books
It's a good idea to dream about and plan your camping meals. Try them at home, in the backyard first, so when you're out there, you can enjoy your camping trip. And if you're in a SHTF situation, you'll already have experience. Here are a few camping recipe cookbooks to get you started.
Foil Packet Cooking
Dutch Oven Cast Iron Recipes
Campfire Grilling Recipes
Easy Camping Food Ideas And Recipes For Your Next Trip
Make camping more enjoyable by preparing absolutely delicious camping food that's quick and easy.
How to Cook With a Thermos & a Few Recipes
I never knew you could cook with a thermos. I found a great thermos cooking website that shows us how and gives us some great recipes. This information could be a great survival tool and a great frugal way to cook. I think this would be a great way to cook if you were camping and definitely a great backup way to cook if SHTF.
It's Efficient – A thermos is the most fuel-efficient way to cook. Period. It's Easy – You don't have to stand over the stove stirring food all day. It's Healthy – Cook healthy whole grains without the time and trouble.
Check out the video below: cooking beef and rice in a thermos. If you like it please share with your friends, I have been prepping for years and have only just realized you could cook this way.
I hope my list of camping food ideas was helpful and got you excited about trying some new camping recipes on your next outdoor trip.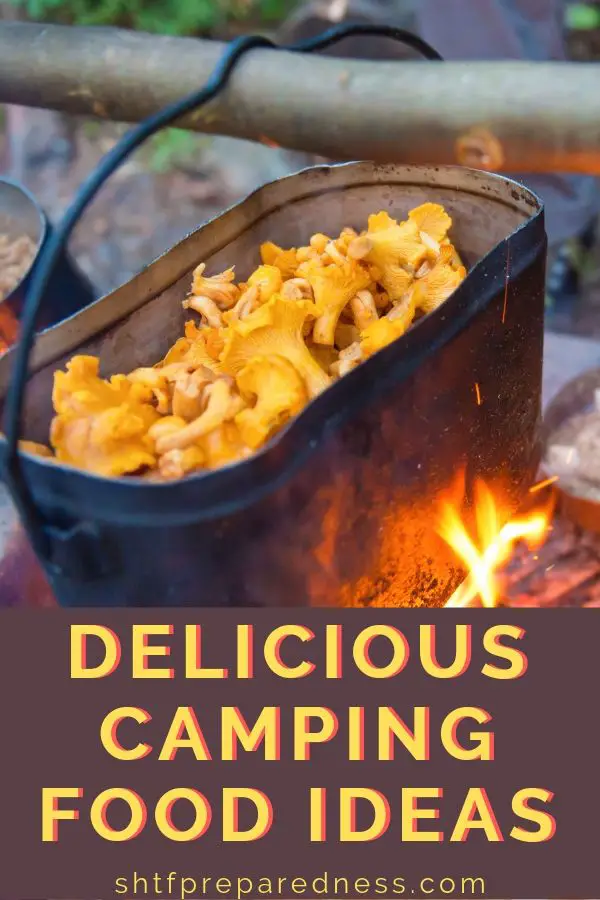 ---
Bonus: How to Make Pemmican, the Original Survival Food
Invented by the natives of North America pemmican was used by Indian scouts as well as early western explorers.
Native Americans spent a great deal of time on the go and depended on having portable, high-energy, highly nutritious, and filling foods that would last for long periods of time without refrigeration.
Pemmican is a portable, long-lasting, high-energy food. It's made of lean, dried meat that's crushed into powder and mixed with hot, rendered fat. This makes it one of the ultimate foods to have stockpiled for when SHTF or disaster strikes.
People really should avert their gaze from the modern survival thinking for just a bit and also look at how folks 150 years ago did it.
These guys were the last generation to practice basic things, for a living, that we call "survival skills" now.