SHTFPreparedness may collect a share of sales or other compensation from the links on this page.
It may seem like 25 make ahead camping meals wouldn't be much of a topic for SHTF. In fact, that couldn't be further from the truth. There are many opportunities for making your camping meals ahead of time.

The most obvious of course is in the food storage department. The meals that are shelf-stable will provide you with a number of options for food storage. It's just a matter of fitting them into your plan.
Camping is one of the best ways to get an unwilling family to understand the importance of prepping. Nothing teaches the lesson of self-reliance like a few days in a tent. While camping is often a lot of fun it also reminds us of how good we have it in our comfy beds and heated rooms.
If there is one tip for family camping and enjoying these meals it's to assure that you have a waterproof tent. Rain and moisture can turn a wonderful camping trip into a nightmare in a hurry.  If you are dry you can really enjoy one of these great camping meals with your loved ones and talk about the benefits of being outside.
It's such a struggle to get the family to get out into the woods together. These easy camping meals might be just the thing to keep them coming back.
Another great use for these recipes would be in your bug out bag. These make-ahead meals will offer variety and depth to the food you take with you while traveling.
Things like the fruit leather and trail mix are solid recipes that can be eaten in transition. While a set of kabobs foiled and chilled may be a great option for your first night out on the bug out journey. Try these easy camping meals for yourself and let us know what you think.
These 25 make ahead camping meals offer lots of options for the prepared.
25 Easy Make Ahead Camping Meals
Breakfast
1. Mason Jar Parfait
There are so many great ways to make this. And better yet, the recipe uses one of my favorite prepper items, mason jars!
You can use the types of granola, yogurt, oats, and fruit that you and your family enjoy and it makes a sweet and healthy start to your day. One of my favorites is from Iowa Girl Eats.
2. Breakfast Burritos
You can make freezer burritos before you even go out camping and they will help keep the cooler cold and be ready when you need them. Put combinations of meats, eggs, cheese, and veggies that your family likes inside.
3. Overnight Oats
Overnight Oats are quick and easy and you don't need any fancy culinary skills to make this happen.
4. French Toast in Foil
Make your favorite French toast and add fruits for flavor like blueberry, strawberry or peach. Wrap it in foil and save it in plastic bags for the trip.
5. Banana Bread
An old classic and also a great way to make use of overripe bananas. Banana bread stays good for a while and will give you the needed nutrients and energy to start your day.
Make the banana bread ahead of time, store it in foil, and toss it on the campfire to toast it up! For the adventurous types, try it in a dutch oven, you won't regret it!
6. Breakfast Casserole
As the name suggests, this is a good one for tossing all the pieces of leftovers or other items you might make in separate pots and pans, and just making a morning casserole out of it.
This is one of my favorite recipes. I like to make the casserole the night before my camping trip and wrap individual portions in foil, then heat them up on the campfire for breakfast. My mouth is watering!
Lunch
Now you're going to need some good, healthy lunches as well.
7. Crockpot BBQ Sandwiches
We do this with chicken but you can also use pulled pork or other meats. You just cook it up in the crockpot and then store that mixture in a container. Bring some buns and when you're ready for lunch, it's easy and ready to go.
8. Grilled Cheese with Ham
Grilled cheese is an easy classic to make nearly anywhere. When camping, you can also toss some ham in there and give yourself the added protein. Grill 'em up and have at it!
9.  Hot Dog or Sausage on a Stick
Roast them directly over the fire, or broil them in a pan. Buns or bread are optional. Sausages work great, too, and are so tasty over an open campfire!
10. Pigs-in-a-Blanket
Another spin on the hot dog idea is pigs-in-a-blanket. You just need some pastry and some hot dogs or sausage and you can have a quick and easy campsite lunch.
Dinner
You will want to plan those dinners in advance to make sure you have what you need for the last meal of the day. Here are some of our favorites.
11. Kebabs
Image: freshoffthegrid.com
These are so much fun to cook over a campfire at night. The best part is you can put pretty much whatever you need and want on them. Check out these 15 amazing camping kebab recipes that can all be made ahead of the big event.
12. Shepherds Pie
Here's a family favorite that you can actually make in the campfire. Layer it in a foil pan and place it on your campfire grate for about 20 minutes and it will be good to go.
13. Enchiladas
This is a classic that you can also do over a campfire. You can make them classic, or mix up the ingredients based on what you have handy and what you like.
14. Chili
This is a classic camping dish and it's really so easy to make. There are many different ways to make chili and so many different ingredients you can use, so do it your way and enjoy.
15. Fish
Here's a classic you can make while camping, but that you can also pre-make and bring with you. Use from a fishing trip before camping, or if you have some frozen or saved up from a previous trip.
Snacks
If you're camping – or in a survival situation – you will probably burn a lot of calories getting things done. This is why snacks can also be very helpful. Here are some of our favorites;
16. Homemade Trail Mix
Trail mix is one of those beautiful snack foods that are so versatile. You can do sweet or savory, spicy or crunchy – whatever works for you.
17. Tex-Mex Dip
If you like it cheesy and spicy, consider doing a Tex-Mex dip. Make it beforehand and bring it with you to the campsite.
18. Salsa and Chips
It's so easy to make your own salsa, package it up, and bring it with you camping. Then just bring along some of your favorite chips, too, and you have a quick and easy snack on the go.
19. Protein Balls
This is a great snack you can make before you go camping, store in plastic baggies, and eat whenever you need a little pick-me-up.
20. Crispy Chickpeas
This is an easy little snack to make and it packs a lot of protein. Pack them into ziplock bags and you'll always have a great, healthy snack while camping.
21. Beef Jerky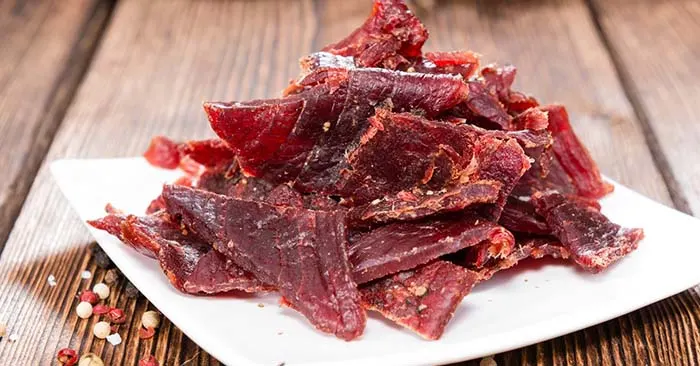 Beef jerky is a classic. Make it in the oven or in a food dehydrator and bring loads of it along with you camping.
22. Fruit Leather
It's the fruit version of beef jerky. It's easy to make by drying out the fruit and stores for a long time. Make it in batches ahead of time and bring it with you.
Deserts
23. S'mores
These are a campfire classic. You can premake the portions and ingredients and have it all ready to warm up on the fire.
24. Candy Bark
Peppermint bark is a favorite, but you can also lookup recipes for other flavors, like S'mores bark. Make it in advance, break it into smaller pieces, and bring with you camping.
25. Dessert in a Jar
You can also make a variety of tasty desserts in Mason jars or other canning jars and bring those with you.
Camping Food List
If you take the time to write up your camping food list before you go shopping, then you can gather all of your supplies and dedicate some time to cooking and prepping.
You can spend the days before going out to camp prepping your meals in advance. Everything that can be cooked, canned, dried, or otherwise stored can be done early. Then when it's time to go camping, you have everything you need!
What would you put on your camping food list? Have you ever tried any of the 25 make ahead camping meals on your own trips?