SHTFPreparedness may collect a share of sales or other compensation from the links on this page.
When disasters strike often one of the first services to be disrupted is electricity. We rely on electricity so much in our day-to-day lives these days that not having electricity for even a short period of time will be challenging for most households.
Having a good generator will definitely aid in being prepared for an emergency. A generator will allow you to be able to run certain essential electrical items until the normal power supply is restored.
There are a number of considerations that need to be taken into account when you are purchasing a generator. One of the biggest factors in considering what you would like the generator to run is in terms of your electrical appliances.
You need to calculate the total load you would need the generator to handle in order to get the generator with the correct capacity. It is important to remember certain electrical items will draw too much power for most household generators to handle.
Many electrical appliances are used for heating like a stove or microwave and these items generally draw too much power for an average generator to handle. For these types of heating appliances, it could be useful to get an emergency gas stove instead.
Have a look at our article 5 ways to heat your home for free to get some more heating ideas.
Another important consideration when selecting a generator for emergency preparedness is the type of generator and how it is powered. Some generators use gas to generate power. Some use an inverter and batteries to generate power. Some are solar-powered.
It is important to consider how the power is generated to know if you will be able to maintain the generator and for how long it can be used before needing to be replenished in the form of more gas, etc.
With these and other considerations in mind, it can be overwhelming to choose the best generator for emergency preparedness but we have a great list to help you make the best decision for your needs.
Our Best Generators for Emergency Preparedness – Reviews and Comparisons
Product Highlights
One of the best types of emergency preparedness generators is one that is solar-powered. The sun is a steady resource that can assist you in recharging your generator if you don't have access to electricity for a prolonged period.
This generator is both lightweight and portable. It comes in two capacity levels 42Wh and 84Wh. There are also two charging methods either solar or USB charging via DC wall charging or AC car charging.
This unit is perfect for long continuous lighting needs and the built-in lights can last up to 64 hours. This generator also comes with a great guarantee adding to its reliability.
Features
A generator with 26000mAh/84Wh high capacity battery with a 12 year life span
Contains built in lights with 2 levels that can be powered continuously for 64 hours. Also included are 3 external lamps that can be used up to 40 hours
It takes 5-8 hours to charge using solar (full sunlight) and 6-9 hours to charge via usb
It weighs 2.1lbs so it is lightweight, portable and compact perfect for an emergency generator
It comes with a 2 year warranty and a 90 day money back guarantee
What We Like About ECO-WORTHY 84Wh Portable Power Station
This generator is a great option for emergency preparedness. It will take care of your lighting needs for up to 64 hours and has both built-in and external lights for all your lighting needs.
The 2 methods of charging add to the versatility of this generator in a number of emergency situations. The 2-year warranty and 90-day money-back guarantee is a big plus in making sure that you feel secure in your purchase.
It is an overall well-priced unit that can assist with your lighting needs and charging of small mobile devices.
What We Don't Like About ECO-WORTHY 84Wh Portable Power Station
The recharging of this unit is challenging. You need to ensure the blue switch on the unit is turned on otherwise the unit will not charge at all. Solar charging is also challenging and often takes much longer than the expected recharge time.
After a number of uses, the unit does not charge fully and sometimes does not recharge at all so its longevity is questionable.
Pros
Continuous lighting for up to 64 hours internally and an additional 40 hours with external lights
2 methods of charging available for the unit, solar and USB
Lightweight and portable
2 year warranty and 90 day money back guarantee
Cons
Recharging is difficult
Solar charging takes longer than indicated
Full charge is not achieved after extended use
Product Highlights
This compact generator is a great candidate for an emergency generator. It is lightweight and portable with a convenient carry handle. With a built-in light that has 4 lighting modes and SOS mode, this is ideal for emergency situations.
The generator has multifunctional outputs USB, AC, and DC. It is able to power multiple smaller devices under 80W. With three charge modes, it is a versatile generator and comes with a 24-month warranty for your peace of mind.
Features
A generator with 83Wh capacity (22500mAh,3.7V) and multifunctional outlets including: 2*QC3.0 USB port (27W max), 2*USB C(PD3.0, 18W/30WMax). 1*DC ports (5V/4.8A 24W max), and 1 AC output socket (80W running, 120W peak).
Can power smaller devices up to 80W including cell phones, cameras, etc.
Lightweight at 2.2lbs and compact it comes with a functional carry handle
Comes with a built in LED light with 4 lighting modes and a SOS function. The light usage time is around 12 hours
3 charging methods, 2 adaptors are included, one for wall outlet charging and one for car charging. It can be charged via solar but the solar panel is not included.
What We Like About Portable Power Station, 83Wh Solar Generator
This generator is a great lightweight option and with a carrying handle, it is very portable too. The multifunctional outlets add to its versatility as it allows more devices to be charged on the generator.
The generator can be charged in 3 different ways and comes with 2 adaptors which are helpful to keep the generator-powered up. The built-in LED light with 4 different modes as well as an SOS function is very useful in emergency situations.
What We Don't Like About Portable Power Station, 83Wh Solar Generator
It is definitely better at charging smaller items like phones. As soon as you try to charge a device with a higher power requirement it does not charge them and loses capacity quickly.
After multiple uses, it no longer reaches full charge which is not ideal for use in emergency situations. The fact that it does not have the solar panel included means it only really has 2 charging methods.
Pros
Lightweight, portable and compact
83Wh generator with multifunctional outlets
Built in LED light with 4 modes and an SOS function
Capable of 3 recharging modes with 2 adaptors included
2 year warranty included
Cons
Only capable of charging smaller devices like phones
Not capable of full recharge after multiple uses
No solar panel included for recharging
Product Highlights
This generator allows for more functionality with a higher power capacity with a 200W capacity it can power up laptops, phones, cameras, and more. It comes with a lithium-ion battery so it is a quiet and eco-friendly generator option.
It comes with AC adaptors to recharge via the car or wall outlet. It also has the capability to recharge with solar but the solar panels are not included. It contains a built-in torch to add to its functionality.
It comes with an LED screen showing power output for real-time readings. The handle and small size make it compact and convenient to carry.
Features
Larger power capacity of 200W allows for charging of bigger electrical devices
Comes with a 178Wh capacity lithium ion battery making it a quiet and eco friendly generator option
Capacity to recharge 3 ways but only comes with 2 AC adapters for wall and car charging, solar is not included
Includes an LED screen with real time output display as well as an LED flashlight to add to its versatility
What We Like About 200W Peak Portable Power Station
It is a great compact, portable generator with a handle for ease of carrying. With a 200W capacity, it gives you the ability to charge more demanding electrical appliances. With the ability to recharge in 3 ways this is a versatile generator.
The LED screen display gives you important instant feedback on power output and battery status. The built-in LED flashlight gives added benefit as an emergency generator.
What We Don't Like About 200W Peak Portable Power Station
The unit tends to not be able to keep up charging items and drains very quickly. It does not seem to hold charge well at all.
The capacity to power certain larger, more demanding electrical items is not possible with this generator. It also takes a long time to recharge the unit fully.
Pros
Large 200W capacity for recharging certain larger electrical items
Compact and portable with handle for easy carrying
3 recharge methods available
LED Display with important data like battery life
Cons
Cannot charge larger items
Does not hold charge well, drains quickly when charging
Takes longer than stated to recharge the unit fully
Product Highlights
If you are looking for a generator with a larger capacity then this generator could be the one for you. The solar generator supports 1000W rated power and 2000W surge power.
This allows you to power up bigger appliances such as a refrigerator. Sometimes you may wonder should preppers have a whole house generator?, check out our post to find out.
It has 3 recharging functions including solar and includes solar panels. With a limited 5 year warranty and 52 reliability and safety tests it is a reliable emergency generator option.
Features
1000-2000W solar generator that can power your essential devices for up to 7 days
Wide range of compatibility including USB A, USB C and car outlet
3 recharge functions including solar panels for solar recharging
Higher capacity allows the powering of big appliances such as refrigerators
Large number of safety and reliability tests and 5 year limited warranty adds to the soundness of the generator
What We Like About Generark Solar Generator For Homes
This generator has a much higher capacity so it can keep much more of your electronics going when you are without electricity. It has a quick hassle-free setup, especially for solar charging.
It is safe and reliable after going through numerous tests and the 5-year coverage gives you additional peace of mind. You can also recharge the generator while charging other devices which is convenient.
What We Don't Like About Generark Solar Generator For Homes
While it claims to be able to handle all kinds of bigger appliances this is simply not the case. When used with a microwave it automatically shuts down as it cannot handle the power requirements for such heating devices.
Solar charging is not as effective as other charging and takes much longer than indicated. The price tag for this generator is also on the high side and may not be worth the extra money.
Pros
Higher capacity generator able to power larger items between 1000-2000W
Hassle free setup, compact and portable
Safe and reliable
Multiple charging methods
Cons
Unable to handle powering heating appliances effectively
Long recharge time for solar recharging
High price tag
Product Highlights
A 200W generator that can easily recharge your essential electronics in an emergency. It is a great portable power source with wide applications including AC outlets, USB ports and DC ports.
There are built-in safety systems to ensure the generator is safe and reliable. Safety with generators is of utmost importance. Have a look at safety standards for portable generators to get some more detail around what safety aspects to consider.
3 recharge methods capability you will never be short of being able to recharge the unit. It is simple to use and capable of taking care of your emergency power needs with ease.
Features
It has three outputs. 2 x 110V AC outlets that can charge a CPAP machine,tablet, etc; 3 x USB ports for smartphones, ipad, etc and two DC ports
45000mAh capacity, pure sine wave, 150W AC continuous power and 200W AC peak power gives the unit the ability to charge your items with ease
It is a lightweight, compact and portable unit that is simple to use
It includes the following safety measures: overheat protection, short-circuit protection, low-voltage protection, lock-on protection, over-voltage protection and over-current protection
What We Like About 200W Peak Power Station Flashfish
A generator that has a good amount of power in its 200W to ensure you can use your essentials in an emergency.
The wide application allows you to connect multiple items through various connections, including 2 quick charge ports for convenience.
The unit has great safety measures in place to ensure the safe operation of the unit and prevent damage to the unit or your devices.
The LCD display panel allows you to monitor battery levels at all times.
What We Don't Like About 200W Peak Power Station Flashfish
With this unit, you cannot charge items while recharging and this can sometimes be inconvenient.
While it has solar recharge capability it does not come with solar panels so this will be an added expense.
Pros
Good power capacity at 200W
Wide application and multiple types of connections
Great safety measures in the unit
Simple to use
Easy to read LCD display panel
Cons
Cannot charge while recharging the unit
Does not include solar panels
Product Highlights
This lightweight and portable generator with a 42000mAh battery and 155Wh power capacity is a great emergency generator. It has an ergonomic handle making it easy and comfortable to transport.
You can use one generator to power all of your essential devices with AC, DC, and USB outlets. The battery uses a built-in inverter making it a quiet generator option. It has a battery management system to protect against overcurrent, overvoltage, and over-temperature and your battery life.
Features
Lightweight at 3.48lbs, the unit is also portable with an ergonomic handle
Multiple outlets including AC, DC and USB
Quiet operation with a built in inverter
Battery Management System to protect your devices and the battery
What We Like About AIMTOM 42000mAh 155Wh Power Station
It is a great lightweight unit less than other units of this size. It contains a surprise flashlight for emergency use adding to its versatility. It has 3 recharge methods giving you diversity in repowering the unit.
The multiple outlets including AC, DC, and USB means this generator is an all-in-one solution. The battery management system protects the unit's battery as well as your devices. It is a quiet option with its built-in inverter.
What We Don't Like About Product Name AIMTOM 42000mAh 155Wh Power Station
While 3 recharge methods are listed only 2 adapters are provided. Solar panels are not included and if you want this functionality it will come at an extra cost.
The unit takes a long time to recharge and requires a very stable power source to recharge so in the case of emergencies or even camping this may not be easy to achieve.
Pros
42000mAh battery and 155Wh is sufficient power for your essential needs
All in one generator solution with multiple outlets
Lightweight, portable and ergonomic handle
Battery management system helps protect the unit and your devices
Cons
Solar recharge is not possible without additional investment
Long recharge time
The need for a stable power source for recharging
Final Verdict
Generators come in all different shapes and sizes and they can suit whatever your power needs maybe but that usually comes at a cost.
The more powerful the generator, the more expensive it is.
When looking for an emergency generator you want something that is compact, portable, rechargeable in multiple conditions.
You want something that can power your essential items but that is still reliable.
Like with most emergency items each person will have different needs.
Some people will feel the need to access bigger more power-hungry appliances and will need a bigger generator to power them.
Others will need the basics, some lights, and maybe to charge a phone so their power and generator needs will be minimal. While there are vast generator options out there we have covered our best options to suit a multitude of needs.
Our overall best option for an emergency generator that will suit most people's needs is 200W Peak Power Station Flashfish. It has a great capacity of 200W and 45000mAh capacity which will be able to power all of your essentials and more.
With three types of outlets including AC, DC, and USB the generator will be your one-stop for all your recharging needs.
With 2 quick charge USB ports, this will help keep your devices fully charged in record time.
It is lightweight, portable, and simple to use making it a great option for emergency use. The agronomical carry handle allows you to transport the generator with ease and comfort.
With extra safety measures in place including overheat protection, short-circuit protection, low-voltage protection, lock-on protection, over-voltage protection, and over-current protection you can have peace of mind this unit will be secure.
The unit is well priced and in line with other units of this size and capacity.
The LCD display panel is a helpful addition showing battery level, input charging power, AC and DC output indicator. With its 3 recharging methods it gives more versatility to this generator.
While adaptors included are only for wall charging and car charging it does have the capacity to be recharged via solar.
The solar panels are not included but can be purchased if you would like the functionality. Overall this unit is really value for money and will keep you and your family powered up in an emergency.
Read other related article
---
Bonus: Root Cellar That Can Be Used as a Bunker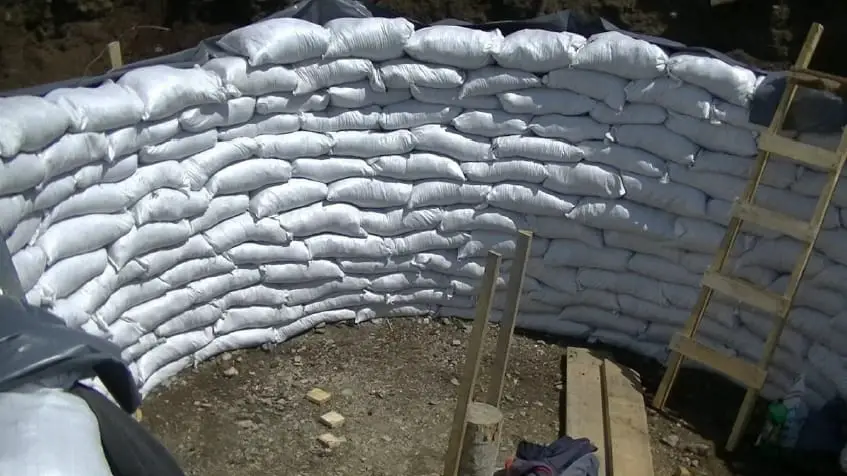 Do you remember the old root cellars our great-grandparents used to have? In fact, they probably built it themselves, right in their back yard.
If you want to learn how to build a backyard bunker like your grandparents had, without breaking the bank, then you need Easy Cellar.
Easy Cellar will show you:
How to choose the ideal site
Cost-effective building methods
How to protect your bunker from nuclear blast and fallout
How to conceal your bunker
Affordable basic life support options
Easy Cellar will also reveal how a veteran, with only $421, built a small nuclear bunker in his backyard.
Also included: