SHTFPreparedness may collect a share of sales or other compensation from the links on this page.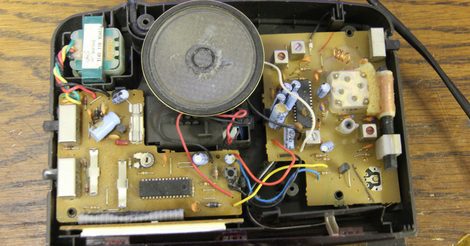 The only thing you need for this project is an AM/FM transistor radio, an older model that has a physical adjustment for tuning rather than digital. This will be a wheel or slider that changes stations. The only tool you should need is a small screwdriver.
You can't use the newer digital radios which is a shame but the old radios are still around and probably really cheap on Craigslist or garage sales.
I think this is a project worth knowing because in an emergency the more bands or frequencies you can pick up the better. What if the only signal being broadcast is on a higher or lower frequency than your radio can pick up? You wouldn't know anything that's going on.
That's why having a radio ready to receive these frequencies is vital. This hack can even pick up air Traffic Control, air Shows and other civil Aviation Band transmissions. EVEN law enforcement. (Although I wouldn't recommend listening to it as it may be illegal).
If you liked this post, maybe you will like some of our others, you can check some related articles below or search via categories on the right, be warned, you will be on here for hours. Enjoy 🙂
How to Hack a Radio to Pick Up Different Frequencies – Including Law Enforcement & More
---
Bonus: How to Make Pemmican, the Original Survival Food
Invented by the natives of North America pemmican was used by Indian scouts as well as early western explorers.
Native Americans spent a great deal of time on the go and depended on having portable, high-energy, highly nutritious, and filling foods that would last for long periods of time without refrigeration.
Pemmican is a portable, long-lasting, high-energy food. It's made of lean, dried meat that's crushed into powder and mixed with hot, rendered fat. This makes it one of the ultimate foods to have stockpiled for when SHTF or disaster strikes.
People really should avert their gaze from the modern survival thinking for just a bit and also look at how folks 150 years ago did it.
These guys were the last generation to practice basic things, for a living, that we call "survival skills" now.