SHTFPreparedness may collect a share of sales or other compensation from the links on this page.
Chickens are warriors. They are survivors. It's so heartbreaking when that coop is broken into and your birds are eaten up or just torn apart. It happens.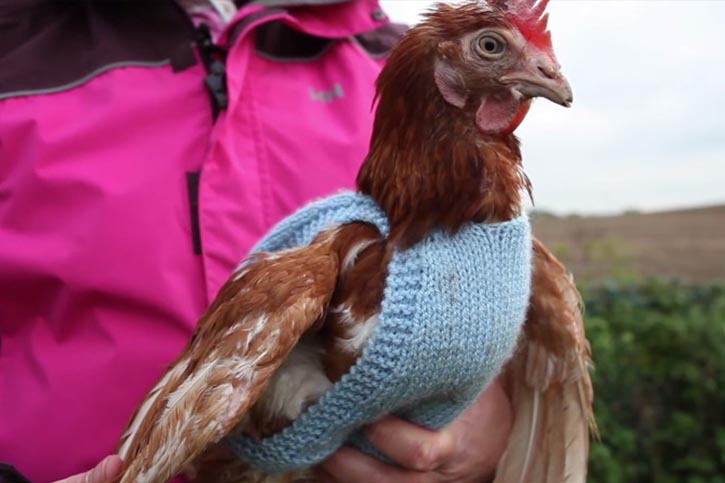 Your chickens are your little backyard survivors. They are a constant reminder of the realities of survival. When predators abound, it's a reminder that you are dealing in a world that is more dangerous than you think.
When you see chickens in the cold, it's a reminder that you are going to freeze to death in that environment, too! Keep your birds warm and in harsh environments, you can even make chicken sweaters. These cute little DIY projects will keep your girls warm in the cold.
Chicken Sweaters
Look, let's get real about living out in the cold. You don't do it! If you are going to keep animals and care for them, well, you need to take care of those animals. Imagine if you had to put your dog outside all night in the midst of January.
I have to imagine you would put all the insulation and heat you could in that dog house. Hopefully.
With chickens, it's the same thing. Do they need sweaters? Of course, they don't need sweaters! However, its both a cool little project and practice in making clothing or manipulating cloth.
It's also fun!
Chickens are Crucial
There are very few things that can change your outlook on what you do as an urban homesteader or a homesteader in general, like chickens. Chickens clucking around in the yard and producing eggs make you feel like you are moving in the right direction.
Chickens speak to your goals and your intentions.
It's important for people to take control of their food production in any way they can. Chickens have an immediate impact on this. Get your birds today and keep them warm.
---
Bonus: How To Grow a Backyard Supermarket
Having a backyard supermarket will allow you to grow pork and beef, chicken, organic eggs, non-GMO fresh fruits and veggies, including all the essential components you need to make your food staples, desserts, and even drinks.
If you are willing to put in a little elbow grease, this isn't too good to be true. The good news is that some of this can be automated.
Our great-grandfathers and great-grandmothers did this every single day. It's called "homesteading", and it can help you save money on food, furniture, tools, clothes, and much more!
This is as self-sufficient as it gets. Watch this eye-opening video to learn more:
Homesteading will take you back to the roots of your ancestors. It's not only a healthy, stress-reducing pursuit, it's a lifestyle.