SHTFPreparedness may collect a share of sales or other compensation from the links on this page.
Have you been thinking about building your own off-grid tiny house?
Can you believe they have that at IKEA now, too? Seriously, IKEA has everything! Let's take a look.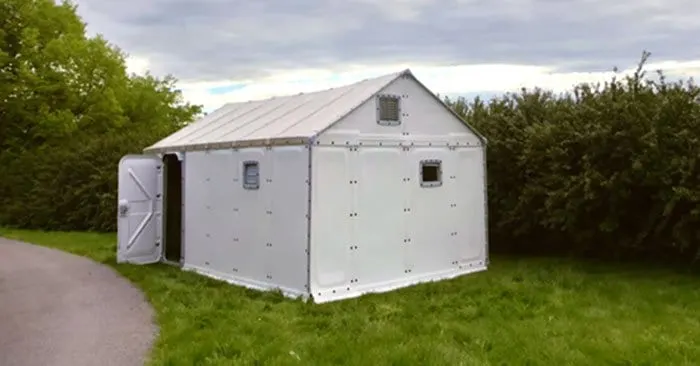 Things are getting so cool now with our technology, including affordable prefab homes. I recently learned about the IKEA off-grid tiny house, also known as the Ikea Better Shelter.
If you have not seen it yet, you will likely be as amazed as I was.
This is a simple, but effective, way for you to get a tiny house without breaking the bank or needing to have a lot of special skills or abilities as a builder.
If you can assemble IKEA furniture, you can assemble this off-grid tiny house.
If you're not big on building yourself and doing things with your hands, this is also a great skill to work on before it's needed in a survival emergency.
Not everyone in our modern society today has these skills but this IKEA tiny house is helping bridge the gap.
Why Do You Need an IKEA Off Grid Tiny House?
There are many reasons why people choose to go off-grid or to live in a tiny house.
Some people are finding prefab houses to help them with disaster relief, people displaced by war and conflict, or even for someone suffering from homelessness.
This tiny house from IKEA can be a great temporary emergency shelter and it will meet the basic needs for:
The best part? It's only around $1100! How awesome is that?
If you're looking for a bug out location, to go off the grid, or just to have an emergency backup home, this may be a solid option for you.
We're going to dive a little deeper into what it comes with, how you set it up, and what you need to know about this IDEA off-grid tiny house and other tiny home options for you.
About the Off-Grid Tiny House from IKEA
It has all the obvious basics like four walls and a door. But what else does it have? Well, this is an eco-friendly home, for one.
The cabin comes with solar panels which can run it for up to 4 hours per day. This is an absolutely amazing find. The IKEA off-grid tiny house is definitely a viable option.
In fact, this is about the best option available for that bug out location or a homestead location in the meantime.
If you want to live more simply, live off the grid, or have your own getaway, this will do it.
Is It Difficult to Assemble?
How hard is it to put together? That's the magic question for a lot of you at home, I'm sure. While it can vary from person to person, the setup seems to be pretty easy.
Setup time is estimated at three hours. Again, your times may vary.
If you're really great at putting things together, you might even do it faster. If you have assistance, it will definitely go quicker.
Your three-hour assembly could take a little longer if you're new to this, but all in all, it's not terribly hard work. That's part of what makes this IKEA off-grid tiny house a great option.
How Does the Tiny Home Hold Up During Seasons?
Are you wondering how your off-grid tiny house would hold up during different weather situations?
It seems it would do really well in warm and mild weather. But it might not be equipped for really rough winters and extreme cold.
It will likely not be great during winter and it is certainly not a long-term solution, but it has benefits.
Still, it's such a cool idea by IKEA. These are the types of things that homesteaders and preppers are looking for.
It will do well in warmer climates so depending on where you are located, it could be perfect for you.
If you're up north of the United States, or in another colder climate, it will still be better than roughing it in a tent. Your mileage will vary, so plan accordingly.
Getting Tiny House Furniture
If you're going to use this tiny home, you're probably going to want to look for some IKEA tiny house furniture as well.
Even if the furniture is not specifically labeled as for a "tiny house", IKEA makes a lot of solutions for small spaces.
Small space furniture can help you make the most of your living area in your off-grid tiny house.
Affordable prefab homes are becoming more available and common, and with them, more furniture options for those small spaces as well.
This great little house could be a place to shack up while your cabin is being built or it could be your overnight spot for your bug out location.
I am sure you could cut a hole and build a simple heater to keep this space warm. If you can do it in a canvas tent, you can do it here.
For those who are tight on money, something like this might just be worth saving up for. 
Having four walls to survive any disaster is critical. While it's not a luxury bunker, it's most certainly better than a lean-to in the winter.
Why a Tiny House is Helpful in Survival Situations
The answers you have for collapse today will seem like dreams when the trouble comes.
Living in the woods is no picnic but this could make it much better. If you're in a survival situation, you'll be grateful you had this already.
This could also be a great hunting cabin if you are on the less apocalyptic side. Or just a nice getaway out of your main house for some peace and quiet.
No matter how you look at it, this offers an incredible option for those who are looking to move or make use of some land.
There are actually many things you could do with your tiny homes even if not using it in a survival situation. It could be a playhouse for your kids, for example. 
What do you think you would use your tiny house for the most if you were not in a survival situation?
Making Use of Your Tiny House Now
Maybe this sounds all well and good, but you're wondering why you would need to have a tiny house now.
What's the point? Is there any point in building one now?
That's actually a great question! We're all about being prepared, and that includes popping your tiny house up early so you're ready if the need comes.
Your IKEA off-grid tiny house could be used as a "she shed" or an office until a greater need comes.
If you're really not about building it, maybe look for an IKEA Better Shelter for sale that has already been assembled.
If you have the means to relocate it, the IKEA tiny house will do the trick as well.